iRobot Roomba Black Friday Deals, 2023 Store Ads & Cyber Monday Deals on s9, i7, e5, 960 and 675
Ditch your vacuum cleaner for a deal on an iRobot Roomba this Black Friday 2023.We will bring you info about the biggest and best deals and discounts here when the savings are announced online or in an advertisement between Thanksgiving Day and Cyber Monday 2023. We are committed to helping you find the best shopping deals of the year from Amazon Prime Day to Thanksgiving Weekend.So get ready to save in 2023, 2024 and beyond!
2022 Deals:
Find more Black Friday deals right now at Amazon.com.
Past Deals:
Find the current deals on the Roomba at: Amazon, Best Buy, iRobot, Kohls and Walmart.
Learn more about the Roomba i7, Roomba 980 and the 600 series.
2019 Roomba Black Friday Deals:
We have not yet seen a sale announced on the Roomba S9+ or the i7 announced for Black Friday 2019. They are not listed as subject to a priced discount for Black Friday on the iRobot website yet. As the top of the line models, they may not see any discounts this year. Of course, we will be following it closely since even a small discount matters when you are looking at paying $700 or more for a robot vacuum. The I Series which includes the i7 starts at $699.99 and the S Series starts at $1099.99. The S Series is called the smartest, most powerful robot vacuum yet by iRobot. The i Series lets you clean "exactly how, when and where you want." Plus it empties on its own!
If you have been dreaming about a Black Friday deal on an iRobot Roomba, there is plenty of opportunity to pick one up on sale from amidst the older models, however. The Roomba website is offering savings of $150 on the 900 series, $75 on the E Series and $25 off on the 600 series of vacuums. The sale in the 900 series is on the iRobot Roomba 960.
The regular price on the 960 is $649.99, providing it at a discounted price of $499.99. You can also get it in a bundle with the Braava Jet m6 Robot mop for a price of $809.98 (save $340!). Overall, the 960 offers powerful performance for whole floor cleaning. If you are looking for a good deal on the 960, you can save an additional $100 off at Best Buy, which has included the E5 in the Best Buy Black Friday ad.
The Roomba e5 is the E series robot vacuum with a sale of $75. The regular price on the Roomba e5 robot vacuum is $374.99, and the savings of $75 puts the sale price at just $299.99. This Roombba is known for its dual multi-surface rubber brushes and power-lifting suction combined with responsive navigation and Dirt Detect technology. You can save even more if you choose to buy it at Kohls or Target. Kohls will kick in $75 in Kohl's cash and Target has the lowest price in the Target Black Friday ad of $279.99.
The Roomba 890 is also included in the Best Buy ad even though it is not included in the sale on the iRobot website. The iRobot website says that the product is only available at select retailers. The 890 is a WiFi connected vacuum with triple-stage cleaning performance. It will be available for just $279.99 at Best Buy on Thanksgiving Day and Black Friday.
The 600 Series Roomba sale on the iRobot website offers $20 off the 675 and $25 off the 614. You can find additional Black Friday deals at other retailers. Target, Kohls, Best Buy, Lowes and Walmart are all offering savings of this 600 series. The lowest prices are on the Roomba 670 at Walmart and the Roomba 675 (available at Lowes, Target and Best Buy). The price on the Roomba 675 at these retailers is significantly lower than on the iRobot store website. If you would rather have the 677, you can do so by buying it at Target, where the price is higher but they will give you $45 in Kohl's cash to spend after Black Friday 2019 is over.
These robotic vacuums are ready to automate cleaning your floors.From minimal, affordable options to the latest in smartphone controls, multi-room navigations, wall restraints and battery technology, there is definitely an option that will free you from pushing around a clunky vacuum cleaner in your attempt to beat back the dust, dirt and debris that accumulates in a home.
2019 Black Friday Deals:
iRobot Roomba 670 – $197 @ Walmart (save $47)
Roomba 675 – $199.99 @ Lowes (save $100)
Roomba 675 – $199.99 @ Target (save $100)
Roomba 675 – $199.99 @ Best Buy (save $100)
iRobot Roomba 677 – $234.99 @ Kohls (+ 15% off coupon, save $165, + $45 Kohl's Cash)
Roomba 690 – $249.99 @ Target (save $100)
Roomba 890 – $279.99 @ Best Buy (save $220)
Roomba 960 – $399.99 @ Best Buy (save $150)
iRobot Roomba e5 – $329.99 @ Kohls (+ 15% off coupon, save $170, + $75 Kohl's Cash)
Roomba e5 – $279.99 @ Target (save $95)
2018 iRobot Roomba Deals
Click Here to Save 34% off the Roomba 690 on Amazon (only $249!)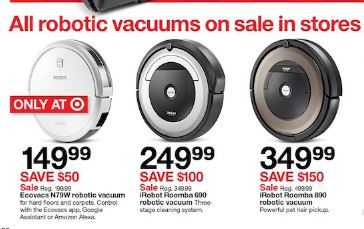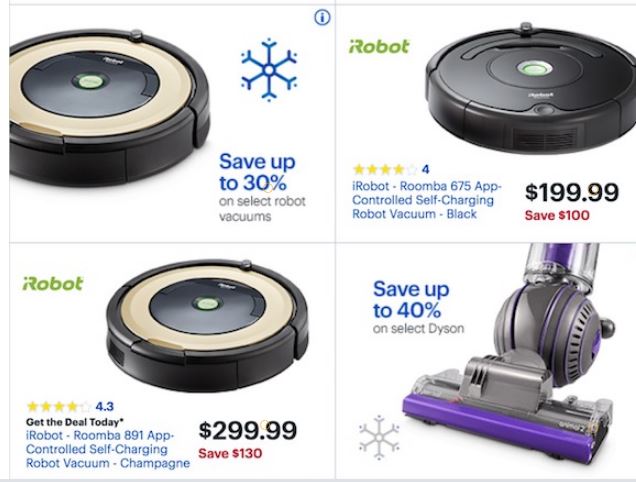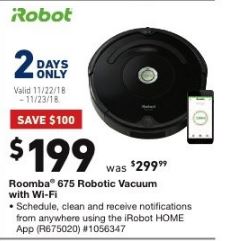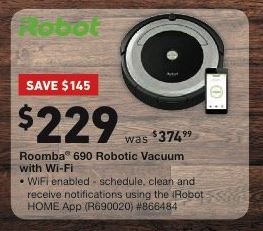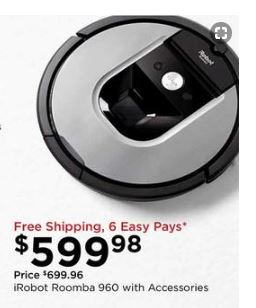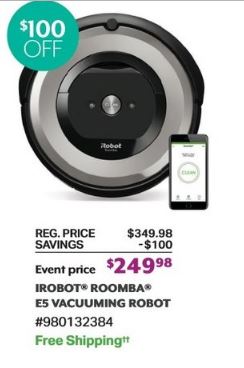 Until then, we hope you enjoy learning about what was available over Thanksgiving weekend in 2017:
After scanning more than a dozen ads for sales on vacuums, we have found discounts on 7 different models of the iRobot Roomba over Thanksgiving weekend this year. If you want tojoin the smart home movement.
Here are the iRobot Roomba Black Friday deals that we have found so far in 2017:
iRobot Roomba 614 Deals:
Best Buy – $224.99 (savings of $75)
Newegg – $229.99 (savings of $70)
Amazon – check price*
A newer model than the 650.It is a basic robotic vacuum without the bells and whistles.It operates with a random cleaning style.It does NOT have multi-room navigation, virtual walls or smart scheduling.
* Note:We have not included prices from Amazon because they run their Black Friday deals throughout November.Due to the sheer number of lightning deals, one-day discounts and other special offers, we couldn't possibly keep the price right throughout this period.We encourage you to check the links provided for the latest deals and discounts they are offering.
iRobot Roomba 618 Deals:
Walmart – $229
Amazon – check price
We had trouble finding trustworthy reviews for this model.
iRobot Roomba 630 Deals:
Bed Bath & Beyond – $299.99 (was $349.99)
iRobot Roomba 635 Deals:
Kohls – $289.99 + Get $60 in Kohl's cash
Amazon – check price
We had trouble finding trustworthy reviews for this model.
iRobot Roomba 650 Deals:
Target – $274.99
Amazon – check price
A self-charging robot vacuum that will clean your room at the push of a button.Presets available for frequency and the vacuum returns to its home base for recharging between cleanings.This is one of the best selling robot vacuums in 2017.
iRobot Roomba 665 Deals:
Sams Club – $249.98 (save $50!)
iRobot Roomba 690 Deals:
Best Buy – $274.99 (savings of $100)
Newegg – $299.99 (savings of $75)
Amazon – check price
An entry-level product in the Roomba line that is relatively affordable.Compatible with voice commands and includes a Wifi connection for control via the smartphone app.However, you can expect it may have occasional navigation issues, particularly with dark flooring.
iRobot Roomba 960:
Best Buy – $599.99 ($100 savings)
Amazon – check price
This vacuum has smartphone app reports, camera navigation and Amazon Alexa/Google Assistant voice control.It is able to move across different floor types and maneuvers better around furniture and other obstacles than previous versions.It also is more methodical in its movements than previous versions which had random cleaning.
iRobot Roomba 980 Deals:
Best Buy – $799.99 ($100 savings)
Amazon – check price
The Roomba 980 is a self-sufficient, WiFi enabled robot vacuum that is the top of the line vacuum from iRobot right now.It has smartphone enabled controls and a new grid-based movement mapping rather than the random cleaning style of previous Roomba vacuums.It also has a longer lasting lithium ion battery than previous versions.
Cyber Monday 2017
We haven't seen any of these deals extended to Cyber Monday yet.However, we expect there will be sufficient demand for these robots that some or all of them will be promoted online this year.We will update this page as we discover additional possibilities for savings to bring to you.
Scans
Here are photos of the ads that we detailed here:
Best Buy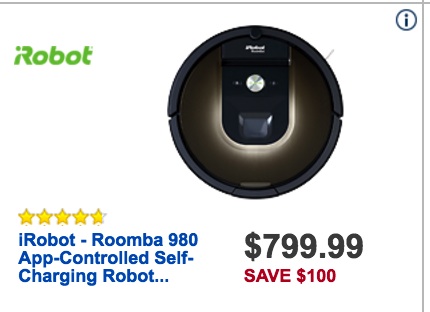 Target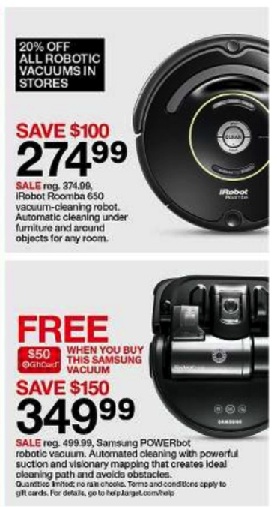 Walmart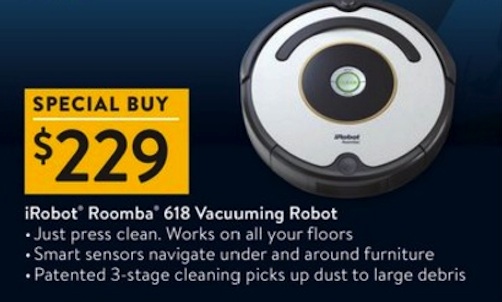 Newegg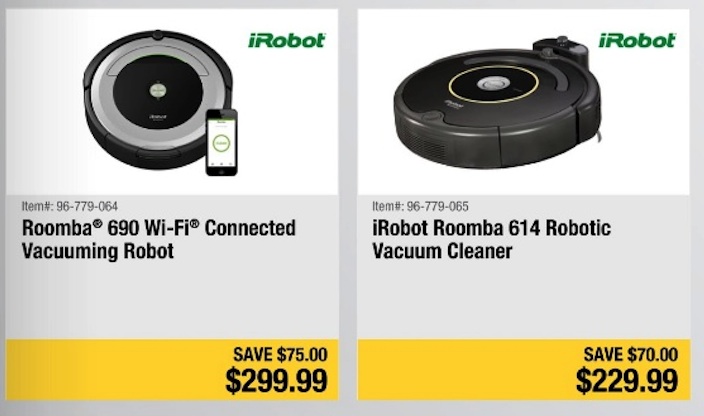 Kohls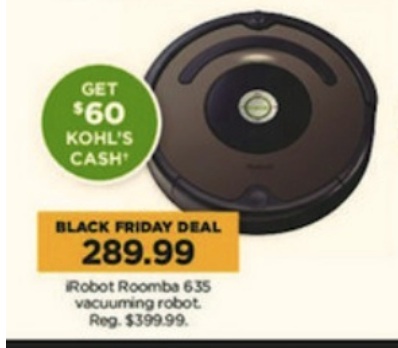 Bed Bath & Beyond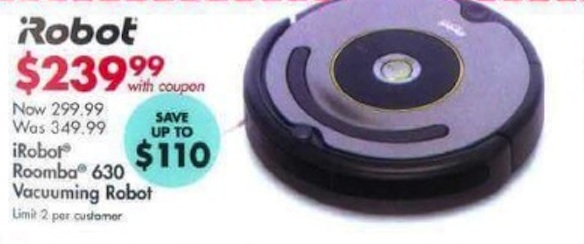 That's all for the moment, folks.But we'll be adding more as soon as we find them.
Last Major Update:
Where to Look for Black Friday Vacuum Deals:
Amazon - The nation's top retailer has some of the best discounts on vacuum cleaners and robot vacuums over the Thanksgiving weekend. They may not be able to beat some of the Kohls deals due to the Kohls cash, but you can expect them to be price competitive with everyone else.
Best Buy - As the nation's leading specialty retailer for consumer electronics, the Best Buy Black Friday ad usually has some good sales on vacuum cleaners. They even had a pair of Dyson vacuums on the front page of their advertisement in 2020.
Walmart - In 2020, Walmart split the Walmart Black Friday deals into three ads and each one included vacuum cleaners. There were vacuum sales from Dirt Devil, Hoover and Shark with eufy, iRobot and Shark robot vacuum deals
Kohls - The Kohls Cash rewards available on Kohls Black Friday deals make these some of the best over Thanksgiving weekend. In 2020, the Kohls ad offered vacuum cleaner deals on Shark and Bissell as well as robot vacuums by iRobot and Shark. if Kohls continues to offer $15 in Kohls Cash for every $50 spent over the weekend, then these will probably be some of your best Vacuum black friday deals.
Target - They an extensive selection of home and kitchen appliances in the Target Black Friday ad every year. In 2020, they had vacuum cleaners from Dyson, Hoover, Shark, and Bissell with robot vacuums from Ecovacs, iRobot and Shark. Deal launches were spread out with some listed as "Black Friday Deals NOW" and others without that designation. The ad also indicated that there were more deals at Target.com
Newegg - Newegg is an online retailer focused on consumer electronics and computer hardware with its headquarters in City of Industry, California. It carries a variety of vacuum cleaners on its ecommerce store, and in line with its focus on electronics the Newegg Black Friday ad usually has a couple different robot vacuums for sale.
Macys - This department store has an extensive selection of vacuum cleaners and robot vacuums available for sale online but there is usually a pretty small selection in the Macys Black Friday ad - in 2020 they had one Shark vacuum pictured in its early Black Friday sale and another one pictured in its Thanksgiving weekend sale. However, the ads say that there are hundreds of other discounts available online and we can't imagine that they are not putting other vacuums on sale on the Macys website as well.
Last Major Update:
Vacuum Black Friday Deals:
iRobot Deals
Roomba Deals
Roomba 600 Series
Roomba 960
Roomba i7