Nikon D750, D780 Black Friday Deals 2023 & Cyber Monday Camera Deals
Find the best Nikon D750 camera and D780 deals for Black Friday 2023 and Cyber Monday here at Funtober. We search the leaked and released print and online Black Friday ads for great sales on these Nikon cameras (including the D610) including electronics retailers, photography websites, Amazon, Best Buy and other stores.
Nikon D780 – This upgrade to the D750 camera was announced by Nikon in January 2020. It has a 24.5 MP FX sensor, 51 point autofocus system and EXPEED 6 image processor. It has improved autofocus accuracy with zoom lenses, high speed frame capture of 2 megapixel images, dual SD card slots, and an electronic shutter for silent photography.
Past Deals:
Nikon Deals at Adorama
Nikon D750 – $1196.95 (save $500)
Nikon D750 + 24-120mm VR Lens – $1696.95 (save $1100)
The prices posted were available on October 30, 2019.
2019 Black Friday Deals:
Nikon D750 Camera (Body Only) – $999.99 @ Best Buy (save $700)
The Nikon D750 camera is currently priced for the body only under $1200 at Amazon, Adorama and Best Buy. The price is going to drop another $200 at Best Buy when their Black Friday sale starts. It is in the Best Buy ad with savings of $700!
It is currently priced at just under $1700 with the 24-120mm VR lens at both Best Buy and on the Nikon website. It is unclear whether the price of the kit is going to also drop at Best Buy when they discount the body for Black Friday 2020. We will just have to wait and see I guess!
Nikon D750 Camera Deals in 2018:
D750 Body + Lens Kit – $1899.95 (save $1539.95)
Includes: AF-S NIKKOR 24-120mm f/4G ED VR Lens Kit
MB-D16 Multi-Battery Power Pack
D750 Body Only – $1399.95 (save $939.95)
We will post the biggest discounts on the D750 and D610 for Black Friday and Cyber Monday when they are published. Whether you are looking for a refurbished or new camera, you will be able to find deals on them over Thanksgiving weekend here.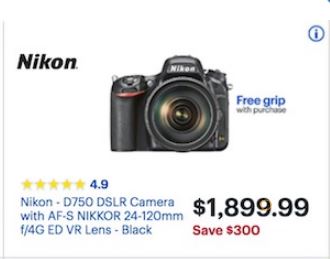 The Nikon D750 is a full frame DSLR camera with 24.3 MP, 51 auto focus points, ISO of 100 to 12,800 and Full 1080p HD. It is the FX advanced entry-level Nikon camera. The camera was initially released in September 2014.
The Nikon D610 is an entry level FX-format camera with 24.3 megapixels, 39 focus points, Full 1080p HD, standard ISO of 100 to 6400, built-in flash, wireless photo sharing and 6 frames per second continuous shooting at full resolution. The camera was initially released in October 2013.
The D750 has a better image processor, a more advanced auto focus system, slightly faster continuous shooting speed, and better ISO range.
Find Camera Deals at:
Black Friday 2019
We will post the best Nikon D750 Black Friday deals here when they become available. We will also be tracking and Nikon D610 deals as well.
Cyber Monday 2019
The best Cyber Monday sales are usually announced on the Sunday after Thanksgiving. Other discounts will be announced on Monday as online retailers encourage shoppers to take advantage of the start of the Christmas shopping season and pick up a few more deals before they have to pay more later. If there are any amazing discounts to kickstart the week after Thanksgiving, we will post them here!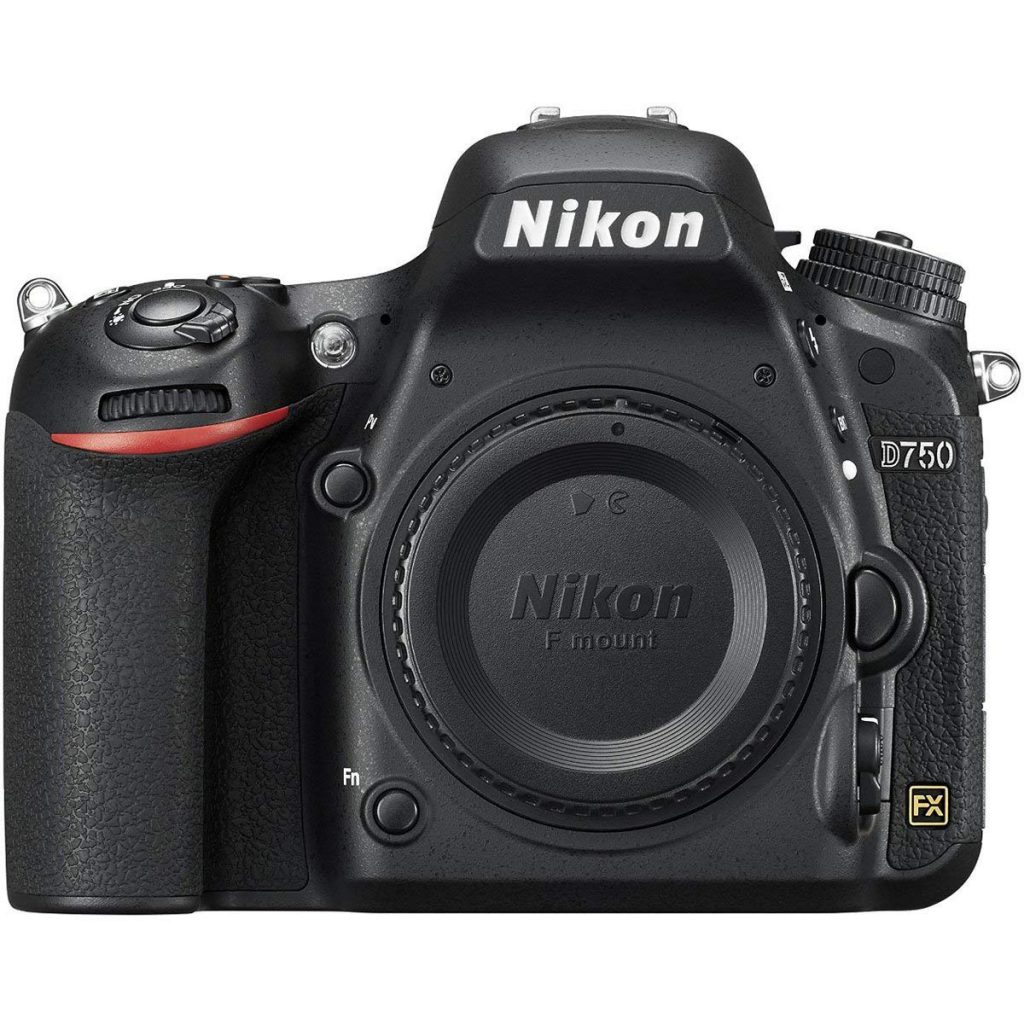 Nikon Black Friday 2020 Camera Deals
Where to Look for Black Friday Camera Deals:
Best Buy - As the nation's leading specialty retailer for consumer electronics, the Best Buy Black Friday ad and online deals usually match some of the best camera sales around. They cater to both the pro and amateur photographer with deals on cameras at both levels. They usually has some of the best amateur camera and lens bundle combinations around during Black Friday.
Amazon - The nation's top retailer usually has some of the best discounts on older cell phones over the Thanksgiving weekend. It's always worth checking out the Amazon Black Friday deals before you make a purchase over Thanksgiving Weekend.
Walmart - Walmart is known for its great Black Friday deals on consumer electronics and that usually includes amateur cameras. In 2020, Walmart split the Walmart Black Friday ad into three ads across November and in addition to a security camera they also had a sale on the GoPro Hero 7 action camera. We typically see Walmart camera deals featuring a low priced, older model amateur all-in-one DSLR camera.
Adorama - Adorama is a New York City camera and film equipment store that sells to amateur and professional photographers. It is one of the nation's largest mail order and retail photo suppliers. The Adorama Black Friday ad typically offers sales prices throughout November as it kicks off its holiday deals early. As a leading camera retailer, it offers sales and price discounts on many products of the top camera manufacturers including Canon, Nikon and Sony.
B&H Photo - B&H Photo Video is one of the largest non-chain photo and video equipment stores in the United States. It was founded in 1973 and has a store in Manhattan. B&H caters primarily to equipment used by professional photographers and videographers, as well as amateurs. You can expect that the B&H Photo Black Friday sale and Holiday sales will include discounts on some of the top cameras brands, video and audio equipment around.
Canon - This Japanese imaging company has produced some of the top DSLR, mirrorless and professional lenses for photographers. Every year in November they launch the Canon Black Friday deals on their website for their cameras and lenses. These discounts are usually replicated at other top camera retailers like Best Buy and Adorama.
Nikon - This multinational imaging company with its headquarters in Japan offers big Nikon Black Friday deals every November, followed by a holiday sale to kick off the Christmas shopping season. If you are looking for a new Nikon camera or lens for yourself or a family member that loves photography, this is the time to pony up to save big!
Sony - Sony has become one of the leading providers of mirrorless cameras including the Sony A9 and the A7R IV cameras, making the Sony electronics website a must have stop for those looking for pro and prosumer cameras during the Sony Black Friday sale.
Last Major Update: