Parrot Drones (Bebop 2, Anafi, Mambo) Black Friday 2023 Deals
Find the best deals on the Parrot Bebob 2, Anafi and other drones during Black Friday 2023. Funtober will search the online price discounts and print ads for the best sales from Thanksgiving Day to Cyber Monday 2023.
Here are the Parrot drones that we will be following price discounts on during Thanksgiving 2019:
Bebop 2 – Sturdy and reliable, it's the first leisure drone weighing less than 500 g with a 25-minute battery life. Designed to fly indoors and outdoors. Fly your drone up to 1.24 miles away with the Skycontroller 2 and optimized secure WiFi with video feedback. Use the two joysticks for more accurate flying. The Power has up to 60 minutes of flight time.
Anafi – Film stunning high-quality videos and take outstanding photos with the 4K HDR flying camera. 180° tilt gimbal and up to 2.8X lossless zoom. Embedded Artificial Intelligence allows capture of spectacular shots. Ultracompact form of the Anafi makes it portable. Flight time of 25 minutes.
Mambo – Easy to fly and robust mini quadcopter drone. FPV goggles allow immersive flight experience. Considered one of the most stable minidrones on the market thanks to its auto-pilot. Integrated vertical camera for pictures. Connect accessories to it such as the FPV camera, Cannon or the Grabber.
Parrot Disco FPV – Easy to fly fixed wing drone with FPV goggles. It can reach speeds of up to 50 miles per hour. Flight time of up to 45 minutes. Extedned flight range of up to 1.2 miles with Skycontroller 2. Shoots 14 MP photos and full HD 1080p video. Automatic take off and landing plus assisted piloting and return home function.
Black Friday Deals
We will post all of the best prices on Parrot drones here for Thanksgiving Day and Black Friday 2019.
Cyber Monday Deals
We will post all of the online price discounts that occur on the Monday after Thanksgiving for the Parrot Bebob 2, Anafi, Mambo and Disco FPV as part of Cyber Monday.
2018 Deals: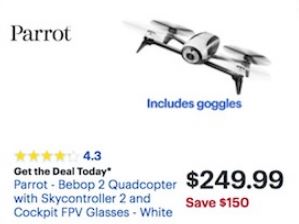 Last Major Update:
Drone Black Friday 2023 Deals: