Dyson Black Friday 2019 Air Purifier, Supersonic Hair Dryer, Vacuum & Cyber Monday Deals
Find the best deals on a Dyson hair dryer, air purifier or vacuum during Black Friday 2019. Funtober will collect all of the biggest online discounts and sales in print ads at websites and in-store retailers between Thanksgiving Day and Cyber Monday 2019.
Here are a few of the products that we are following prices on this year:
Dyson Hair Dryer
The Dyson Supersonic hair dryer is engineered to protect hair with controlled styling and fast drying. It has a high-speed brushless motor and intelligent heat control to create focused air flow and better balance for creating the right shine in your hair. Prevents extreme heat damage by keeping the temperature under control through measuring air temperature twenty times per second. Smoothing nozzle uses smooth, wide air to create the controlled, high velocity airflow needed for quick drying. Also, it allows you to shape your hair one section at a time with the Dyson styling concentrator.
Dyson Air Purifier
Pure Cool Link:
The Pure Cool Link desk purifier automatically removes gases and 99.97% of allergens and pollutants (down to .3 microns) including pollen, dust, mold spores and more, while cooling the air through its fan. Other options include the purifying fan or purifying tower fan for whole room purification.
Pure Hot+Cool Link:
Heats and cools as it purifies (removes gases, pollutants and allergens) for all year round comfort. Night time mode uses quiet settings and a dim display. Compatible with the Dyson Link app, which helps you detect indoor air pollution. Utilize simple, spoken instructions to control your device through the compatible voice service. Also view detailed reports about your purifier's activity and the air quality history at the touch of a button.
Dyson Vacuums
The vacuums are one of the most popular products from this British technology company which manufactures household appliances.
We will post all of the best deals and online sales for Black Friday and Cyber Monday here so that you can get the biggest savings on Dyson products over the Thanksgiving weekend.
Last Year:
Click Here to Save 46% on the Dyson Pure Cool Link TP02 Wi-Fi Enabled Air Purifier on Amazon for CYBER MONDAY.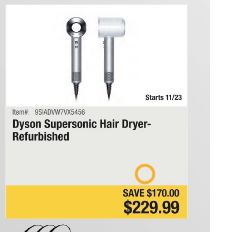 Last Major Update:
Dyson Black Friday Deals:
Airwrap Deals
Dyson Hair Dryer Deals
Dyson Vacuum Deals