Video Camera (Camcorder) Black Friday Deals, 2023 Store Ads & Cyber Monday Deals
Find deals on digital video cameras (or camcorders) for Black Friday 2023 or Cyber Monday.We will bring you info about the biggest and best deals and discounts here when the savings are announced online or in an advertisement for Black Friday 2023. We are committed to helping you find the best shopping deals of the year from Amazon Prime Day to Thanksgiving Weekend.So get ready to save in 2022 and beyond!
We have searched the print and online ads to bring you the best discounts and savings on a video camera this Thanksgiving.
2022 Deals:
Find more Black Friday deals right now at Amazon.com.
Past Deals:
Almost every phone and camera has the ability to record video these days.But if you want to record premium video and audio for replay on televisions or with high-end online video, then you will want to buy a digital camcorder.A camcorder is an electronic device that combined a video camera and a videocassette recorder.Traditional camcorders have since been replaced by digital video cameras, although the name camcorder is frequently still used for the category.
Whether you are trying to capture your child's birthday or the highlights of a family vacation, there are a variety of amateur-level video cameras to capture the moment.For professional video recording for news coverage, sports, indie filmmaking, documentaries and other video needing 4K or full HD coverage, you will want a pro camcorder instead.Whatever video camera you need, you can usually find savings offered on it by retailers during Black Friday and Cyber Monday.
Here are a few of the products that we will be tracking the Black Friday deals on when they are announced in 2019:
Amateur Digital Video Cameras (Under $1000)
Panasonic HC-V770 – Lifewire called this the best overall video camera in 2017 due to its balance of value, convenience, features and hardware.HDR video capture, 20x optical zoom, high quality sound with noise suppressing sensor, WiFi and NFC connectivity.
Panasonic HC-WXF991K – The high-end video of this 4K Ultra HD camcorder with WiFi will serve consumers well for years to come.
Canon VIXIA HF R82 – This lightweight digital camcorder has a 57x optical zoom range and image stabilizer.It can record up to 12 hours of video on its 32GB internal flash drive.
GoPro Hero – If you are looking for an action camera, consider the Hero 5 or Hero 6 from GoPro.They are still a leader in the action camera market despite their share price decline.Hopefully, that means they will have some great deals for Black Friday and Cyber Monday.
Professional Camcorders
To shoot premium video for television, you will need professional video equipment.If you are making the upgrade from amateur to prosumer, consider the Black Friday deals that we will find on some of these professional video cameras:
Sony – This Japanese corporation headquartered in Tokyo is one of the leading manufacturers of electronics products.The HXR-NX100 is the latest in Sony's entry-level professional camera line.The Sony PXW-Z150 is Sony's 4K professional camcorder.The FS7 II is the ultimate documentary camcorder and a versatile super 35mm.
Panasonic – A Japanese electronics corporation that makes a variety of electronics.AG-AC30 is a Full HD Camcorder that works well in low-light and is a solid choice for the prosumer home shooting corporate, event and indie projects.The AG-DVX200 is a handheld 4K Camcorder with four-thirds sensor and integrated zoom lens.The AG-UX90 is the value model in Panasonic's 4K professional camcorder series, recording UHD 4K at 30 fps.
JVC – A Japanese manufacturer of professional and consumer electronics.The GY-HM200 is a compact, handheld camcorder with 4K Ultra HD recording. The GY-HM620 is an advanced, lightweight professional camera for news, sports and independent productions.
Canon – The XA35 is a light, portable pro video camera for news gathering, event coverage, independent filmmaking and more which is capable of full HD recording.If you are looking for a discount or find the XA35 out of stock, try the older XA30.The XC15 is a 4K pro camcorder ideal for professional or amateur filmmakers or journalists.
VR and 360 Video Cameras
Video is the latest in the realm of 360 degree cameras and virtual reality.We will be keeping an eye out for deals on these cameras and more during Black Friday 2017:
The Ricoh Theta V is a 4K spherical VR camera that can take up to 40 minutes of 4K video at 30 fps in five or twenty-five minute chunks.On the high end, the Nokia OZO is a professional grade 360 degree VR camera priced at $25,000 that shoots at 30 frames per second and will hold about 45 minutes of footage.
2018 Deals
VIXIA GX10 4K UHD Camcorder – $1999 (save $500)
Best Buy Deals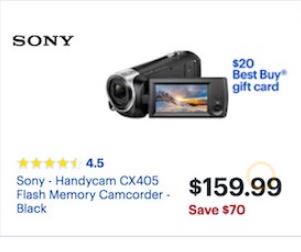 Stay Tuned
There are still a few months before stores Black Friday 2019 deals start.When the video camera ads start being released or leaked, we will post the best deals and discounts here.Please stop back in November to see the savings offered during Black Friday and Cyber Monday on digital camcorders.
Last Major Update:
Current Sales on Amazon: