Tool Black Friday Deals 2023 and Store Ads
We are tracking all the in store and online sales, price cuts, deals and offers on the bestselling tools and tool brands of 2022 to find you the lowest prices and best offers for Black Friday 2023. In the past few years most of the major tool brands, Milwaukee, Dewalt, Makita, Bosch, Ryobi and many more have moved toward battery operated tool platforms. As the battery tool battle begins discounts, deals and great Black Friday deals are sure to follow.
2022 Deals:
Find more Black Friday deals right now at Amazon.com.
Past Deals: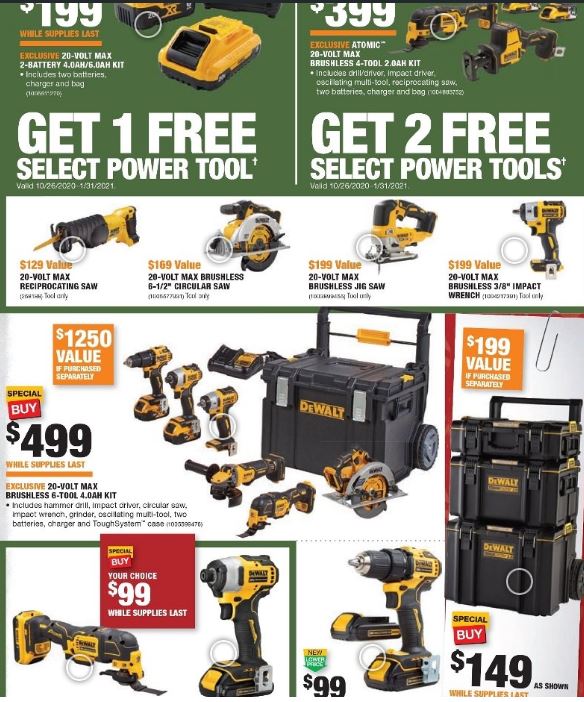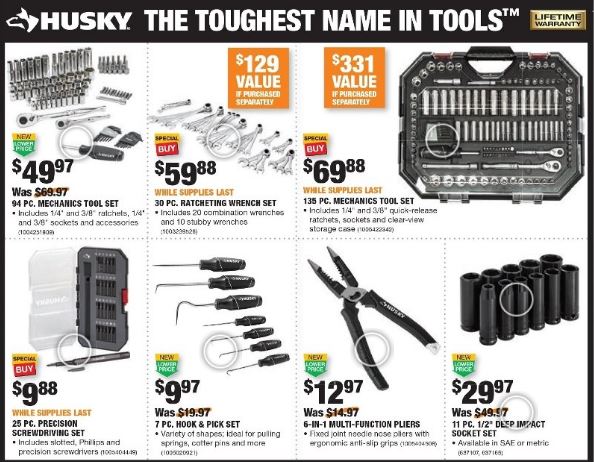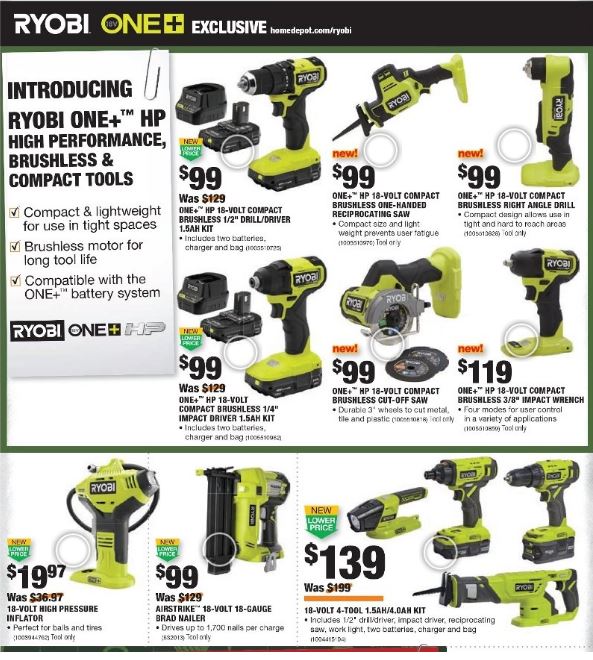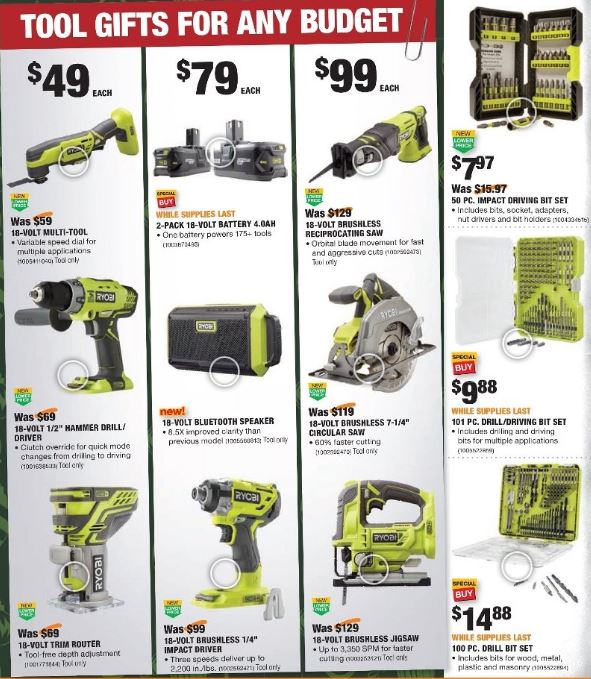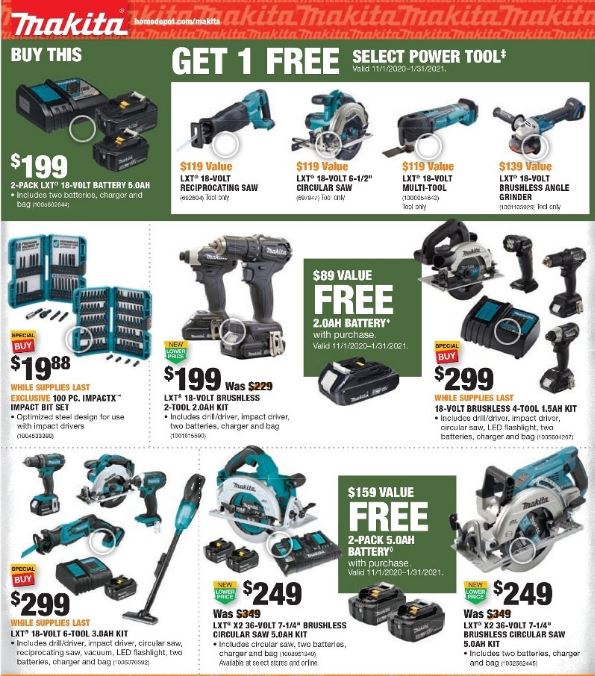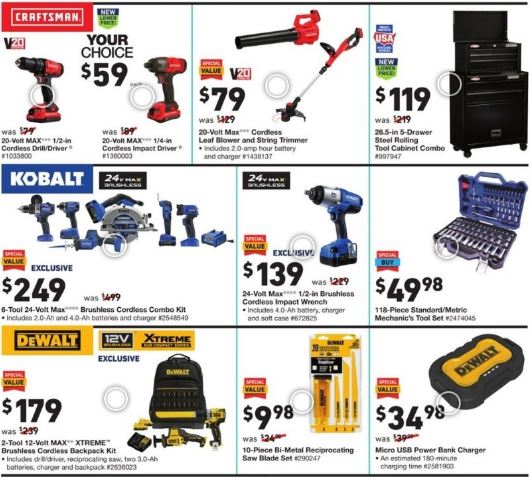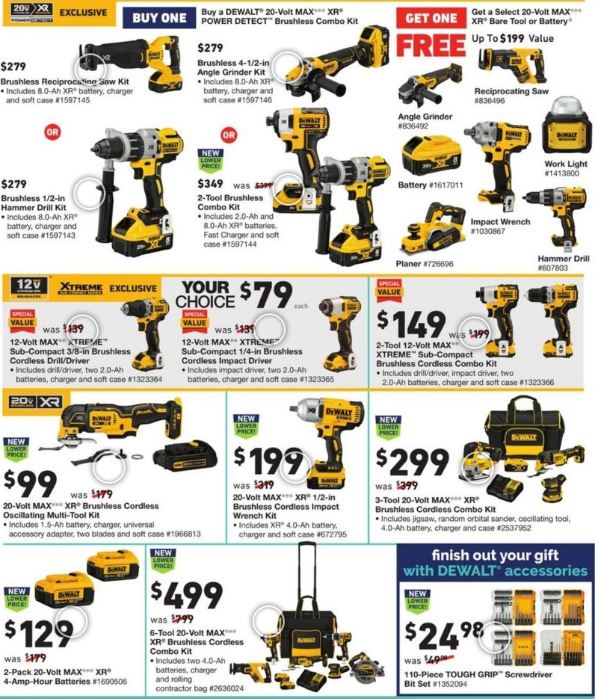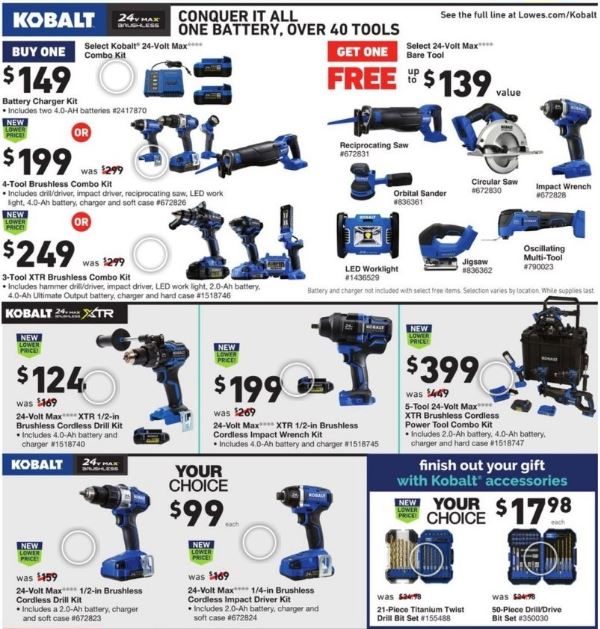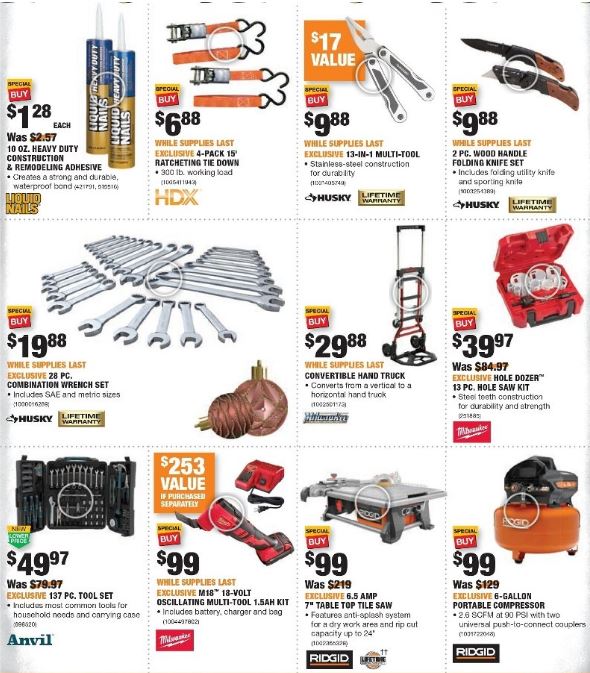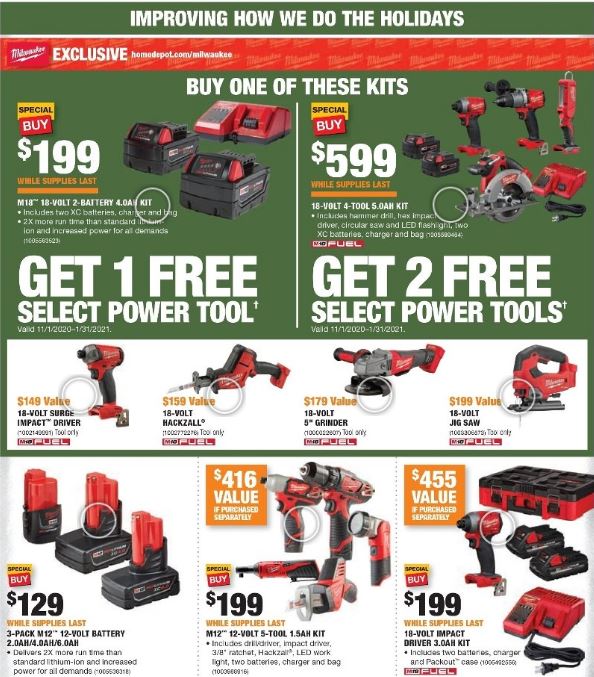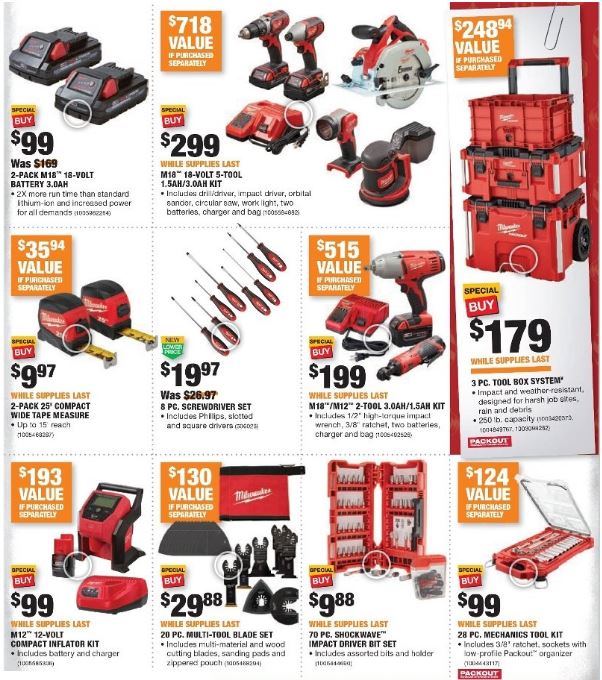 Most of the tool brands have propriety branded battery, so they are working hard to get consumers to commit to their brand.Whether is entire battery operated tool set or filling in the gaps in the tool chest Black Friday and Cyber Monday are a great time to find excellent prices, sales and offers particularly on big ticket items.
Here is what we are tracking so far:
Power Tool Bundles are everywhere range in price from $100 to several thousand, it just depends on what your needs and budget. When evaluating a Power tools its best to decide on by brand and battery platform from the start.While tools can certainly be bought one by one, with all the different batteries it is going to be best to commit to a brand and stick with it, so that all your batteries are interchangeable. So make sure the brand you commit to early offers all or most of the tools you will need down the road.
18-Volt ONE+ Cordless Lithium Ion 6-Tool Combo Kit with (2) 1.5 Ah Batteries, Charger, and Bag Currently Price at $249 – While not the toughest tools on the block, these are a great value on a kit that includes just about everything you will need to get that project done.
Makita XT1501 3.0Ah 18V LXT Lithium-Ion Cordless Combo Kit (15 Piece) Is currently priced at $1699.Higher up the price and quality scale, but it includes a hammer drill, circular saw, reciprocating saw, impact driver, angle grinder, 4 batteries and much more.It offers the largest cordless tool battery on the market. It is like a construction crew comes in the two included carry cases.
DEWALT DCK592L2 20V MAX Premium 5-Tool Combo Kit is currently price at $769.It includes an impact Driver, Hammer Drill, Work light, Circular Saw, Reciprocating Saw.
We expect the power tool combo kits to be have some great deals and offers with steep discounts. Brands like Dewalt, Ryobi ad Milwaukee want get you to commit to their brands so keep an eye out for particularly great offers on all of the bundles power tool combo packs for Black Friday 2018.
Ladders are another big ticket item that are a must for the fixer upper or when running a crew.From a step stools, to fiberglass extension or foldable ladders Black Friday is a great time to find a discount or price cut on these must have items. Here are some of the most popular 2018 ladders we expect to find with Black Friday discounts.
Little Giant 14016-001 Alta One Type 1 Model 22-foot Ladder I s currently priced at $196. The foldable multipurpose little giant can do just about everything you could ask a ladder to do.Adjust to use on the stairs or extend it to its full 22' to get at those gutters.Since, I am a bigger guy I will make note that little giant offers heavier duty ladders with high weight rated capacity for a few extra bucks.
WolfWise EN131 12.5ft Telescoping Ladder Aluminum Telescopic Extension Tall Multi-Purpose is currently available for $115.This small telescoping ladder will store in most any closet and prove invaluable in changing hard to reach light bulbs or any quick up high job.The WolfWise is perfect for an apartment in for interior uses.
Delxo Lightweight Aluminum 4 Step Ladder with Tool Tray Folding Step Stool Stepladders Home and Kitchen Step Ladder Anti-Slip Sturdy and Wide Pedal Ladders 330lbs Capacity Space Saving (4 feet)is currently priced at $75. This high capacity step ladder is another great interior option that's tough and sturdy enough for almost any job.
If you need an exterior option or just going to get to the highest peak of your house, check out the fiberglass extendable ladders.
28 ft. Fiberglass Extension Ladder with 300 lb. Load Capacity Type IA Duty Rating is currently available for as low as $290
If you need even more height the Louisville Ladder FE3240 40 ft. Fiberglass "D" Rung Extension Ladder, Type IA, 300 Lbs. Load Capacity is currently priced at $501.
No matter what type of ladder your looking for check back for Black Friday 2018 sales, discounts on in store and online deals on all your ladder options.
An often over looked very important option is tool storage and organization.You can have all the sockets and wrenches that Makita has to offer, but if you can find it when you need it, then it may be time to consider a tool box or tool chest to keep everything in its place. Tool boxes and particularly tool chests can be pricey item, but Black Friday sales, discounts will cut that price and keep your money in your wallet.
Keter 240762 5 Drawer Modular Garage & Tool Organizer, Black is available for $99. The modular plastic system is affordable and tough.
Craftsman 6 Drawer Heavy Duty Top Tool Chest, All Steel Construction & Smooth Glide Drawers is currently available for $225.This is the top of a rolling tool set, but maybe just what you need on your garage counter. The bottom half the Craftsman 26-Inch 4-Drawer Rolling Cabinet – Red is available for $318.An entire metal rolling tool cabinet for just over $500, it's a good deal already, but we expect the price to drop even further for Black Friday 2018.
There are tons of options for rand wrench kits if you're looking for hand tools or a mechanics tool set.
Crescent CTK170CMP2 Mechanics Tool Set, 170-Piece has just about everything you'll need to get that tune up done and much more.Its currently available for $92.
Dewalt DWMT73803 Mechanics Tool Kit Set with Case (168 Piece) Is currently available for $117.A name brand kit that includes tons of tool options for any job you need to get done.
No matter if you're looking for a full power tool kit or a one off tool to complete a set.We are digging up all the best online and in store sales and deals on the best tools for Black Friday 2019. Check back for updates as Black Friday 2019 gets closer for the latest deals and sales.
Last Major Update: