Chainsaw Black Friday Deals 2023 – Stihl, Gas, Electric Chainsaws & Cyber Monday Deals
Find the best deals on a gas or electric chainsaw during Black Friday 2023. Funtober will find all of the best online sales or print ads on power tools between Thanksgiving Day and Cyber Monday 2023.  
No matter how many trees or branches you have to cut we are digging up all the best deals and sales the best chainsaw options. If you need an electric battery powered saw for a few branches or gas powered chainsaw to log you land we are follow the 2022 Black Friday deals.
2022 Deals:
Find more Black Friday deals right now at Amazon.com.
Past Deals:
Home Depot Deals: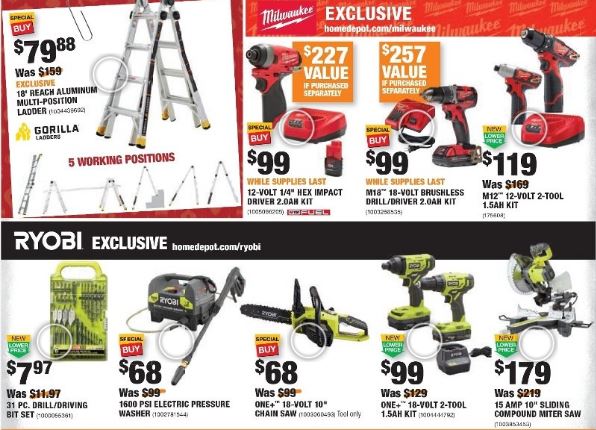 Ace Hardware Deals: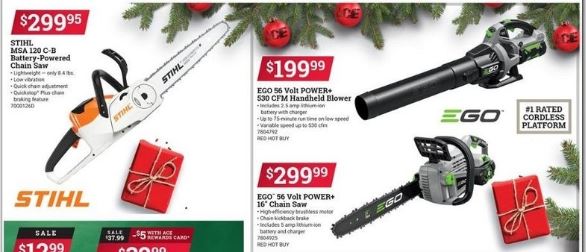 When purchasing a chainsaw here are few of the important things to consider. Chainsaws come in two basic power options gas and electric. Your specific cutting needs will determine what is the best option for you. Both gas and electric models have light duty options sufficient for any personal residential needs. Depending on the proximity of an exterior power outlet cordless may be the best option. Keep in mind that cordless chainsaws provide mobility but generally don't have the power of their gas counterparts. The battery on a cordless saw also limits the amount of cutting you can do without charging are swapping out for fresh battery.
Some of the other chainsaw features to consider are anti-vibration, starting mechanism, automatic oiler, low-kickback, chain brake and chain adjustment. Depending on your arm strength and cutting needs the anti-vibration feature will minimize the amount of reverberation your forearms take. Gas chain saws typically has a pull cord start, but some have a spring assisted start to reduce the amount of necessary force to get it ripping. Electric chain saws are usually push button start. Chainsaws require a lot of chain lubrication to keep them running properly and the automatic oiler makes it simple. Just keep the reservoir topped off and it will oil the blade for you. As a side note, if you are new to chainsaws, they use a lot of oil so check the automatic oiler level often and order a few extra quarts of oil with your chainsaw. The low kick back and chain brake are safety features which prevent the motor from burning out if the chain gets locked up and kick back towards the handler. Adjusting the chain tension on a chainsaw can be a complex process, but tool-less chain adjust makes it simple.
Here what we are tracking:
Cordless Chainsaws. Keep in mind if you are going for a cordless option to check and make sure the batteries are compatible with the remainder of your tools. It is probably best to stick with the same brand of your other tools, so that you have maximum amount of batteries available.
Makita XCU04Z Lithium-Ion Brushless Cordless 16″ Chain Saw is priced at $289 for the saw only, the kit which comes with two batteries and a charger runs $409. The powerful electric motor is about the equivalent of a 32 cc gas motor. It features tool-less chain adjustment and uses the long lasting 18V battery.
DEWALT DCCS620P1 20V MAX Lithium-Ion XR Brushless Compact 12 in. Cordless Chainsaw Kit (5AH) is currently priced at $137 for the saw only and $198 for the kit, such includes 1 battery, 1 charger and hard bar cover. This chainsaw is compatible with the 20V battery system tools.
Greenworks 10-Inch 24V Cordless Chainsaw, 2.0 AH Battery Included 20362 is small option but coming in at $88 its affordable. While not for the biggest jobs it is a great small job budget friendly option.
Corded Electric. Keep in mind you may need a long extension cord to reach the edges of your property,
Makita UC4051A 16″ Electric Chain Saw is priced at $239. Feature tool-less adjustment and all day cutting power. It also has a large bar oil reservoir.
Worx 16-Inch 14.5 Amp Electric Chainsaw with Auto-Tension, Chain Brake, and Automatic Oiling – WG303.1 is an extremely affordable option priced at $76.
Husqvarna 966048330 460 Rancher 20-Inch 60.3cc 2-Stoke X-Torq Gas Powered Chain Saw is pricey, but Husqvarna is the top name in chainsaw because it proven to be trustworthy and hassle free. It's extremely powerful and will handle most of your cutting needs on farm, ranch or sizable piece of land.
Husqvarna 240 2 HP Chainsaw, 952802154 (16-Inch) Is great all around option priced below a lot of the cordless competitors. While not the best option for the biggest jobs, it is a great value and option for most every day cutting needs.
Click Here to Find the Below Chainsaw Deals on Amazon:
Husqvarna 460 Rancher Gas Chainsaw – $484.89 (save $35)
Remington RM4216 Rebel 16-inch Gas Powered Chainsaw – $116.95 (save $49)
Dewalt DCCS620P1 Compact 12 in. Cordless Chainsaw Kit – $199 (save $30)
Black+Decker 40-volt Cordless Chainsaw – $169.15 (save $29)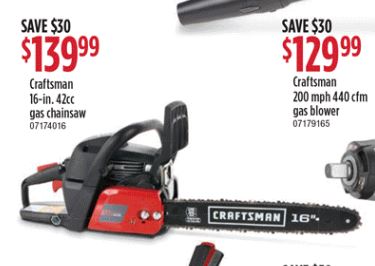 No matter what type of chainsaw you are searching for, we are hunting down all the best sales, deals and offers for Black Friday 2020. We expect there to be some great options on the cordless chainsaws from the biggest name brands. The tool manufactures are fighting for consumers to buy into their proprietary battery system and chainsaws tend to be a one off purchase. So expect them to provide some great offers on their cordless chainsaws to try and locked into their battery systems. We are tracking online and in store offers, deals and sales on electric and gas chainsaws for Black Friday 2019. Check back closer to Black Friday for updated sales offers, deals and price cuts.
Last Major Update: