DJI Mavic 3 and Air 2 Black Friday Deals 2023 & Cyber Monday Drone Deals
Find the best deals on the DJI Mavic 3 and DJI Mavic Air 2 drones during Black Friday 2023. We will search for online price drops and ad sales on the all of the DJI drones from Thanksgiving Day to Cyber Monday 2023.
2022 Deals:
Amazon.com
. Past Deals:
Here are a few of the DJI drones we will be keeping an eye on this year:
DJI Mavic 3 – a flagship camera drone with a 4/3 CMOS Hasselblad camera for professional photography DJI Mavic Air 2 – a compact drone with great flight performance and high-end imaging features. More about the DJI Drones: The DJI Mavic 3 is the new flagship DJI drone. It was released on November 5, 2021, just in time for the holiday shopping season. It is the new standard in aerial photography, including a Hasselblad camera. It also has omnidirectional obstacle sensing for a smooth flight. The Hasselblad L2D-20c aerial camera will take 20 MP photos with apertures from f/2.8 to f/11 and an equivalent focal length of 28mm. The second "Tele Camera" is a 28X Hybrid Zoom. The extended flight time is 46 minutes with a 15km video transmission range and live feed at 1080p/60fps. The DJI Mavic Air 2 was released in April 2020 and began shipping in May 2020. It contains a 1/2 inch image sensor for 48 megapixel photos and 4K/60fps video. It has an OcuSync 2.0 10km 1080p/30fps video transmission to help you fly farther and see clearer over the Mavic Air 2's 34 minute maximum flight time. It has 8K hyperlapse video as well as an APAS 3.0 Obstacle Avoidance system to help you fly safer.
DJI Mavic Black Friday Deals for 2022:
Coming soon! 2020 DJI Black Friday Deals: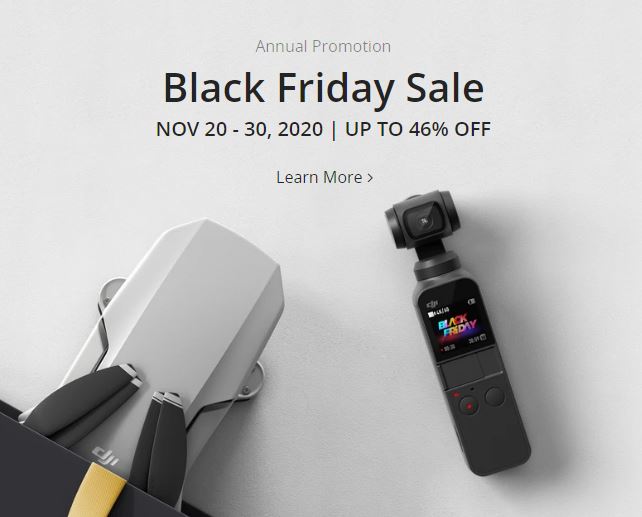 Purchase the advanced DJI drone that combines their work in engineering, technology and for the advanced aerial photographer. They allow for 8 km 1080p video transmission, omnidirectional obstacle sensing, and a 31 minute max flight time. The DJI Mavic 2 Zoom Quadcopter has a 1/2.3-inch 12 MP sensor with two-times optical zoom (24–48 mm). The Mavic 2 Pro offers a Hasselblad camera with a 1-inch sensor.
DJI Mavic Air Black Friday Deals:
This ultraportable drone provides high-end flight performance and functionality with 21 minute flight time, 32 MP sphere panoramas, 3 directional environment sensing, 4K camera with a 3-axis Gimbal. It is also foldable and portable. It is available in combinations with a remote controller and the Fly More Combo.
DJI Mavic Pro Platinum Deals:
The Mavic Pro Paltinum contains a sleek design and compact body. It has 30-minute max flight time, 4K camera with 12 MP photos, 3-axis gimbal, and 4 dB noise reduction. It has FOC sinusoidal driver ESCs and 8331 propellers for a quieter, more enjoyable flight experience. it is available with remote controller or Fly More Combo.
Looking at a bundle and wondering what it offers? Generally, the Fly More Combo provides extra intelligent flight batteries, extra propellers, propeller guards, chargers, RC Cables, a USB adapter, a Gimbal Protector, a carrying case, and a travel bag.
DJI Mavic Black Friday Deals: If you are going to buy a DJI drone for a Christmas gift, the Thanksgiving sales present a great opportunity. Stop back to Funtober in November to see all of the DJI sales by the manufacturer and leading electronics retailers like Amazon and Best Buy.
DJI Mavic Cyber Monday 2019 Deals: If you do not find a great drone deal on Thanksgiving Day or Black Friday, return here on the Monday after Thanksgiving to see what sales are offered online by DJI and others.