Jaybird Vista Black Friday Deals 2023 & Cyber Monday Headphone Deals
Find fantastic deals, sales and discounts on the Jaybird Vista and other headphones for Black Friday 2023, Cyber Monday and the entire holiday season.Jaybird continues to be a market leader in wireless headphones designed for rugged use and athletics. Designed with the athlete in mind to bring music anywhere so you can push harder. We will bring the biggest and best deals as they are announced online for Jaybird Vista earbuds on Black Friday. We are committed to helping shoppers find deal from Black Friday through Amazon Prime Day. So get ready to save money in 2021 and beyond.
2022 Deals:
Find more Black Friday deals right now at Amazon.com.
2019 Headphones from Jaybird:
Jaybird Vista – The Vista is the lightest, most compact and most advanced headphones made by Jaybird. It has a 16 hour battery life with charging case and 32 hours of uninterrupted independent Bud use. It has an IPX7 waterproof rating as well as premium sound with custom EQ. The Vista was made for runners and athletes who perform in all conditions. Included in the box with purchase of a Jaybird Vista are the Vista Totally Wireless Sport Headphones, Secure-Fit Eargels: 1/2/3, Charge Case and USB C Charging Cable. The regular price of the Vista is $179.99. Cnet called them true wireless headphones "ready for prime time" in July 2019.
Jaybird X4 – The X4 offers rugged versatility with custom audio, custom fit, and all-day, waterproof toughness. It is regularly priced at $129.99. The X4 comes with 8-hour battery life, over or under ear fit with comply ultra foam tips.
Jaybird Tarah Pro – The Tarah Pro is known for its battery life and rugged construction It has a 14 hour battery life and premium sound with custom EQ as well as IPX7 waterproof and sweatproof.
Jaybird Tarah – Premium sound quality at a great value which opens up the door to audio freedom and inspires your daily session. It has custom EQ, IPX7 waterproof & sweatproof, sport fit and 6 hour battery life. It is regularly priced at $99.99.
Here is what we are tracking:
Jaybird offers rugged wireless head phones for athletes no strings attached. Jaybird was the first company to design wireless headphones for athletes. The rugged headphones are designed to be tough.They both water and sweat proof. Designed to withstand high intensity training and incremental weather. Jaybird got the form part right and then went to work on the function.
All three models have access to iOS and Android app that allows the wearer to customize their listening experience.The app has an equalizer so you can set bass to push a faster mile or bring out the most out of the orchestra as you crest a peak. The app enables you to preset the EQ and even share your favorite settings online through Spotify. The app also has a find feature that helps locate lost headphones.
All three models are compatible with multiple other Apple, Android and Blackberry smart devices. You can take calls, change the volume, mute, activate your digital assistant.
Jaybird currently offers three models each designed to offered different features and benefits to the user:
RUN – is an ear bud only model, with absolutely no wires. It provides 4hrs of playtime.It also has a fast charge function, that will get 1 hr. of play time out of five minutes of charge time. Designed to be light and comfortable it comes with 4 different size silicone ear tips. It also comes with four different fin sets to make sure it fits securely on your ear. The charging case provides up to hours of playtime. They are offered in three different colors, Jet, Drift and Flash-Alpha (neon green).The Jaybird RUN is currently priced at $179.99
FREEDOM 2- Is an small light design wireless earbud set.The earbuds are wired together with a small controller on the right side. This FREEDOM 2 provides four hours of playtime, but comes with a charging clip for an additional 4 hours.The charging clip is small battery backup. It comes with four different size ear pieces to get the best fit possible. The FREEDOM 2 has three different color offering, Gold, Carbon and Steelblue.The Jaybird FREEDOM 2 is currently priced at $99.
X3 – While it looks stylistically similar to the FREEDOM 2, it is definitely beefed up for toughness and playtime. The X3 is a more rugged model that offers 8 hours of playtime, which is the longest of the Jaybird lineup. It is water and sweat proof just like Jaybirds other offerings. The X3 has 3 different Comply ear tips and three different ear blade sizes, to make sure you get a great comfortable fit. The X3 has six different color offerings, Sparta, Blackout, Alpha, Roadrash, Camo and Platinum.They are currently priced at $99.
Designed with the athlete in mind and getting better with every iteration, all three of these Jaybird headphones would make great gifts. We will be watching for all the best deals, sales, promos and lowest prices on Black Friday and Cyber Monday. We expect the Jaybird line to be big sellers this holiday season and steep discounts as the holidays approach.Check back with us soon for the best deals on Jaybird headphones because we will monitoring the internet for savings.
2018 Deals:
Click Here for the Amazon Deals on Jaybird Headphones:
Jaybird Run Wireless Headphones – $128.97 (save $51)
Jaybird Freedom 2 – $79.94 (save $20)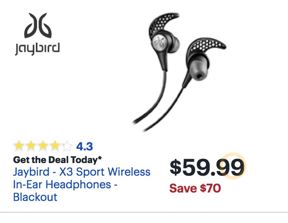 Last Major Update: