Element TV Black Friday Deals 2023 and Cyber Monday Deals
Find the best deals on an Element TV for Black Friday 2023. From Thanksgiving Day to Cyber Monday 2023, we will bring you all of the ads, sales and price discounts on these HDTV, 4K Ultra HD, Fire TV, Roku TV and Smart TV choices.
Element Electronics offers a line of affordable, state of the art smart TVs and HD TVs. The company is based in Winnsboro, SC and manufactures its televisions in the United States by American workers. They will no doubt be on sale again over Thanksgiving weekend for shoppers who are looking for a gift for themselves or a member of their family.
2018 Deals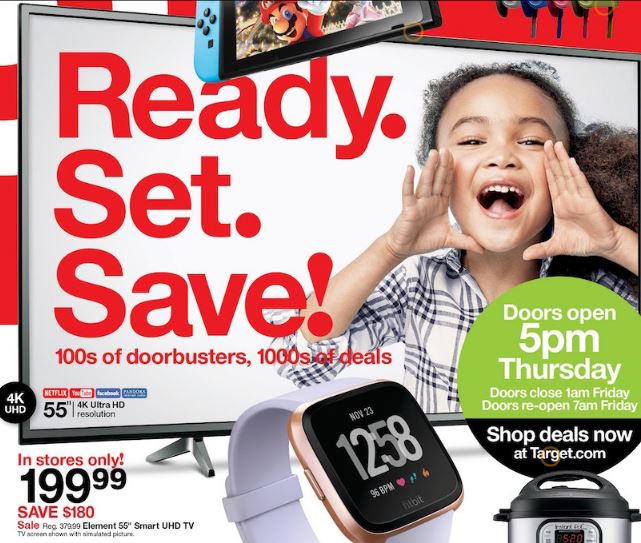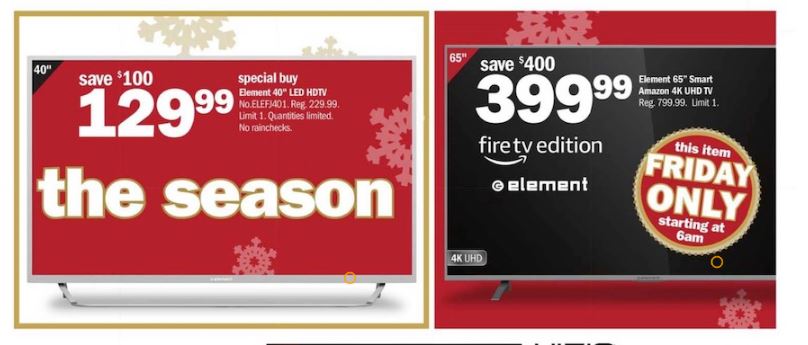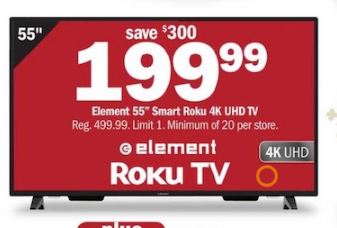 2017 Deals
Here are a few of the Element TV deals from last year during the Thanksgiving holiday:
Walmart
Element 39-inch Smart TV – $125.00
Target
40 inch 1080p Smart LED HD TV – $179.99 (save $70)
Amazon
Element and Amazon created a co-branded line of 4K TVs that are usually on deep discount over Black Friday, Cyber Monday and Prime Day. The prices last Thanksgiving were:
Element 55″ Fire TV – $400
Element 50″ Fire TV – $300
Element Computer Monitors
We really did not follow sales on Element monitors last year but we will add them here new for 2018. If you are looking for a good deal on a computer monitor, consider the options that we post here during November.
Black Friday 2023:
We will post all of the available price savings here when they are announced in October and November. We think you can expect to find a great Element TV Black Friday deal.
Cyber Monday 2023:
There are still a few months until the Cyber Monday deals are posted by online retailers for televisions. So be sure to stop back later to see what we have found.
Last Major Update: