Apple AirPods Pro / 2 Black Friday Deals 2023 & Cyber Monday Deals
Ready for the AirPods Black Friday Deals? Find the best sales on the Apple AirPods Pro and AirPods 2 here during Black Friday 2023. Apple rarely offers discounts on its products but there are likely going to be a handful of retailers which decide to publicize Airpods Pro Black Friday and Airpods 2 Black Friday deals due to the popularity and demand among the public for the devices, and we will collect all of the online sales and print ads with price discounts for the Apple headphones between Thanksgiving Day and Cyber Monday 2023.
2022 Deals:
Find more Black Friday deals right now at Amazon.com.
2020 Black Friday Deals on AirPods
Staples has Apple AirPods (2nd Generation) Bluetooth Earbuds with Charging Case for $119 (save $40) beginning Sunday, November 22.
Staples has Apple AirPods (2nd Generation) Bluetooth Earbuds with Wireless Charging Case for $164 (save $35) beginning Sunday, November 22.
Staples has Apple AirPods Pro Bluetooth Earbuds with Wireless Charging Case for $199 (save $50) beginning Sunday, November 22.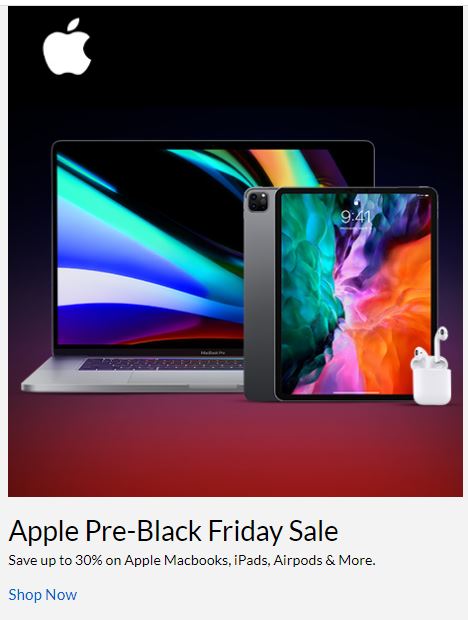 2019 Black Friday Airpods Deals:
Apple AirPods with Charging Case – $129 @ Walmart (save $15)
AirPods Pro – $249.99 @ Target
The AirPods Pro may be backordered at Amazon, but that did not stop them from putting it on sale with two weeks until Thanksgiving. There is no indication how long the discount will last – but enjoy it while it does!
AirPods Pro Black Friday Deals
At the end of October, Apple announced their new premium wireless earbuds at a price point of $249. They will offer noise-canceling mode as well as transparency mode to let in outside sounds. They are shorter, have added comfort thanks to swappable silicone tips, and are sweat/water resistant. The Release Date was scheduled for October 30th.
Apple says the noise cancellation is adjusted up to 200 times per second, using built in microphones that detect external sound. The system is expected to be similar to the new Beats Solo Pro.
Apple says that can get around 4.5 hours of battery life when continuous listening. They charge using a Lightning connector, with a Lightning to USB-C cable in the box. They also support wireless charging. The case has enough extra battery for about 24 hours of listening after recharges.
But don't buy just yet! The latest rumor published in the China Economic Daily is that the latest version of Apple's popular AirPods will be released at the end of October and be called the AirPods Pro. If true, this will be the third generation of the device and have an expected price point of around $260. There is also expected to be another version of the AirPod headphones released between now and 2020.
2019 AirPods Two Deals:
A few different Apple Authorized Resellers such as Amazon have launched $15 to $30 off these headphones in mid-October. The biggest discount was available at Amazon when paired for sale with the wireless charging case.
Will airpods go on sale for black friday 2019?
Absolutely. There have been regular sales on the original device as well as the Airpods 2 this year. There have not been any monster price drops yet but they have been seen sales offering more than $30 off the regular price. However, it is not yet clear whether the Black Friday deals will include the brand new Airpods Pro – the device that some are calling the AirPods 3. Apple is not expected to run a sale but some major retailers and electronics stores may decide to do so if they want to move inventory and attract more people onto their website / into their store.
What stores should you be looking for AirPods deals?
Since Apple doesn't regularly have substantial Black Friday deals, you will have to check retailers' ads to see whether they are putting these Apple headphones on sale.
Best Buy AirPods Deals: They have been showing a banner for the AirPods Pro on the home page of their website since the announcement and they seem like a great candidate to see a sale on either the new model or the older AirPods 2 and first generation device if any store is going to do so.
Amazon AirPods Deals: They will almost certainly have a sale on the older models of the Apple AirPods at some point this holiday season. If a competitor launches a sale, it will most likely be matched or beaten by Amazon shortly after it is announced.
Other Retailers to Check: Walmart, Target and Macys are all candidates for putting the popular wireless earbuds on sale. We will also be following a few smaller electronics retailers that might try to pull in media coverage and shoppers by offering a price discount on them.
Black Friday 2018 Ads with AirPods Deals: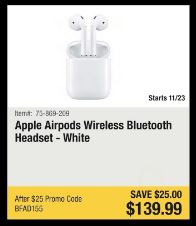 AirPods are wireless headphones made by Apple that are compatible with all of your Apple devices.They basically allow you to cut the cord from the Apple EarPods and still enjoy high quality sound thanks to Bluetooth technology. If you are an Apple user and are looking for a new pair of earbuds to listen to music, consider one of these AirPod deals.
Airpods 2 – The second generation AirPods have better sound quality and enable you to use the voice commands with Siri, better bluetooth connection, wireless charging case, faster device switching and more. They can last up to 5 hours on a charge and Apple claims they achieve 50 percent more talk time. They also use the new H1 Chip.
The AirPods 2 didn't make it out in time for Black Friday 2018. However, they are out for 2019!
The Amazon AirPod deals on Prime Day include the AirPods (2019) along with the wireless charging case for $179 ($20 off). With the standard charging case on Prime Day, they were $144.99 (save $15). In the run up to Prime Day, Macy's offered the best deal on them for only $129 and that lasted only a few hours.
However, the Apple Airpods were offered for less a short time after Prime Day – at their second lowest price ever. At the end of July, Rakuten offered the second generation, 2019 version for just $135.99. That is $24 off the regular price of $159.99.
Last Major Update: