Target Black Friday 2018 Ad Deals
Shop Target for great deals at the Thanksgiving sales on Black Friday 2018 and Cyber Monday. We will bring you info about the biggest and best deals and discounts here when the savings are announced online or in an advertisement for Black Friday 2018. We are committed to helping you find the best shopping deals of the year from Amazon Prime Day to Thanksgiving Weekend. So get ready to save in 2018, 2019, 2020 and beyond! Until then, we hope you enjoy learning about what was available over Thanksgiving weekend in 2017:
Plus, enjoy free shipping on all orders from Nov 1 – Dec 23, 2017! Red Card members can access Black Friday prices one day early (11/22), in addition to saving 5% off everything!
Last Major Update:
Black Friday Ad
Target offered 10 days of deals.  It's Black Friday preview sale on Thanksgiving evening included a $249 Hisense 50″ Ultra HD TV, a $199.99 robotic vacuum ($150 off!), a $89.99 Fitbit Charge HR and $89.99 wireless earphones.
Hours (2017)
Target is open from 6 pm to midnight on Thursday and reopens at 6am Friday to continue the great deals!
Online shopping starts 1 am Thursday for everyone, and Wednesday for Red Card members (who also save 5% on everything). Shipping is free for everyone for all orders through Dec 23, 2017.
Cyber Monday Ad
Target has not released the advertisement for Cyber Monday 2017 yet.
Here are a few of the discounts from the Monday after Thanksgiving from last year (2016):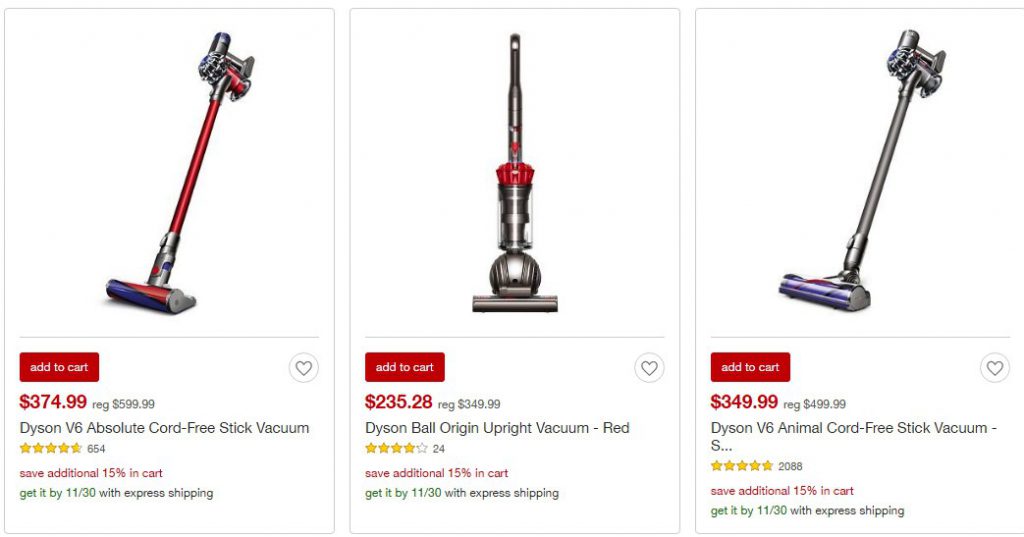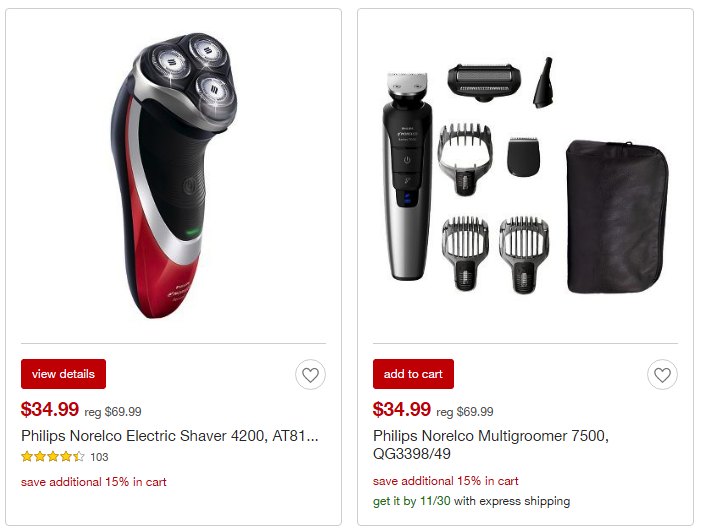 Target offered an in-store and online discount of 15% for Cyber Monday.  It also offered a great number of deals.  A few that we thought were particularly good were the $199.99 Kitchenaid 5 qt. mixer. $34.99 Philips electric razers, and the Dyson vacuums.
Coming Soon
We will post the return policy for this store during Thanksgiving when they become available.
Past Black Friday and Cyber Monday Target deals (2016/2015)
Target offered a Black Friday preview with Wednesday only shopping savings highlighted on four pages of the flyer. These deals featured a LG 4k Ultra HD for $499.99 ($300 in savings) and included other items such as an apple watch, Nikon camera and vacuum cleaner.
Doors opened at 6 PM on Thursday (Thanksgiving) with "while quantities last" doorbusters. Target offered their "lowest prices ever on all TVs." Movies were available for between $2 and $10. Clothing apparel and accessories were 40% off both in-store and online. If you spent $75 or more on Friday, you got a coupon for 20% off on one shopping trip between December 4th and 13th. Saturday savings included $50 off Holiday Shop purchases of $100 or more.
For Cyber Monday, Target offered a giant 40 page flyer of deals, 15% savings with promo code CYBER15 and free shipping. It also had a cyber week sale with highlights including 30% off apparel, shoes and accessories, 40% off home items including 50% off a Kitchenaid 5qt stand mixer, 30% off specialty and plus toys, coupons for up to $35 off in their holiday shop, as well as a Samsung 4K Ultra HDTV for $599.999 (save $300).
About Target
Target is the second largest discount retailer in the United States. The company was originally called Goodfellow Dry Goods when it was started in 1902. The first Target store opened in Roseville, Minnesota in 1962 and the company is now headquartered in Minneapolis. it now has about 1,800 retail locations throughout the United States.
Last Major Update: