Noise Cancelling, Wireless Headphones, Bluetooth Black Friday 2020 & Cyber Monday Deals
Find the best deals on headphones during Black Friday 2020. We are searching out the best sales and discount offers on wireless, noise cancelling and Bluetooth headphones from Thanksgiving Day to Cyber Monday 2019.We will search the Black Friday deals for the biggest savings on wireless headphones and earbuds that are bluetooth compatible.We will bring you info about the biggest and best deals and discounts here when the savings are announced online or in an advertisement for Black Friday 2020. We are committed to helping you find the best shopping deals of the year from Amazon Prime Day to Thanksgiving Weekend.So get ready to save in 2019, 2020 and beyond!
2019 Headphone Deals for Cyber Monday
JBL Live 400 Headphones, $69.99 @ Macy's
JBL In Ear Buds, $99.99 @ Kohl's
JBL In Hear headphones, $19.95 @ eBay
Bose Quiet Comfort 35 Series 1 Wireless Headphones, $199.95 @ eBay
As the headphone technology arms race heats up, consumers have a better selection of features options and prices to choose from. Deciding to cut the headphone cord is pretty easy because the additional mobility and functionality come at a relatively affordable price point. Other features such as noise cancelling come at a much more premium price point. Depending on your budget and what kind of Black Friday 2019 deals we help you find decide what features are the most important to you. How are you going to use your headphones, is probably the most important question to ask yourself.With that in mind, here are some of the best the market has to offer in wireless headphones this Black Friday.
Over and on ear options:
At the premium end of the wireless marker is the Beyerdynamic Amiron Wireless currently price at $677. Only serious audiophiles need apply for this one. The blue tooth connectable Beyerdynamic Amiron Wireless are consistently rated as the most dynamic and best sounding wireless headphones available. The noise-canceling is not as good as the Sony or Bose offering, but the sound quality is superb.
The Sony WH-1000XM2 is a wireless Bluetooth connectable, over the ear noise cancelling headphone. Currently priced at $348. The Sony noise cancelling really outshines the competition. It has several levels of noise cancellation, one allows high frequencies like announcements in and another allows voices to order a drink or have a short conversation. Best-in-class noise cancellation and excellent sound quality. It has about 30 hours of battery life on a full charge. Over all a fantastic over the ear option and perfect for road warriors.
The Bose Quiet Comfort 35 II are an excellent over the ear noise cancelling option.They're currently priced at $349, which is directly on par with WH-1000XM2, its most direct competitor. The Bose QuietComfort 35 II offers excellent noise cancellation, great sound quality and 20 hours of battery life. The big upsell on the version II was the integration of Alexa and Google assistant button on the headphone. If constant access to your digital assistant isn't a must, the previous generation QuietComfort will put a smaller dent in your wallet. Either QuietComfort version offers excellent sound quality and is a near perfect travel companion.
The AKG N60NC Wireless headphone is a solid choice at a much lower price point. The Bluetooth AKG N69NC is an on ear rather the over the ear option. The sound quality is very good. The noise-cancellation is on par with the premium price headphones, but suffers a bit because these are on ear rather than over ear. Over all the AKG N60NC are an excellent value choice because you get a huge bang for your buck.
The Jabra Move Wireless come in at a budget price of $65, however their performance far outweighs the price tag. Great sound quality and sleek design. These are a great sporty and budget friendly option.
In-ear options:
The big choice with in-ear headphones is, do you want true wireless, meaning no wire at all or are you willing to tolerate the earbuds being wired together? Both versions allow for varying degrees of being untethered, but true wireless comes at premium price point. Below are the best of true wireless and wireless tethered earbuds, decide what fits your needs and budget best.
The best in ear wireless noise cancelling option is the Bose QuietControl 30. One of the few noise-cancelling in-ear options, the earbuds are wired together with a small plastic piece covering the wires, which is far less bulk than the over the ear noise cancelling options. It's Bose so the sound quality is excellent and the noise cancelling tech is second to none. With 20 hours of battery life and a various levels of noise-cancellation, these headphones offer quite a lot for $299.
Constantly ranked some of the best wireless headphones, Jaybird provides an excellent option with the Jaybird X3 at $109. Jaybird designs headphones for athletic use, so they are built tough and water resistant. They even have a moisture wicking coating on the ear bud. Jaybird's sound app allows for custom tuning. The sound quality on the Jaybird X3 is excellent and battery life is about 8 hours. The wireless Bluetooth connectable Jaybird X3 has passive noise canceling. Overall these are great option for all the features and the price point.
As for the true wireless options:
The Bose SoundSport wireless are currently priced at $199. These completely wireless Bluetooth wireless Bose Sound Sport offer active EQ and access to your digital assistant. They have 5 hours of battery playback time. As with any Bose product the sound quality is excellent.
Probably the best overall completely wireless option is the Jabra Elite 65t, currently priced at $167. They are lightweight and provide customizable sound options. The playback time is up to 5 hours and allows for digital assistant voice commands. There is a charging case option which provides 15 hours of run time. The sound quality is excellent.
Another excellent Bluetooth true wireless option is the Jaybird Run currently $139. With 4 hours of playback time and quick charge that offers 1.5 hour of playback for 5 minutes of charge time, these will spend a lot of time in your ears. The Jaybird app provide for customizable sound settings and EQ. The charging case which is sold separately allows for up to 12 hours of playback. The Jaybird Run is a great Bluetooth true wireless option at a great price point.
And last but certainly not least are the Apple Air Pods currently priced at $159. The go-to option for Apple device users because of the easy syncing and integration, the one-size-fits-all earpiece design is comfortable and provides a decent amount of exterior sound insulation. With up to 5 hours of listening time per charge and up to 24 hours with the included charging case. Solid sound quality at great price particularly considering that the charging case is included.
There are a tremendous amount of wireless, Bluetooth, noise cancelling headphones options on the market now and no matter which brand or model you want we are determined to dig up the best sales, deals and lowest prices on wireless headphones for Black Friday 2019. Whether you want the best sound quality, the longest battery life or the ability to noise cancel out the annoying seat-mate on the commute home, there is an option that will meet all your requirements.With all the competition in the wireless, Bluetooth and noise cancelling headphone market in 2019, we expect manufactures and retailers to offer some really great deals. Check back for the latest info on deals, offers and pricing on wireless headphones as Black Friday 2019 gets closer.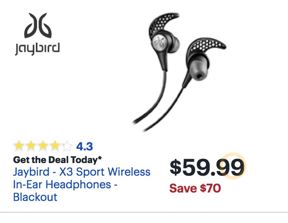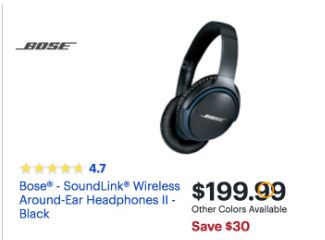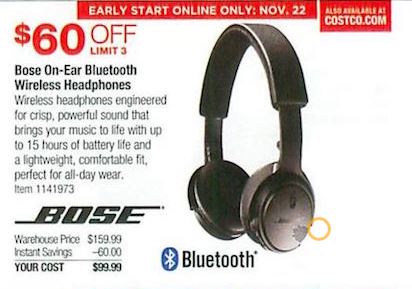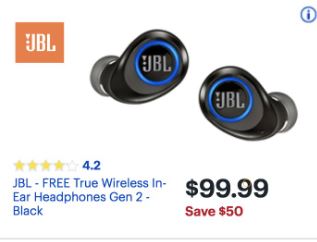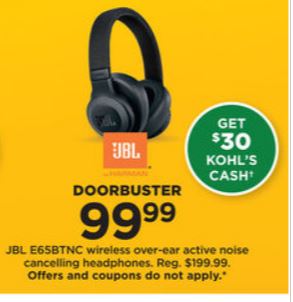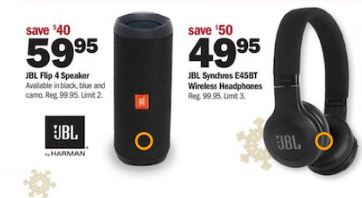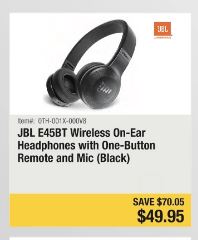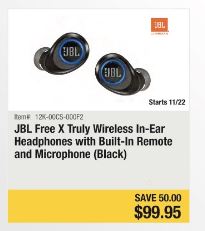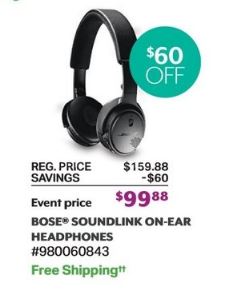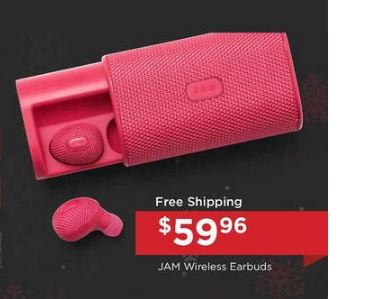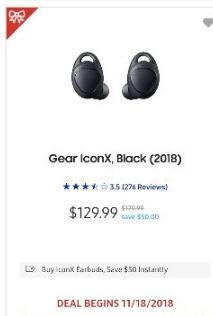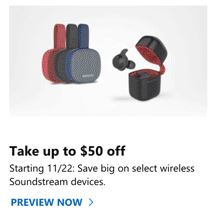 Here is what we have found so far for Black Friday 2017:
Amazon
Best Buy
SAVE $220 – Beats by Dr. Dre Studio2 Wireless Over-the-Ear Headphones – $159.99
SAVE $125 – Sony XB950N1 Extra Bass Wireless Noise Canceling Headphones – $124.99
SAVE $100 – Skullcandy Crusher Wireless Over-the-Ear Headphones – $99.99
SAVE $100 – Jabra Elite Sport True Wireless Earbud Headphones – $149.99
SAVE $100 – Jaybird Freedom F5 Wireless In-Ear Headphones – $49.99
SAVE $50 – JLab Audio Epic Air True Wireless Earbud Headphones – $99.99
SAVE $50 – Skullcandy Hesh 2 Unleashed Wireless Over-the-Ear Headphones – $49.99
SAVE $40 – Sony XB50BS Extra Bass Sports Wireless In-Ear Headphones – $39.99
SAVE $30 – JAM ULtra True Wireless In-Ear Headphones – $69.99
SAVE $30 – Insignia NS-CAHBTEB02 Wireless In-Ear Headphones – $29.99
SAVE $30 – Skullcandy Method Wireless In-Ear Headphones – $29.99
SAVE $20 – ifrogz Impulse Wireless In-Ear Headphones – $19.99
Click here to shop Best Buy for wireless headphone deals.
Target
SAVE $220 – Beats Studio Wireless Headphones – $159.99
SAVE $60 + $30 Gift Card – Beats Solo Wireless Headphones- $239.99
SAVE $40 + $20 Gift Card – Powerbeats Wireless earphones – $159.99
SAVE $50 – True Wireless Earbuds – $29.99
SAVE $25 – Skullcandy Ink'd wireless headphones – $24.99
To shop Target's headphones, click here.
Walmart
SAVE $21.88 – Skullcandy INK'D Wireless In-Ear Headphones – $25
SAVE $15 – Skullcandy Jib Bluetooth Earbuds – $15
Find the Skullcandy deals at Walmart here.
Newegg
SAVE $160 – Refurbished Sony 950N1 Extra Bass Wireless Bluetooth Noise Cancelling Headphones – $89.99
SAVE $20 – Samsung Level U Pro Wireless Headphones – $24.99
Click here to find the Newegg headphone deals.
Kohl's
SAVE $25 – Skullcandy Ink'd Wireless Bluetooth Earbuds – $24.99
Microsoft
SAVE $50 – Soundstream Malibu earbuds – $49.99 (starts 11/23)
Macys
SAVE 60% – Polaroid Bluetooth Headphones – $16 to $40 (doorbuster)
About Our Black Friday and Cyber Monday Coverage
We hope you have found a great deal already.If you haven't, we will be adding deals here as they are announced during Thanksgiving weekend up until Cyber Monday 2019.Stop back soon to see more posted here.Happy Thanksgiving!
Last Major Update:
Current Sales on Amazon: