8K TV Black Friday 2022 & Cyber Monday Deals
Find the best deal on an 8K TV from Sony, Samsung, LG and Sharp during Black Friday 2022 here at Funtober. Funtober will track all of the television deals across the major stores, websites and electronics companies including Best Buy, Amazon and more from Black Friday to Cyber Monday 2022, as we know you are looking for the best 8K tv black friday deals this year:
2022 Deals:
Find more Black Friday deals right now at Amazon.com.
2021 8K UPDATE:
The world's first 8K television was shown at the Consumer Electronics Show in Las Vegas in 2012. But it was not publicly available for some time – it took several years for them to hit the commercial market with Samsung starting sales in 2018, LG starting sales of an 8K OLED TV in 2019, and Sony also releasing their version in 2019. Prices on these televisions were also high at the size that people have become used to viewing show and movies, with 75 and 85 inch TVs at this resolution starting at several thousand dollars and going up rapidly from there.
Sales may have been slow so far, but they are expected to heat up rapidly. Strategy Analytics is expecting more than 1 million 8K TVs to sell this year (2021) worldwide and more than 25 million households owning at least one by 2025. Consumers are expected to make the transition as prices fall and major 8K content showcase events increase. The Olympics were expected to be such an event, but the summer olympics delay for a year and the pandemic led to a decrease in marketing around the high quality content.
8K televisions can be found for sale in 2021 from at least four manufacturers: Samsung, Sony, LG and TCL. According to TechRadar, the 65 inch models are the most popular these days, but by 2023 8K televisions measuring 70 inches or more are expected to surpass them in popularity. Strategy Analytics actually anticipates that at some point manufacturers will stop making 4K tvs at those sizes and will switch over completely to 8K televisions.
One thing making the switch over possible is HDMI 2.1 and 48G cables. This is the new standard in HDMI cables which allows for refresh rates of uncompressed signals at an 8K resolution at 60 frames per section. HDMI 2.1 ports are coming built-in on many high quality televisions in 2022. It even makes possible handling resolution as high as 10K at 120Hz.
At some point retailers are going to start throwing big discounts at buyers in order to move their inventory of 8K TVs to make way for new models. 8K televisions have since their introduction been more expensive than a similarly sized 4K television model. Will an 8K tv ever be similarly priced to a 4K television? Stranger things have happened. We actually read an article recently in Tom's Guide about how a writer recommended an 8K television because the price at Costco was less than the price of a similarly sized 4K model. So it sounds like it is definitely a possibility.
8K TV DEALS IN 2021
If you are looking for a great deal on one of these tvs, consider buying a Samsung from last year. Samsung offered a number of televisions in the mid-range of the 8K market last year and the prices have been dropping as they have been replaced by the latest and greatest 2021 luxury models. Provided that shipping delays don't leave them with limited inventory of newer tvs ahead of Christmas 2021, it should be a good option to get jaw dropping images from the latest technology at a more affordable price.
WHERE TO LOOK FOR BLACK FRIDAY DEALS ON AN 8K TV:
Televisions are one of the most popular Black Friday deals, but 8K tv deals and inventory are still somewhat confined to major electronics retailers. You are unlikely to have as many options as if you were willing to compromise with a lower resolution, but there are still a handful of places where you will be able to find sales over Thanksgiving in 2021:
Amazon – The online retailer that started with books has branched out to basically every product imaginable. It is known for having some of the best deals around on Black Friday, and it should come as no surprise that they also have superior price discounts these days on televisions over Thanksgiving weekend.
Best Buy – This electronics retailer with approximately 1000 locations will have big discounts on 8K TVs at the end of November as part of its Black Friday sale. You may not see them in the Best Buy Black Friday ad, but they will be on the website and probably in the stores as well.
Manufacturer Websites – Another option is to look for sales on the Sony, Samsung and LG websites. They may not have deals that will match the best offered by online retailers, but they have been known to offer some reasonable discounts over the holiday period.
Why 2021 could be a great year to buy at Black Friday:
These televisions have been on the market long enough that there are newer versions available, and older models being sold as "open box", "renewed" or as the "2020 model". It present an opportunity to discount them that was not available before. Also, retailers may be more likely to discount the 8K models as the appeal of a large 4K television as a doorbuster to drive sales may be decreasing as they have become well placed in American households. Furthermore, it is still early in the adoption of the product, so you may still be one of the first people among your friends to pull the trigger and get one of these high resolution tvs.
Why you may want to wait on an 8K tv until next year:
Retailers are already complaining about delayed shipments, long shipping times and other supply chain issues ahead of the holiday shopping season. If retailers can't get enough supply to fill their shelves before Christmas, they are not going to be discounting their electronics. Also, retailers are complaining that the cost of shipping is going up, which may require increasing the cost charged for products by 5 to 20 percent in order to offset the increase. If product costs are higher, than it would blunt the capability of the retailer to offer a great discount. Another year might find more favorable conditions for a big price cut.
2020 Deals
Best Buy 8K TV Black Friday Deals:
Samsung 82″ Q800T Series 8K Smart Tizen TV – $4499.99 (save $1500)
Samsung 75″ Q800T Series 8K Smart Tizen TV – $3299.99 (save $1000)
Samsung 85″ Class Q950TS 8K Smart Tizen TV – $11999.99 (save $1000)
Samsung 85″ Class Q900TS 8K Smart Tizen TV – $8499.99 (save $1500)
Samsung 65″ Q800T Series 8K Smart Tizen TV – $2299.99 (save $900)
Samsung 65″ Q900TS Series 8K Smart Tizen TV – $4499.99 (save $500)
Samsung 55″ Q900 Series 8K Smart Tizen TV – $2299.99 (save $200)
LG 75″ Nano 9 Series LED 8K Smart webOS TV – $3999.99
LG 75″ NanoCell 99 Series 8K Smart webOS TV – $3299.99 (save $1200)
LG 65″ NanoCell 99 Series 8K Smart webOS TV – $2299.99 (save $700)
Sony 75″ Class Z8H Series 8K Smart Android TV – $4999.99 (save $1000)
Walmart Deals:
Samsung 65″ 8K TV – $2297.99 (save $1202)
LG 75″ 8K Nano 99 TV – $3636.67
LG 65″ 8K TV – $2296.99 (save $1203)
Amazon Deals:
Samsung 55″ QLED 8K Q900 (2019)(Renewed) – $1997.95
Target Deals:
Samsung 65″ QLED 8K TV – $2297.99 (save $1202)
Newegg:
Sony XBR75Z7H 75″ 8K TV – $4998 ($500 gift card with purchase by 11/22/2020)
SONY XBR785Z8H 85″ 8K TV – $8998 ($450 gift card with purchase by 11/22/2020)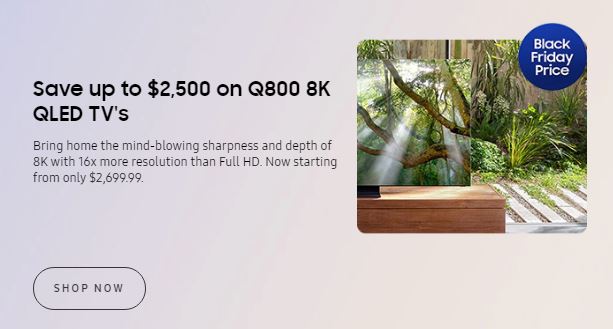 Samsung has started its Black Friday deals and they include up to $1700 off the Samsung Q800T 8K TV and $1200 in instant savings off the Q800 Smart 8K. Now you can have 8K visual technology in your home starting at $2299.99 this November!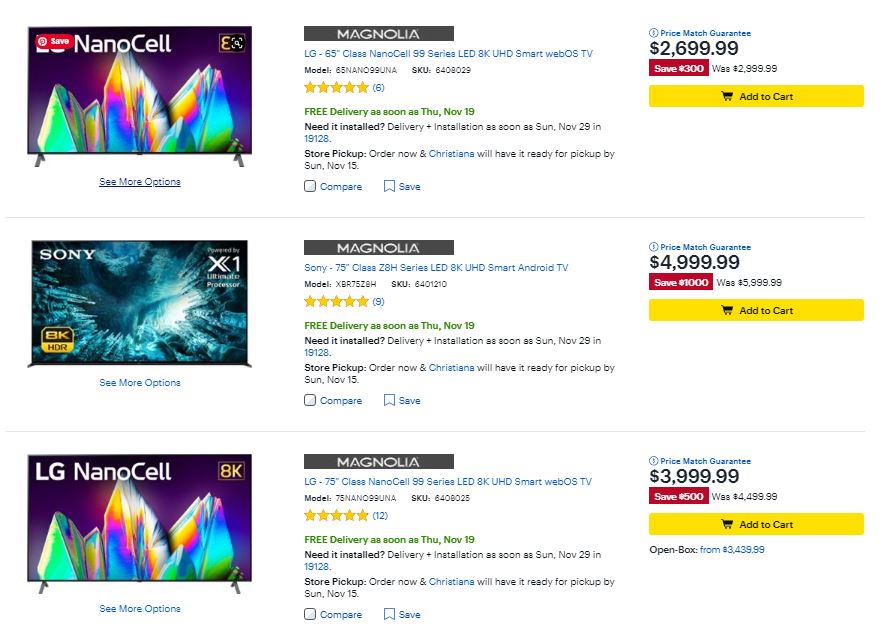 July 1, 2020 Update:
Last year during Black Friday 2019, we saw a limited number of 8K TVs from Sony, Samsung and LG. There has been a number of new 8K TV releases since then, including the Sony Z8H Series, Samsung Q800T Series, Samsung Q900TS Series, Samsung Q950TS Series, LG NanoCell 99 Series and LG ZX Series. With these announcements, it is looking like there will be even more 8K TV Black Friday options in the United States this year.
Sony Z8H Series
This Sony 8K TV series includes a 75 inch and 85 inch TV version. It uses the Picture Processor X1™ Ultimate which is twice as fast as the X1™ Extreme. It also can upscale 4K and 2K images close to 8K with the X-Reality PRO. It has a minimalist one-slate design and thin bezel frame. Speakers are integrated into the frame closer to the center for harmony in sound and pictures.
Samsung Q950TS Series
This is a NEXTGEN TV meeting ATSC 3.0 interoperability test specifications. It has groundbreaking infinity bezel design (nearly-invisible frame with minimized black edges), intuitive Smart TV features, and lifelike resolution according to Samsung. Samsung also calls it, "Our smartest processor ever." Samsung announced the European launch of its new 8K TV series including the Q950TS in February 2020.
Samsung Q800T Series and Samsung Q900TS Series
These were released at the same time as the Q950TS to provide offerings from 55 inches to 98 inches in the 8K TV market.
LG NanoCell 99 Series
The NanoCell 99 TV series brings 7 new 8K TVs the the LG lineup of the NanoCell TV series. This brings a Real 8K NanoCell Display and LG α9 Gen 2 Intelligent Processor 8K. The new NanoCell "Real 8K" lineup was announced in April 2020 and includes a 65 inch and 75 inch TV models with sales availability beginning in May and June.
LG ZX Series
This is the successor to last year's OLED Z9 series from last year. This LG TV series has the α9 Gen 3 AI Processor 8K which is specifically engineered to power 8K performance. It includes a number of technologies to improve your television experience including 8K 4-step noise reduction, AI Picture Pro, AI Sound Pro and AI 8K Upscaling. These OLED tvs went on sale in March 2020.
Is there 8K tv content?
Youtube has had 8K content since 2015 – at a time when no one was able to enjoy them at the resolution at which they were created for consumption. At the time, there was only limited equipment to actually film such content.
Streaming services are still operating in 4K in 2020. This includes Netflix, Amazon Prime and Vudu. Rakuten TV announced in 2019 that they would start streaming in 8K before the end of the year. However – it is not available in the United States so we could not check the validity of whether it happened or not.
But stay tuned! The introduction of 5G technology as part of next generation wireless is expected to increase the wireless bandwidth enough to make 8K TV on streaming services possible. Samsung has been working on this, and promises that its existing 8K TVs can be adapted with 5G dongles. Sharp is also reportedly working on adding 5G to 8K televisions.
Buyers of 8K TVs do not actually have to wait to start using their television. The televisions can use AI upscaling to digitally enhance the resolution of their 4K movies and shoes to stretch it across the screen of the higher resolution device.
8K content is also coming. Japan had been working on developing the capability to broadcast the summer olympics in 2020 in 8K – and that seems even more likely to be possible now that it is delayed by a year until 2021 due to the coronavirus.
Should you buy an 8K TV or wait?
The prices on them are still high, although you can find them on sale on Black Friday, Cyber Monday and other traditional sales. They will no doubt be coming down in price in future years as they gain mainstream popularity. At the same time, if you want to be the first of your friends to have an 8K TV, you simply can not afford to wait for them to drop in price before pulling the trigger.
This is ultimately a personal decision about whether you want to be living on the cutting edge of technology and have the money to spend on a new toy for your living room.
If your goal is future-proofing your purchase, you should probably wait. There may be advancements in the near future which you would want. At the same time, if you want a higher quality tv viewing experience now, there is no better option.
Meanwhile, television manufacturers are already working on 16k screens. Sony displayed a 16K tv screen in Japan in April 2019. The TV was 17 feet tall and 63 feet wide, and later in the year went on sale for a reported price of $5 million.
Can you tell the difference between 4K and 8K?
There has been an intense debate online about whether you can actually see the difference between the quality of the television screens. The human eye is able to see pixels that are better then 8K. However, there have been a number of people noting that it is not really possible to do so at the standard viewing distance upon which most people watch tv.
At the same time, there are definitely reports online that people have done side-by-side comparisons of 8K and 4K tvs and the higher resolution wins out with more detail and clarity.
Previous Information from Last Year:
Black Friday may be winding down this year, but Cyber Week is heating up with major retailers announcing their savings. We expect big online sales for Cyber Monday 2019 across a wide range of products. Cyber Monday is expected to result in more than $9 billion in sales in a 24 hour period on Monday, December 2nd. Yes – your eyes read that correctly. It is actually in December this year and it is going to be huge! We will be posting the 8K TV Cyber Monday deals here as they are announced.
Samsung 8K TVs Sale @ Best Buy
November 24, 2019 Update: On the Sunday before Thanksgiving, Amazon is having a huge sale on televisions. So in addition to the Best Buy sale, Amazon has discounts on Samsung 8K TVs as well and a number of renewed / refurbished 8K Samsung televisions:
Amazon Samsung 8K TV Deals:
Samsung QN65Q900RBFXZA Flat 65-Inch QLED 8K Q900 Series Ultra HD Smart TV with HDR and Alexa Compatibility (2019 Model) – $2997.99 (save $2000)
Samsung Q900R Series QN82Q900RBF 82 Inch QLED 8K Smart TV – 8K AI Upscaling – Bixby – Alexa – Google Assistant – Black (Certified Refurbished) – $5371.50
Samsung QN82Q900RBFXZA Flat 82″ QLED 8K Q900 Series Smart TV (2019) (Renewed) -= $4949.95
Samsung QN75Q900RB 75-inch Q900 QLED Smart 8K UHD TV (2019 Model) Bundle 370W Virtual 5.1.2-Channel Soundbar System with Wireless Subwoofer with Instant $300 Saving – $5298
Samsung QN65Q900RBFXZA Flat 65″ QLED 8K Q900 Series Smart TV (2019) (Renewed) – $2374.95
In October 2019, Best Buy announced its Magnolia Anniversary sale with an end date of October 20th. As part of the sale, Best Buy guaranteed to My Best Buy members that they would get the Black Friday price on on the select premium TVs and home theater products which were a part of the sale. In other words – if the price went lower on any of the qualified items between the sale and Black Friday, Best Buy would refund the difference.
As part of this sale, It is the first 8K TV Black Friday deal, with the Samsung 65″ Class LED Q900 series 4320p priced at $2999.99 for a savings of $2000 off the regular price of $4999.99).
More about Black Friday 2019
The 8K TV options are just hitting the mass market. If you want to be on the front end of the revolution to replace 4K televisions which have been on the market since the mid-2000s.
Here are a few of the 8K deals that we will be tracking over the Thanksgiving shopping season this year:In addition to the Best Buy sale, Samsung has also had a number of QLED TVs on sale in October 2019 including two of the 8K televisions from this year. The question as always with new technology is whether to buy it now or wait until it is older and can be bought later. If these are a reflection of the prices on Black Friday deals on the latest models, then it is going to be a banner year for them. Show it off to all of your friends at these prices:
65″ Class Q900 QLED Smart 8K UHD TV (2019) – $3499.99 (save $1500)
55″ Class Q900 QLED Smart 8K UHD TV (2019) – $2499.99 (save $1000)
Sony 8K TV Deals:
The Sony Z9G Series includes a 85 inch Sony 8K TV with a regular price around $13,000 and the Sony 98 Inch 8K TV priced around $70,000.
Samsung 8K TV Deals:
The Samsung Q900 Series of QLED 8K TVs is available in sizes of 65 inches, 75 inches, 82 inches and 85 inches. Samsung says 8K resolution has 16x more pixels than Full HD, and 4x more than 4K Ultra HD. If there are 8K Black Friday deals this year, we expect they will be on the smaller versions such as the 65″ Class Q900 QLED Smart 8K.
Here are some of the Samsung 8K TV options that we have seen deals on in 2019:
Samsung – 82″ Class – LED – Q900 Series – 4320p – Smart – 8K UHD TV with HDR
Sale 6999.99, save 3000, orig 9999.99
Samsung – 75″ Class – LED – Q900 Series – 4320p – Smart – 8K UHD TV with HDR
Sale 4999.99, save 2000, orig 6999.99
Samsung – 65″ Class – LED – Q900 Series – 4320p – Smart – 8K UHD TV with HDR
Sale 3499.99, orig 4999.99, save 1500 
Samsung – 55″ Class – LED – Q900 Series – 4320p – Smart – 8K UHD TV with HDR
Sale 2499.99, save 1000, orig 3499.99
LG OLED 8K TV Deals:
The Z9 88 Inch 8K Smart OLED TV with AI ThinQ technology will be the second TV with 8K technology from LG. There is also an LG Nano 9 Series 8K 75 Inch Class Smart UHD NanoCell TV with AI ThinQ technology.
Sharp 8K TV Deals:
Sharp started shipping an 8K TV in Europe, Japan and China in 2018. The 70 inch 8K TV from Sharp (8MB70AU) is now available in the United States as well.
Black Friday and Cyber Monday Deals:
We will be closely following all of the deal announcements for this new series of televisions. When we find some available, we will post them here. Please stop back in a few months/weeks to see what is available. We expect the majority of deals will be posted in November 2022.
It is unclear right now whether there will even be any deals on these premium televisions this year since there usually aren't a lot of big deals on the latest top of the line products. However, given the popularity of Black Friday deals for TVs, this is one area where the usual situation may not apply.