Best Camera Black Friday 2019 & Cyber Monday Deals
We're putting together a list of digital camera and video recorder deals for Black Friday 2019.We will bring you info about the biggest and best deals and discounts here when the savings are announced online or in an advertisement from Thanksgiving Day to Cyber Monday 2019.We are committed to helping you find the best shopping deals of the year from Amazon Prime Day to Thanksgiving Weekend.So get ready to save in 2019, 2020 and beyond!
We will scour and evaluate the published and online ads for the best savings on Canon, Nikon, Fujifilm, Leica, Olympus, Panasonic, Pentax, Ricoh, Samsung, Sony and other digital cameras.If you are looking to buy a digital camera or video recorder for Black Friday 2019, you will find your options here.
Last Major Update:
Stores will start releasing their deals for Black Friday 2019 starting in late October or early November.We will update this page when the ads are released.On Black Friday, we expect you may be able to find substantial deals on digital cameras.
Historically, there have been a lot of great deals on digital cameras for Black Friday and Cyber Monday.Last year on Thanksgiving weekend, we bought a refurbished Canon PowerShot SX60 HS Digital Camera direct from Canon at a substantial savings to the regular price.We looked at higher end cameras and bundled packages on Amazon, eBay and at specialty camera stores online before deciding that the direct from the manufacturer option was best for us.
Professional and Amateur Digital Cameras:We will be posting sales that we find on both premium and hobbyist cameras here.From bundles to bodies and lenses, you will find big discounts on them from their regular price.
Action Cameras:GoPro led the action camera market but there are a lot of competitors now, including the Nikon KeyMission and Garmin Virb.This means that there will be Black Friday camera deals in this category this year.
Instant Cameras:Fujifilm and Polaroid are the leaders in the instant camera market.Digital cameras may have revolutionized the photo business in recent years but these instant print options are making a comeback and have been known to be a lot of fun to use with a group of friends.
360 Degree Cameras
Ricoh Theta V – a high end 360-degree camera providing for recording high quality images with advanced functions.It is Ricoh's new flagship 360 camera with 4K video resolution and livestream via wireless.The battery allows for approximately 80 minutes of video or 300 still photos.
Insta360 One – This 360 camera captures 4K video and 24 MP photos.It has 6-axis stablization, FreeCapture filming, and livestreaming. The regular price is $299.Accessoryoptions for an additional fee include tripod, drone, helmet, waterproof housing, selfie stick and bluetooth remote, and suction-cup base.
Samsung Gear 360 (2017) – It captures life in stunning 4K video as well as 15 megapixel photos captured by its dual 180 degree lenses. It has been given the model number SM-R210.It includes 4K video resolution, a handheld friendly design, larger memory capacity, and live stream capability.It is also lighter with a longer battery life.
Drone Photography
Drones are revolutionizing photography with their ability to take aerial photos and 4K video from an angle that no humans can achieve with standard cameras. Find the best drone with a camera at an affordable price over Thanksgiving weekend to take HD videos for yourself.
Instant Cameras and Portable Photo Printers
Find an instant camera or mobile photo printer so that you can take and print photos for yourself and your friends.
Other
Camera Bags:It doesn't do you any good to buy a high-quality digital camera if you end up scratching your lens or dinging up the body.Choose a protective case to ensure you get years of use out of your camera and a bag to carry all of your photography equipment.
Digital Camera Memory Cards:Since most cameras write pictures and video to flash memory these days, you will need one or two SD card in order to hold all of those photos you are taking before you move them to your laptop and cloud storage.
External Flash Equipment:In budget cameras, the flash is normally built-in to the digital camera.However, premium pro digital cameras may not include a flash at all.For this equipment, an external flash is attached.In some cases, a separate flash will be used that is triggered automatically by taking a photo.
Tripods:In order to take the sharpest photos, you will want to have the camera remain steady as the shutter is engaged.Unless you have the steady hands of a surgeon, the easiest method to accomplish this is with a tripod.They usually aren't too expensive, but we know every dollar counts in the acquisition of photography equipment.So we will include any deals on tripods that we find here.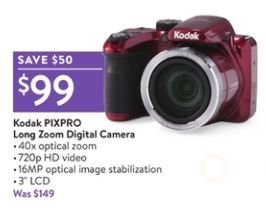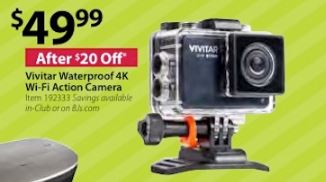 Find Camera Deals at:
Check Back Soon
Buy a digital camera for Black Friday or Cyber Monday 2019 at an incredible savings.Check back regularly for updates on the best deals from your favorite retailers to kick start your holiday shopping.
Current Sales on Amazon: