Bose QuietComfort 45 Black Friday Deals 2023 & Cyber Monday Headphone Deals
Find the best deals on Bose QuietComfort 45 headphones during Black Friday 2023. Funtober is searching online and in-store sales and discount offers to make sure you get the best price on the Bose QC44 from Thanksgiving Day to Cyber Monday 2023.
Bose is one of the most prolific names in premium sound and the Bose QC35 Series II is another excellent Offering. These Alexa or Google Assistant integrated, over the ear headphones offer superb sound quality with added benefit of noise cancelling. They are everything that premium sound should be.
2022 Deals:
Find more Black Friday deals right now at Amazon.com.
2020 Black Friday Deals on Bose:
Bose.com Headphone Deals:
Bose QuietComfort 35 II – Save $50
Custom QC 35 II wireless headphones – Save $50
Staples has Bose QuietComfort 35 Wireless Headphones II for $199 (save $100) both in stores and online beginning Sunday, November 22.

Here is what we are tracking;
The Bose QC35 Series II are currently priced at $349.The sturdy yet light contrition and long battery life make these perfect travel headphones.The Bose QC35 Series I and II are nearly identical. The build the look, the guts all remain unchanged, except the Series II added a button for voice control through both Alexa and Google Assistant. Press the button on the left ear cover and you can ask it anything you would your digital assistant, from weather, to flight information, change the track and much more.
Bose's newest iteration of active noise cancellation only gets better.Older version of active noise cancellation gave an empty bunker hollow sound and interfered with the audio sound quality. Bose has taken it leaps and bounds beyond that, the sound quality remains fantastic for all but he pickiest of audiophiles. The Bose Active Noise Cancelling technology reacts to exterior noise mitigating it, so you can hear your music with less exterior noise interference.There are three selectable levels of noise cancelling so you can choose the best one to suit your surrounds.
The battery lasts up to 40 hours with active noise control off and up to 20 hours with the noise control switched on.So they will last through even some of the longest flights. The QC35 Series II has a 15 minute quick charge feature that provides 2 and half hours of playback.
The Bose Control App is the control panel for all of the audio customization that the QC35 offers.Control the EQ, customize setting and much more directly from the app. Bose also offers a neat feature that allows you to pair and additional set of Bose headphones and listen to the same audio.
Bose offers the QC35 in 37 different colors and 2 different finishes, which provides a lot of options. One of the huge advantages of the Bose QC 35 over comparable Beats models is interchangeable ear pads.There are lot of after-market ear pad options for the QC 35 and the price points are very reasonable. For that reason alone, I would go with Bose QC35.
2019 Deals
Bose QC35 II – $279.99 @ Best Buy (save $70)
The QC35 II was available for $100 off (for a 30% price discount) on eBay in the run up to Black Friday in November. The best price that we have seen so far in a Black Friday ad is at Best Buy, which is offering $70 off the regular price and is only a little higher than the earlier eBay price. There is still time for Amazon or another retailer to swoop in and offer a lower price to drive traffic and sales ahead of the Christmas shopping season.
2018 Deals:
Click Here for $50 off on Amazon right now.
Click Here to Save 63% on the Bose QuietComfort 25 for Apple on Amazon for CYBER MONDAY.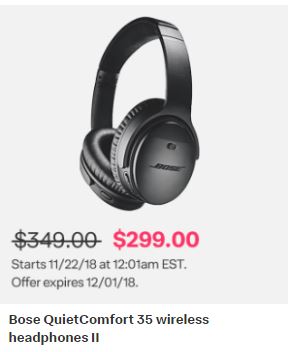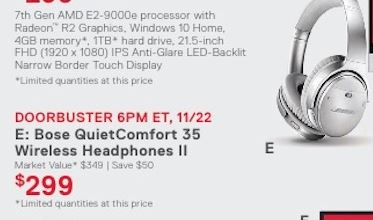 We are digging through in-store and online ads to find you the best sales and deals on the Bose QC35 Series II for Black Friday 2019.There premium and noise cancelling headphone market is getting to be a crowded place and there will be a lot of competition for consumers attention on the premium priced headphones. We expect Bose to offer a decent discount on the QC35 Series II this Black Friday 2018 because of the stiff competition and persistent rumors about the release of Bose's next QC35 iteration release.If you don't really need, want or are just budget sensitive the QC35 Series I is currently price at about $300, a quick $50 saving, but as Black Friday gets closer these may drop in price even further.Check back for the latest pricing, sales, deals and bundles on the Bose QC35 for this Black Friday 2019 and the entire holiday season.
Last Major Update: