Sony Headphones Black Friday 2020 – WH1000XM3, WF1000XM3 & WF1000X Plus Cyber Monday Deals
Find the best deals on Sony headphones during Black Friday 2019, including the WH-1000XM3 and WF-1000XM3. Funtober is searching out all the best in-store and online sales, deals, offers, bundles and prices on all of Sony's Bluetooth, wireless and noise cancelling headphones from Thanksgiving Day to Cyber Monday 2019.Sony has been one of the premier names in audio equipment for decades and they continue to be at the top of their game in 2019 offering best some of the best noise cancelling and Bluetooth wireless headphones on the market.
Black Friday may be winding down this year, but Cyber Week is heating up with major retailers announcing their savings. We expect big online sales for Cyber Monday 2019 across a wide range of products. Cyber Monday is expected to result in more than $9 billion in sales in a 24 hour period on Monday, December 2nd. Yes – your eyes read that correctly. It is actually in December this year and it is going to be huge! We will be posting the Sony headphone Cyber Monday deals here as they are announced.
We are tracking Sony's most popular models, here is what we have tracking so far:
2019 Headphones & Earbuds from Sony:
Sony WH1000XM3 – This is the latest version of the popular wireless noise-cancelling headphones from Sony.They are regularly priced at $349.99 but can be found for sale. Cnet in August 2018 called it the "top noise-cancelling headphone" when it gave it 4.5 stars and a mark of outstanding on its editors' rating. Its noise-canceling technology cuts out more outside sound than ever before. It has both close ear fitting pads as well as an HD Noise Cancelling Processor. It can optimize sound both for atmospheric pressure (plane flights) as well as unique personal characteristics such as head size, glasses and hair. It also has a best-in-class signal-to-noise ratio and low distortion for portable devices. The soft-pressure relieving earpads evenly distribute pressure and increase contact for a stable fit and all day comfort. It has all day power and quick charging, thanks to a huge 30 hours of pattery life as well as an optional AC adapter to provide five hours' worth of charge after just ten minutes.
Sony WF1000XM3 – These are true wireless noise cancelling in-ear headphones. They have dual noise sensor technology, HD noise cancelling processor, and are packed with advanced audio technology to deliver both sound quality and noise-free listening. It has a new Bluetooth chip and optimized antenna for a stable connection hour upon hour of wireless streaming. Regular price is $229.99.
Sony WF1000X – These are wireless noise-canceling headphones which sit securely in your ears so you can enjoy your music with no wires in the way. A 6 mm driver sits inside the compact headphones to provide fine sound that sits comfortably and securely in your ears. The Adaptive Sound Control provides smart listening which automatically adjusts to whatever you do. The regular price is $199.99.
The Sony WH-1000XM2 are the very best noise cancelling headphones on the market.They are truly wireless and offering an excellent 20 hours of playback. Bose may have set the standard for noise cancelling, but Sony really raises the bar with better quality noise cancelling and additional noise-cancelling features.While the Bose QuietControl 35 IIhas different levels of noise-cancelling, the WH-1000XM2 has settings to allow specific types of noise through. For example, it can be set to let high frequency sound through so you don't miss announcements while travelling, or another setting that will decrease the noise cancelling to allow a brief conversation through. Overall the sound quality is premium and for $350, the WH-1000X2 is pieced on par with the competitive options.
For a premium listening experience and 30 hours of playback try the Sony H900N. The wireless noise cancelling headphone offer great battery life and 30 feet of Bluetooth range.The H900N are extremely well reviewed by veryfied purchasers and offer most of the features of more expensive headphones.
On the cheaper wired side Sony offers the waterproof MDRXB510AS sport headphone.The nomenclature is a mouthful, but for $40, waterproof, headphones, it might be worth remembering.
If you want wireless sport headphones, Sony offers the MDRXB90BS.These rechargeable, Bluetooth connectable wireless headphones are nearly water proof and will stay in your ears during whatever your athletic endeavor. The MDRXB90BS are currently priced at $99.
If you're a true audiophile or have studio work to do try Sony's MDR-Z1WW2 Signature.The MDR-Z1WW2 Signature series is the crown jewel of Sony's headphone offerings. Currently price at $1699.That's a lot of dough, but you do get some of the best quality sounding headphones on the planet. The all metal design weighs 13.6 ounces of ultra-high quality build and design. These perform best when paired with hi-res audio components.
2018 Deals: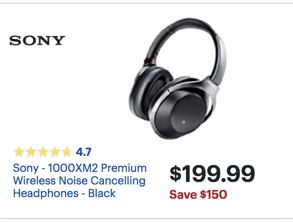 No matter what your listening preferences and budget, Sony has got you covered. We are following all the announcements in store and online so we can present you with the best sales deals, and prices on Sony headphones this Black Friday 2019. As with most of the tech we expect aggressive Black Friday pricing and a pre Black Friday blow out of last year's models So if you looking to save really big and don't need cutting edge audio, then we recommend you start shopping soon.As Black Friday 2019 gets close check back for the best sales, deals, offers and prices on Sony headphones for the holiday season.
Last Major Update:
Other Sony Black Friday 2019 Deals
Last Major Update: