Sony WH-1000XM2 Headphones Cyber Monday 2018 & Black Friday Deals
Find the best deals on Sony headphones during Black Friday 2018. Funtober is searching out all the best in-store and online sales, deals, offers, bundles and prices on all of Sony's Bluetooth, wireless and noise cancelling headphones from Thanksgiving Day to Cyber Monday 2018. Sony has been one of the premier names in audio equipment for decades and they continue to be at the top of their game in 2018 offering best some of the best noise cancelling and Bluetooth wireless headphones on the market. We are tracking Sony's most popular models, here is what we have tracking so far:
Click Here for $150 off the Sony WH1000XM2 Noise Cancelling Headphones on Amazon – ONLY $198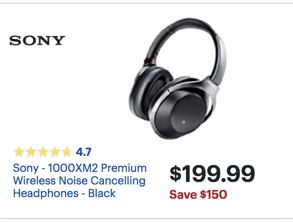 The Sony WH-1000XM2 are the very best noise cancelling headphones on the market. They are truly wireless and offering an excellent 20 hours of playback. Bose may have set the standard for noise cancelling, but Sony really raises the bar with better quality noise cancelling and additional noise-cancelling features. While the Bose QuietControl 35 II has different levels of noise-cancelling, the WH-1000XM2 has settings to allow specific types of noise through. For example, it can be set to let high frequency sound through so you don't miss announcements while travelling, or another setting that will decrease the noise cancelling to allow a brief conversation through. Overall the sound quality is premium and for $350, the WH-1000X2 is pieced on par with the competitive options.
For a premium listening experience and 30 hours of playback try the Sony H900N. The wireless noise cancelling headphone offer great battery life and 30 feet of Bluetooth range. The H900N are extremely well reviewed by veryfied purchasers and offer most of the features of more expensive headphones.
On the cheaper wired side Sony offers the waterproof MDRXB510AS sport headphone. The nomenclature is a mouthful, but for $40, waterproof, headphones, it might be worth remembering.
If you want wireless sport headphones, Sony offers the MDRXB90BS. These rechargeable, Bluetooth connectable wireless headphones are nearly water proof and will stay in your ears during whatever your athletic endeavor. The MDRXB90BS are currently priced at $99.
If you're a true audiophile or have studio work to do try Sony's MDR-Z1WW2 Signature. The MDR-Z1WW2 Signature series is the crown jewel of Sony's headphone offerings. Currently price at $1699. That's a lot of dough, but you do get some of the best quality sounding headphones on the planet. The all metal design weighs 13.6 ounces of ultra-high quality build and design. These perform best when paired with hi-res audio components.
No matter what your listening preferences and budget, Sony has got you covered. We are following all the announcements in store and online so we can present you with the best sales deals, and prices on Sony headphones this Black Friday 2018. As with most of the tech we expect aggressive Black Friday pricing and a pre Black Friday blow out of last year's models So if you looking to save really big and don't need cutting edge audio, then we recommend you start shopping soon. As Black Friday 2018 gets close check back for the best sales, deals, offers and prices on Sony headphones for the holiday season.
Last Major Update: