DJI Drone Deals for Black Friday 2021 on the Spark, Phantom and Mavic
Find Black Friday deals on the DJI Phantom 4, the DJI Mavic Pro and the DJI Spark here at Funtober.We will scour print and online ads for the best discounts on DJI Drones for Black Friday and Cyber Monday 2021.
We will bring you info about the biggest and best deals and discounts here when the savings are announced online or in an advertisement for Black Friday 2021. We are committed to helping you find the best shopping deals of the year from Amazon Prime Day to Thanksgiving Weekend.So get ready to save in 2021 and beyond!
Click Here to shop the DJI.com Black Friday deals (when available).
2020 DJI Black Friday Deals: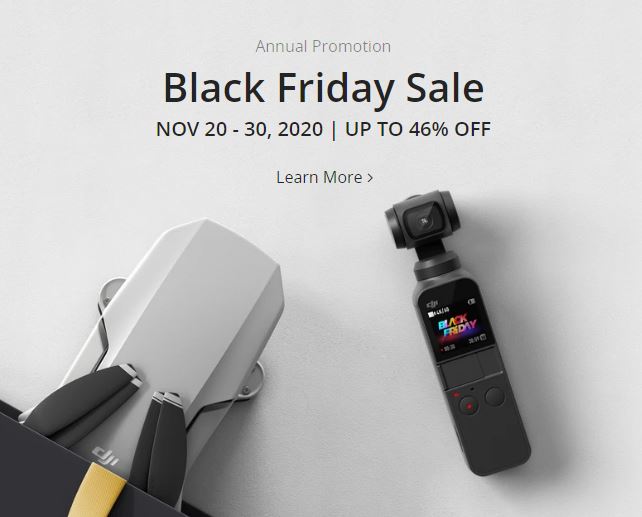 2018 Deals:
CLICK HERE to see all of the DJI deals on Black Friday:
Mavic 2 Fly More Combo – $379 (save $190)
DJI Mavic Pro Platinum – $999 (save $100)
DJI Mavic Pro Platinum Fly More Combo – $1299 (save $100)
DJI Mavic Air – $699 (save $100)
DJI Spark Controller Combo – $359 (save $40)
Spark Fly More Combo – $459 (save $100)
Tello – $79 (save $20)
Tello Boost Combo – $99 (save $50)
DJI Googles Racing Edition – $449 (save $100)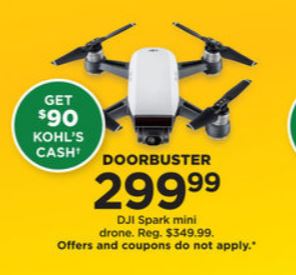 DEALS FROM 2017
DJI Spark Deals:
Kohl's – $399.99 plus $120 in Kohl's Cash
Best Buy – $399.99
Newegg – $599 (including Fly More Combo)
Phantom 3 Deals:
Target – $399.99
DJI Mavic Pro Deals:
Newegg – $899.00 ($1149 including Fly More Combo)
Best Buy – $899.99 ($1149.99 including Fly More Combo)
Here are a few of the drones made by DJI that we expect to see savings on to start the Christmas shopping season:
DJI Phantom 4 Pro Obsidian
The Phantom 4 Pro takes 20MP photos, shoots 4k video at up to 60fps, and retails for $1499.Estimated flight time is 30 minutes with a control range of 7 km and top speed of 72 km/hr.It automagically senses obstacles in five directions and has four-direction object avoidance.The 2017 update ("Obsidian") for the Phantom 4 pro includes a black coat of paint and a new gimbal made of magnesium that is electroplated and coated with an anti-fingerprint finish.
If you are asking yourself what the difference is between the Phantom 4 Pro and the Phantom 4, we did also.The Pro has better obstacle avoidance (360 degrees vs. previously it only worked when flying forward), better camera, greater battery life (30 mins vs. 25 mins) and additional intelligent flight modes.
DJI Mavic Pro Platinum
The Mavic Pro brought most of the capabilities of the high-end Phantom 4 to a more affordable drone with a compact, foldable design.It has a 12MP camera that shoots 4K video with a 3-axis gimbal.The remote control has a range of up to 7 KM. The propeller arms and props fold up to make a very travel friendly drone.The 2017 update to the Mavic Pro ("Platinum") extends the flight time to 30 minutes and is 60 percent quieter than the earlier version.Cnet called it "a powerful flying camera anyone can take anywhere."
DJI Spark Drone
A lightweight, palm-sized mini quadcopter for entry-level drone consumers that has intelligent flight control, mechanical gimbal, and quality camera.It has been referred to as a selfie drone, and the Verge called it the best starter drone.The retail price is usually $499.Propulsion system to 50 kilometers per hour. Max flight time is 16 minutes. Max HD Wi-Fi video transmission is 2 km for 720 pixel real-time video.
The Spark has a wide angle 25 mm lens with a f/2.6 exposure, and 2-axis mechanical gimbal stabilization to keep the camera stable.Video is shot at 1080p and still photos at 12MP.The Spark has various modes to permit professional photography, including rocket mode where it ascends with the camera pointing downward, circle mode flies around the target, helix flies upward while spiraling around the subject, and dronie flies backwards and upwards with the camera locked on the subject.The Spark has the ability to stay on a target or capture photographs based on your hand movements with its gesture recognition capabilities.The 2017 update added Sphere mode that captured images in 180 degrees before stitching them together.
The DJI Spark has the ability to return home if they have a GPS signal and the connection is lost, the battery gets low, or you hit the Return to Home button.The Spark FlightAutonomy system uses the camera, 3D sensing system, vision positioning system ,and dual-band GPS to hover at up to 98 feet, sense obstacles up to 16 feet away, and land safely.
About DJI
DJI is a Chinese technology company headquartered in Shenzhen that makes unmanned aerial vehicles.It has a massive market share in the global consumer drone market, accounting for as much as 85% of sales in the civilian drone and aerial imaging technology.The company was founded in 2006.
About the Black Friday Deals
There are still a few weeks before stores start leaking or releasing their Black Friday ads.When they do, we will start posting DJI drone deals here on Funtober.So if you don't see any savings yet, please return in a few weeks.
Deals at Kohls
Best Buy: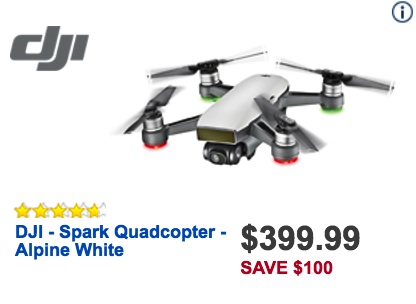 Target:
Newegg:

Last Major Update:
Drone Black Friday 2020 Deals: