Amazon Fire TV Cube Black Friday Deals 2023 & Cyber Monday Deals
Find the best deals and sales on the Amazon Fire TV Cube during Black Friday 2023, Cyber Monday 2023 and the rest of Thanksgiving Weekend.Amazon has aggressively moved in to the entertainment market and plans on spending $5 Billion on video content for Prime subscribers.The Amazon Fire TV Cube is a great delivery and entertainment integration device and it is the cornerstone of Amazon's content delivery.We expect Amazon to offer bigger, better deals as Thanksgiving Day approaches because they have bet so heavily on content delivery.
2022 Deals
Amazon Black Friday Deals Starting Sunday, November 24, 2019:
Fire TV Stick with 4K and Alexa Voice Remote – $25 (save $25)
Fire TV Stick with Alexa Voice Remote – $20 (save $20)
Fire TV Cube – $90 (save $30)
Current Sales on Amazon:
2018 Deals: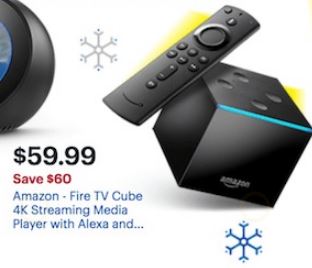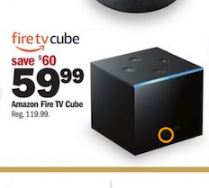 Amazon Fire TV Cube Features:
The Amazon Fire TV Cube provides hands free voice controlled entertainment integration between multiple platforms. What does that really mean? The Fire TV Cube uses Alexa as the voice recognition to control compatible smart devices including, TV, lights, door locks, thermostats, vacuums and other smart devices.The Fire TV Cube allows you to voice access, TV channels, NetxFlix, Prime, Hulu, and other content.The Fire Cube can also be used to navigate, Youtube, FaceBook and reddit. The firet TV Cube allows for total control of the TV entertainment experience.With a compatible TV the Amazon Fire TV Cube can control the tune into live channel volume, AV settings, and sounds.There are a lot of compatible devices.
The Amazon Fire TV Cube currently supports 4k Ultra HD and Dolby Atmos sound.It has 16G of built in storage and supports a ton of different video formats.
Amazon plans on adding sleep timers to the Fire TV cube later this year. A slew of other features such as calling, messaging, multi-room music and Bluetooth connectivity are still in development. We expect a few of these added features to be available by Black Friday 2018.
Amazon has already marked the Amazon Fire TV Cube down from $119.99 to $89.99.What do you get for your $89.99. Amazon is already also offering an interesting bundle of the Fire TV Cube and Cloud Cam for $199.98. The Cloud Cam can be controlled through the Fire TV Cube voice commands to show you another room in the house or where ever your camera is pointed. The Cloud Cam offers a bunch of other features, included infrared LEDs to help see in the dark, 24/7 connectivity, motion detection and a built in two-way radio through the Cloud Cam App.
The Amazon Fire TV Cube has all the combined capabilities of the Fire TV Streamer and the Echo Dot with some additional upgrades, so it is a good value for the current $89.99 price tag.The question becomes what additional deals and offers will Amazon offer on the Fire TV Cube for the next Black Friday!
We will be tracking the deals, sales and bundles on the Amazon Fire TV Cube very closely before Black Friday, so you can get the best deal.We expect Amazon to offer additional bundles of the Fire TV Cube and other smart devices this Black Friday and Cyber Monday 2019. Find all of the great deals here!
Last Major Update: