Xbox One X & One S Black Friday 2019 & Cyber Monday Deals
Find the best deals on the Microsoft Xbox One X and the One S here at Funtober during Black Friday 2019. We will be scouring the print and online ads for the best discounts and savings this year and post them here when they are available from Thanksgiving Day to Cyber Monday 2019. We will bring you info about the biggest and best deals and discounts here when the savings are announced online or in an advertisement for the holiday. We are committed to helping you find the best shopping deals of the year from Amazon Prime Day to Thanksgiving Weekend.So get ready to save in 2019, 2020 and beyond!
Xbox One S Black Friday 2019 Deals – The Xbox One S All-Digital Edition has a suggested retail price of $249 but has been priced on sale around $200 in Fall 2019 at least one time by Walmart. This is probably as low as it will get over Thanksgiving weekend, unless the major retailers decide that they need to move merchandise ahead of next year's release of the Xbox Two – code name Project Scarlett.
Xbox One X Black Friday Deals – The regular price of this gaming console is usually $349 with special editions priced up to $499 and recertified versions priced as low as $299. There are usually discounts found on both the console alone as well as bundle versions with one to two games (and sometimes a gift card or extra gaming controller thrown in).
2018 Deals:
BEST DEAL WE HAVE SEEN ADVERTISED – Click here to get a $50 gift card with purchase of any Nintendo Switch, Xbox One or Playstation 4 system at GameStop. This is on top of their deals, like the $299 Nintendo Switch. Terms and Conditions: Starts Wednesday at 9 PM. Excludes Playstation 4 Spider-Man Bundle and Xbox One S 1TB Minecraft Bundle. Limit One per Customer.
Last Major Update: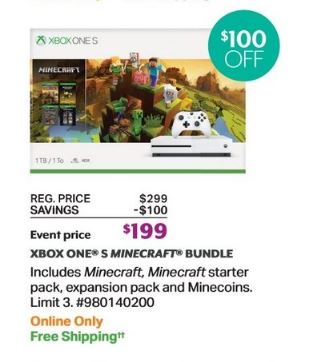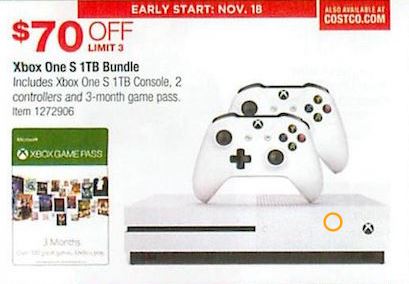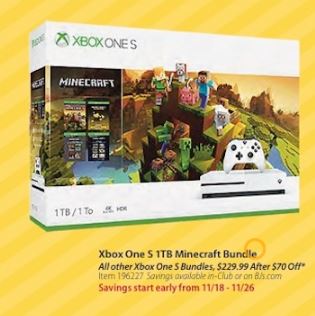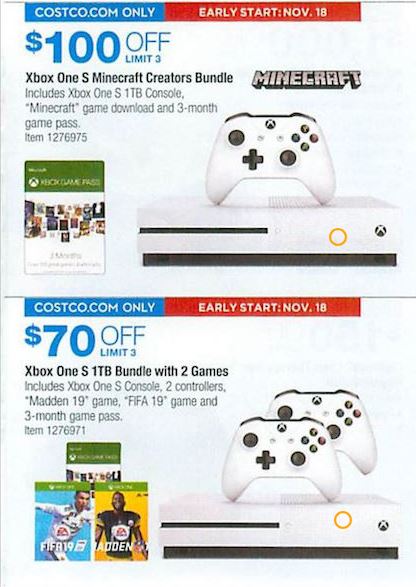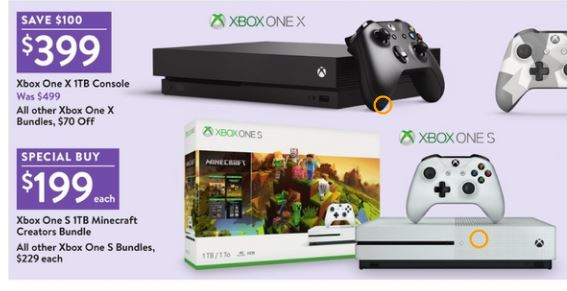 Xbox Black Friday Price Predictions
The current retail price of the One X is $499.The Black Friday deals are expected to be around $50, making the total price of the system for Black Friday 2017 around $449.Additionally, you may find some major retailers that offer substantial gift cards for sales of this item in order to entice customers into the store.
The Xbox One S has been on the market for more than a year now and will see bigger discounts despite its lower starting price.Xbox One S bundles are expected to see price savings of between $70 and $120, bringing the cost of bundles for its 500GB and 1TB packages to between $179 and $229.
Xbox One X
The Microsoft Xbox One X will be the hottest video game system this Christmas.It has an octa-core CPU with 40 compute units and 6 teraflops of power, as well as 12 gigabytes of GDDR5 memory.Games run at 60 frames per second (in first-party titles) both in native 4K resolution as well as HDR.
The Xbox One X was nicknamed Project Scorpio.Microsoft is currently taking preorders on this video game console with the release date set for November 7, 2017.Microsoft says online pre-orders will ship by November 30, 2017.
One X VR
In the past, Microsoft has said that the Xbox One X will have the ability to run lag-free virtual reality gameplay via VR headsets.However, it has been dodging questions about its VR capabilities according to media reports and it hasn't released a VR headset for it yet.The system has more than enough power to run one according to at least one expert.So you will have to stay tuned for developments on this front.
One X Games
Xbox One games and peripherals, including controllers and Kinect, will be compatible with the new system.Existing games are expected to see a slight performance improvement.There will eventually be optimised updates for several first party and third party games, including Gears of War 4, Forza Horizon 3, Minecraft, Halow Wars 2, Kilelr Instinct, Final Fantasy 15 and Rocket League.
Xbox One S
The Xbox One S was the 2016 upgrade to this video game console by Microsoft.It is 40% smaller than the original Xbox One and 1.4 pounds lighter.It includes an Ultra 4K Blu-ray player and slightly more power for gaming (although not a true 4K gaming setup).Its power supply is built-in to the machine so it eliminates the need for the bulk power supply cord.The color is a white finish with black accents rather than the traditional patchwork black.It can stand vertically or sit horizontally, allowing for flexibility in its location.In 2016, Microsoft offered the Xbox One S starting at $249.
Walmart Deals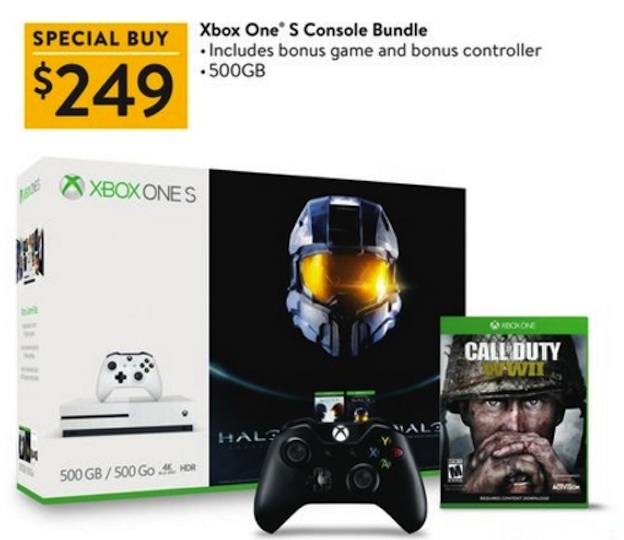 Deals at Kohls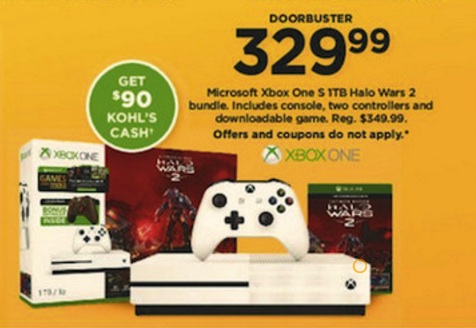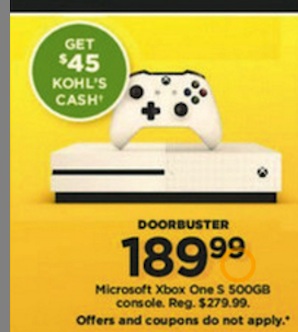 Jet.com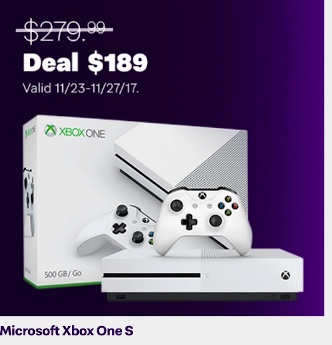 Best Buy Deals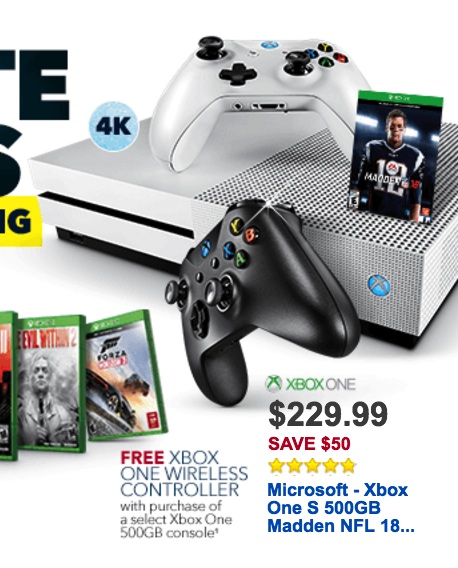 Target Deals:
Meijer (Thursday deals):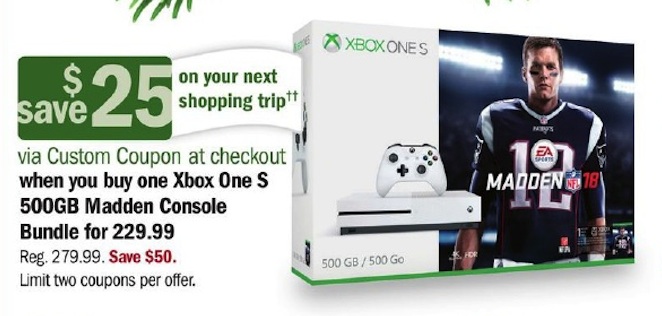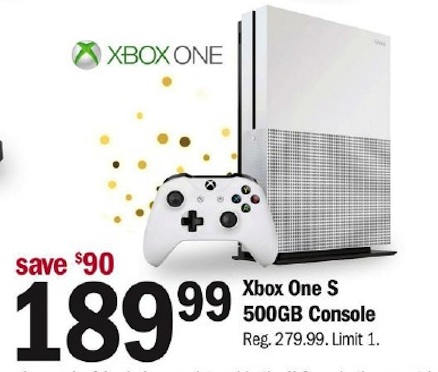 Newegg: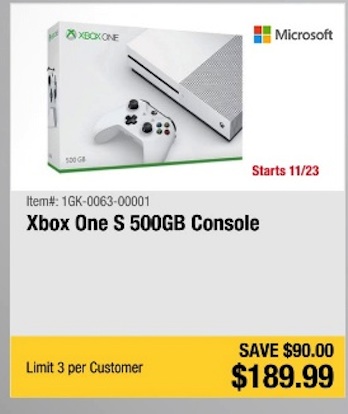 Microsoft: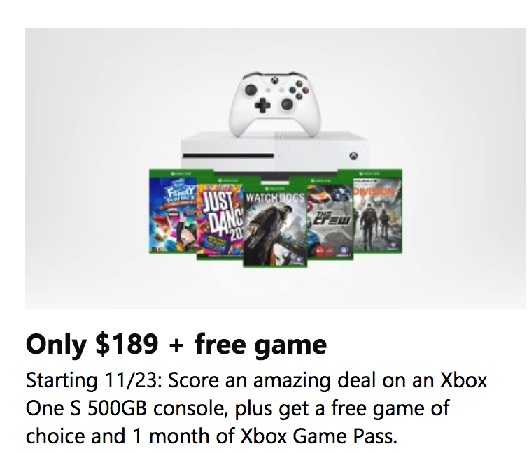 Return Soon!
There are still a few weeks before Black Friday starts in earnest.We will be going through ads both leaked and released online by retailers and major eCommerce websites in order to bring you information about the best deals on Microsoft Xbox one game consoles and video games for Black Friday and Cyber Monday.If you don't see any here now, we will have them here for you soon, so return shortly!
Video Game Deals
Nintendo Switch
Nintendo Labo
Nintendo 2DS
Xbox One
Xbox Two
Sony PS4
Sony PSVR
Sony PS5
Arcade1UP
Fortnite
Doom Eternal Deals
Modern Warfare Deals
Gears 5 Deals
Link's Awakening Deals
Madden 20 Deals
Need for Speed Heat Deals
Pokemon Sword and Shield Deals
Xbox One S Deals
Xbox One X Deals
Video Game Cyber Monday Deals
Last Major Update:
Current Sales on Amazon:
Sale
Bestseller No. 1
Sale
Bestseller No. 2
Sale
Bestseller No. 3