Best Soundbar Black Friday (Sonos, Bose, Vizio) 2022 & Cyber Monday Deals
Find the best deals on a soundbar during Black Friday 2022. Funtober will search the online discounts and print ads for the lowest prices on the Sonos Beam and Playbar, the Bose Solo 5 and Soundbar 700 / 500/ 300 as well as other options like Vizio, Yamaha and Polk from Thanksgiving Day to Cyber Monday 2022. 
2022 Deals:
Find more Black Friday deals right now at Amazon.com.
Past Deals:
Best Buy Soundbar Deals for 2020:
Samsung HW-Q70T 3.1.2ch Soundbar with Dolby Atmos / DTS:X (2020) – Save $300
Samsung HW-Q60T 5.1ch Soundbar with 3D Surround Sound and Acoustic Beam (2020) – Save $220
Sony – 3.1 Ch Hi-Res Sound Bar with Wireless Subwoofer – Save $200
LG – 3.1-Channel 420W Soundbar with Wireless Subwoofer and DTS Virtual:X – Save $170
Samsung – 2.1 Ch 290W Sound Bar With Wireless Subwoofer Dolby Audio – Save $130
Samsung HW-T650 3.1ch Soundbar with 3D Surround Sound (2020) – Save $120
JBL – 5.1-Channel Soundbar System with 10″ Wireless Subwoofer – Save $100
LG – 2.1-Channel 300W Soundbar System with 6″ Subwoofer – Save $100
Insignia™ – 2.1-Channel 80W Soundbar System with Wireless Subwoofer – $80
Samsung HW-T450 2.1ch Soundbar – Save $30
Samsung.com Soundbar Black Friday Deals:
Get up to $400 off select Q Series Soundbars
Get 45% off the T-Series Soundbar
Save $400 on the HW-Q950T Soundbar or save $200 on the HW-Q900T Soundbar.
Save $190 on the HW-T650T.
Here are the soundbar manufacturers that we will be following price discounts and sales on over Thanksgiving weekend 2020:
Sonos – Sonos offers the Beam and the Playbar. The Beam is the smart soundbar for your TV. It has voice control with Amazon Alexa and room-filling sound from movies, TV and music. It is a 5-speaker with five amplifier setup. The Playbar is the wireless home theater soundbar for music lovers. Compared to the Playbar, the Beam is a smaller, smarter and cheaper soundbar.
The Sonos Beam and Playbar are going to be part of the Sonos Black Friday sale as they are offering up to 20% off their home theater products starting on Thanksgiving and running through Black Friday to the Sunday night after Thanksgiving.
Bose Sound bars: Bose offers the Solo 5, Soundbar 500 and Soundtouch 300 Soundbar. The 500 has ultra-high performance with an ultra-thin design. The 300 is a slim, wireless audio bar and home entertainment solution. The Solo 5 is a one-piece TV surround system to bring better sound quality to your TV.
Bose 700 Soundbar Black Friday deals – This device is part of the Bose family of smart speakers and soundbars. The Soundbar 700 is the world's best performing soundbar (according to Bose), featuring an unmatched combination of sophisticated design and exceptional sound.It has built-in voice control, integration with the Bose Music app, and helps bring music, movies and TV to any room you want. It is regularly priced at $799.95.
Vizio Sound Bars: Plenty of options from this consumer electronics company ranging from immersive cinema surround sound to single sound bars. The Vizio 5.1 SmartCast Sound Bar system includes a 36-inch soundbar, a wireless subwoofer, and two small left and right surround sound speakers. Vizio also has three 2018 Dolby Atmos sound bars, enhancing the home theater sound systems. They will also incorporate Chromecast for multiroom music streaming.
Yamaha Sound Bars: The YAS-108 delivers plenty of features and great sound for the price. The YAS-706 MusicCast is a flexible and feature rich high end soundbar that will fit well with any MusicCast whole-home audio system. The full line provides immersive sound for every TV show or movie.
Polk Command Bar: A voice controlled sound bar with Amazon Alexa. Performance-tuned driver array, wireless subwoofer and Dolby/DTS surround sound. Four speakers, including two oval-shaped woofers measuring 1.25-inches x 3.25-inches, and dual 1-inch tweeters, all powered by a claimed 260 watts, with a subwoofer that boasts a 6.5-inch down-firing driver pushed by 100 watts.
Polk MagniFi Mini – An ultra compact design that delivers a room-filling home theater experience. It is flexible and affordable, sounding better than your TV speakers.
Soundbar Deals on Amazon (click on the name below for more details):
Sony CT290 Sound bar – $148 (save $131)
Polk Audio Command Sound Bar with Alexa – $199 (save $100)
Bose Solo 5 Soundbar – $199 (save $50)
Yamaha YAS-207BL Soundbar with Wireless Subwoofer – $269.95 (save $30)
Sony Soundbar Speaker HT-Z9F – $698 (save $191)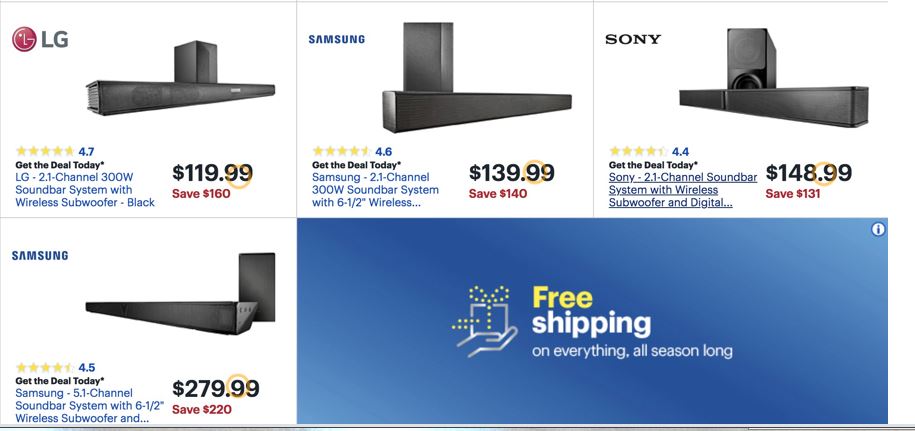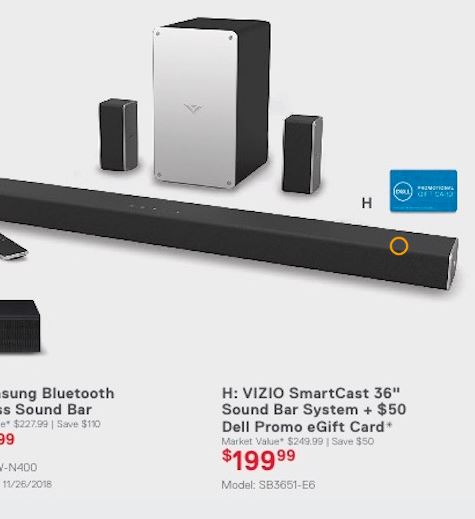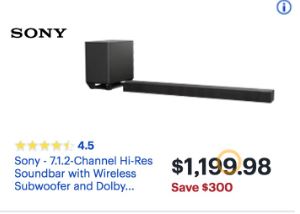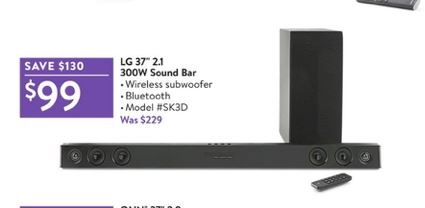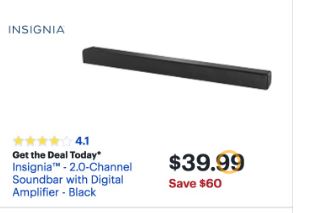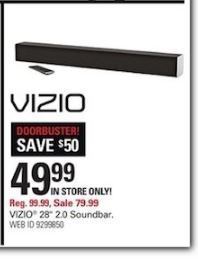 Soundbar Black Friday Deals:
Find all of the best prices on soundbars here over Thanksgiving weekend, including Sonos, Bose and Vizio.
Sound Bar Cyber Monday Deals:
We will post the biggest price discounts available online during the Monday after Thanksgiving.
Last Major Update:
Current Sales on Amazon: