Nerf Black Friday Deals 2023 – Rival Blaster & More!
Find Black Friday 2023 deals on Nerf guns like the Nerf Rival Nemesis MXVII and other blasters.If your kids want one for Christmas, be sure to check the Black Friday and Cyber Monday deals on this popular holiday item.We will scour the leaked and released print and online advertisements to find the best savings and discounts on Nerf toys.
The Nerf Rival Blaster series will bring paintball fun to backyards around the country. Adults and kids can now battle it out launching "high-impact rounds" at their opponents in both team and individual competition without the same paint mess.
2022 Deals:
Find more Black Friday deals right now at Amazon.com.
Past Deals:
2020 Deals
The Black Friday 2018 Deals: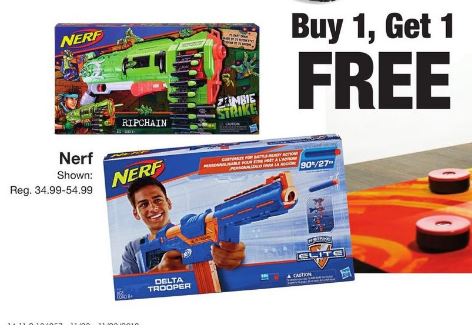 Here are a few of the different Nerf products that will be available for Christmas this year:
Nerf Rival Nemesis MXVII-10K – You will outlast the competition with an amazing 100-round capacity as well as enjoy high-speed reloads with the first easy load hopper.Fully motorized blaster to launch rounds at 100 feet per second.Available in blue or red.
Nerf Rival Khaos MXVI-4000 – A 40 round blaster that launches high-impact rounds at a velocity of up to 100 feet per second.Quick reloads via the ambidextrous magazine release and easy loading magazine.Flip-up front and rear sights for better aim.Available in red or blue.
Nerf Rival Artemis XVII-3000 – A high-capacity blaster that unleashes 30 rounds rapidly with the rotating barrel and trigger lock.Available in red or blue.
Nerf Rival Phantom Corps MXVII-1200 – Motorized Blaster launching rounds at 100 feet per second. It includes one 12-round magazine and 12 rounds.Also trigger lock and tactical rail.
Nerf Rival Zeus MXV-1200 – Motorized blaster fires at a velocity of up to 100 fps.It has an ambidextrous magazine release and easy-load magazine.Also trigger lock and tactical rails.
Nerf Rival Atlas XVI-1200 – Fires two rounds at a time at a velocity of up to 80 feet per second.It comes with 24 rounds and an easy-loading 12-round magazine.
Nerf Rival Apollo XV-700 – A spring-action blaster with 7 rounds and an easy-load magazine. Available in red and blue colors.
We will also keep an eye out for other accessories including the Nerf Rival tactical vests, pouches, refill kits, and face masks.
Meijer (Thursday only) Deals from 2017: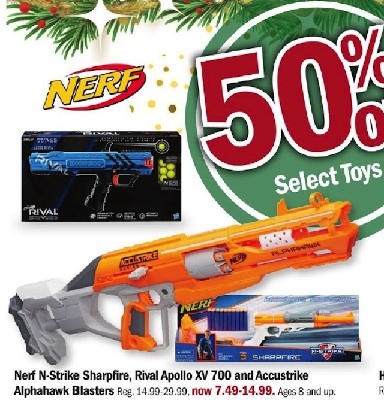 There are still a few more weeks before stores start posting deals and discounts for Black Friday.As soon as we see these Nerf toys for sale, we will start posting them online here.If you don't see any yet, please stop back soon.