Ring Stick Up Cam Black Friday 2023 & Cyber Monday Deals
Find the best deals on Amazon's new Ring Stick Up Cam for Black Friday 2023.From before Thanksgiving Day to Cyber Monday 2023, we will post all of the sales and price discounts on the Ring Stick Up Camera.
2022 Deals:
Find more Black Friday deals right now at Amazon.com.
Current Sales on Amazon:
The new Ring Stick Up Camera offers real time two-way communication, video and smart hub integration. The Ring Stick Up Camera provides security,convenience and ease of use in smart home security. Power options include battery, hard-wired or solar panel. Check in on the camera at any time with Live View on the Ring app, and get real time notifications when the motion sensor is activated.
Black Friday Deals 2020 on Ring Stick Up Camera
Kohl's has Ring Stick-up Cam for $79.99 (plus earn $15 Kohl's Cash) during the week of Nov 22, both in-store (beginning at 8am the 22nd; stores are closed on Thanksgiving) and online (beginning 12:01am on the 22nd).
2019 Cyber Monday Deals
We're still searching ads for Ring Stick-Up Cameras, but check out deals on other Ring products here that will complement a Ring Stick Up Cam, or other options like the Floodlight Cam.
Ring Black Friday Deals 2019
Ring Stick Up Wireless Indoor or Outdoor Cameras – $99 with free Echo Dot @ PC Richard & Son
Ring Battery Stick Up Camera (3 pk) – $379.99 @ Costco
Ring Indoor Cam (2 pk) – $119 w/ $20 Target Gift Card @ Target
Ring Outdoor Wifi Cam w motion activated flood – $199 w free Echo Dot @ PC Richard & Son
Check out our shopping guide on other Ring products here.
Amazon Black Friday Deals, Other Cameras, Starting Wednesday, November 27, 2019:
Blink XT2, 2 Camera Kit – $134.99 @ Amazon (save $45)
Blink XT2, 3 Camera Kit – $185 (save $65)
Wireless Outdoor Security Camera by KAMTRON – $63.99 @ Amazon (save $16)
AKASO Wireless Outdoor Security Camera – $69.99 @ Amazon (save $20)
Wireless Rechargeable Battery Powered WiFi Camera, Home Security Camera w Night Vision – $63.99 @ Amazon (save $16)
Outdoor WiFi Security Camera – $31.90 @ Amazon (save $8.08)
1080P Outdoor Security Camera – $39.49 @ Amazon (save $30.50)
2018 Information: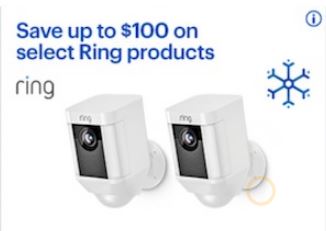 The Ring Stick Up is currently available for pre-order and priced at $179.99 for the regular and $199.99 for the spot light model at the following retailers Amazon, Home Depot, Best Buy, and Lowes. Both models are available in wired or battery powered versions at the same prices listed above.The device mounts nearly anywhere. The Ring Stick Up provides video and two-way audio of that location directly to your PC, table or phone.The motion detection feature provides alerts to your phone. Note the motion detection feature is not available on the battery powered models. Whether is the kids getting home, the dog getting into something he should not, a delivery or something more sinister, you will be notified right away.You can check in on the house or yard with real time video.
The Ring Stick Up is integrated with certain Alexa devices to view real time video.Unlike the previous version offered by Ring, before Amazon purchased them earlier this year, the new models has added some features. Both versions can be used indoors and outdoors. They operate at temperatures from -5 to 120 degrees. The older camera was water proof as well, however the New Ring Stick Up is IPX5 rated.The older version recorded at 720p, the new models is 1080p, which provides twice the resolution.The new Ring Stick Up also has night vision, a wide angle view and a siren.
The New Ring Stick Up adds security and integration features no available on the previous version.The Ring Stick Up Camera can be integrated into the RING alarm system when used indoors.It can also link with the Z-Wave lock from Schlage, Yale, Kwikset or Danalock to lock and unlock doors from the Ring App. Some of the lock systems will allow you to arm and disarm the Ring Alarm through the Ring app.
There is a wired and battery powered version of the Ring Stick Up Camera. The battery is a fully integrated rechargeable.Ring Claims it last 6-12 months under normal usage or about 1,000 notification events. Both are available in black and white. I would expect a little less battery life from the Spot Light model.Ring also has a separately sold solar panel priced at $49.99. That smells like a nice Black Friday bundle offer and we expect to see that combo with nice discount.The Ring Stick Up Camera includes everything needed to mount it. The Amazon's website currently says the ship date for the wired version will be October 18th and December for the battery powered models.The release announce and ship dates are no accident. They are timed to hit just in time for Black Friday and the holiday season, which means there will be really great deals on these products the holidays close in.We expect to see a lot of bundle deals, with smart locks, the Ring alarm and the solar panels on the battery powered models.We also, recommend you wait until close to Black Friday to order your Ring Stick Up Camera. Amazon typically announces holiday discounts early in November.
Since Amazon announced the largest amount of new products in its history in 2018 and its massive investment in the smart home market, there are going to be some fantastic deals for Black Friday 2019. Whether you are looking for added convenience or additional security we will be searching out the best deals and sales on all the Ring Stick Up Camera models for Black Friday 2018 and Cyber Monday 2019.
Last Major Update: