Ring Security Cams, Video Doorbells – Black Friday 2020 Deals
Find the best deals on Ring video doorbells and home security cameras during Black Friday 2020. Funtober tracks all of the biggest sales and price discounts on Ring smart home devices from Thanksgiving Day to Cyber Monday 2019 at major retailers and online websites such as Amazon and Best Buy.
Here are the Ring devices that we will be following this Thanksgiving:
Ring Alarm: A home security system that is completely customizable and easy to install. Connects to the Ring app, so you always know what is happening in your home. Professional monitoring 24/7 with cellular backup is only $10 a month.
Stick Up Cam: Indoor/outdoor security camera with flexible mounting options that can be powered by solar power, battery, or PoE.
Spotlight Cam: Choose between a battery-powered security camera with LED spotlights and siren, a plug-in wired camera, an HD camera with two-way talk connected to a Solar Panel or a hardwired security camera. Average install time between 5-25 minutes. 1080 HD video resolution.
Floodlight Cam: Hardwired security camera with ultra-bright LED floodlights and siren.
Video Doorbell: Elite is a professional-grade doorbell with flush-mount and Power-over-Ethernet (PoE). Pro is a hardwired doorbell with sleek design and advanced security features. The Video Doorbell 2 is the next generation doorbell with quick-release battery and enhanced video. The first generation Video Doorbell is priced at just $99.99.
Peephole Cam: Turn your peephole into a camera with motion sensor, two way speakers, real time notifications, removable battery pack, and Alexa-connectivity.
Ring Smart Lighting: Line your front path with lights, and receive motion-sensor notifications. Weather resistant, with customizable settings, easy installation, and extra lights available. Group them together and link with with cameras, doorbells and other Ring products.
2019 Cyber Monday Deals
Ring Video Doorbell with HD Video, $79.99 @ Amazon
Ring Floodlight Camera with Motion-Activated HD Security Camera, $199 @ Amazon
Ring Video Doorbell Pro, $179 @ Amazon
Ring Spotlight Cam Wired, Certified Refurbished, $129 @ Amazon
Ring Spotlight Cam Battery, $279 @ Amazon
Ring Peephole Cam, $149 @ Amazon
Ring Alarm 5-pc Kit, $139 @ Amazon
Other Security Systems
Blink XT2 Indoor/Outdoor Camera, 3 pack, $184.99 @ Amazon, with Free Echo Dot option available
Blink Indoor Camera, 3 Camera kit, $149.99 @ Amazon
Alrolink Home Security System with 4 Indoor/Outdoor Cameras and Display, $311.09 @ Amazon
Kasa Indoor Cameras, 3 pk, $92.99 @ Amazon
CasaCam VS802 Security System with 2 Cameras and Display, $161.49 @ Amazon
ANNKE Home Security with 8 Cameras and Hard Drive, $199.49 @ Amazon
SimpliSafe 9pc Home Security System, $265.05 @ Amazon
HeimVision HM241 Wireless Indoor/Outdoor Security Cameras, 4pcs, $144.49 @ Amazon
Ring Black Friday Deals 2019
Ring Stick Up Wireless Indoor or Outdoor Cameras – $99 with free Echo Dot @ PC Richard & Son
Ring Battery Stick Up Camera (3 pk) – $379.99 @ Costco
Ring Indoor Cam (2 pk) – $119 w/ $20 Target Gift Card @ Target
Ring Outdoor Wifi Cam w motion activated flood – $199 w free Echo Dot @ PC Richard & Son
Ring Video Doorbell 2 – $129 @ PC Richard & Son
Ring Video Doorbell 2 – $149 @ Navy Exchange (NEX)
Ring Video Doorbell 2 – $139 @ Fred Meyer
Ring Video Doorbell 2 – $129.99 @ Costco
Ring Video Doorbell 2 – $139 @ Lowe's
Ring Video Doorbell 2 – $129.99 @ Best Buy
Ring Video Doorbell 2 – $139.99 @ Target
Ring Video Doorbell 2 – $139.99 @ Ace Hardware
Ring bundle w Echo Show 5 – $179.99 @ Best Buy – includes Ring Video Doorbell 2 and Chime Pro, Echo Show 5 will appear in cart automatically.
Ring Cyber Monday Deals: Find the biggest online price discounts on the Monday after Thanksgiving on these smart home technology products.
2018 Deals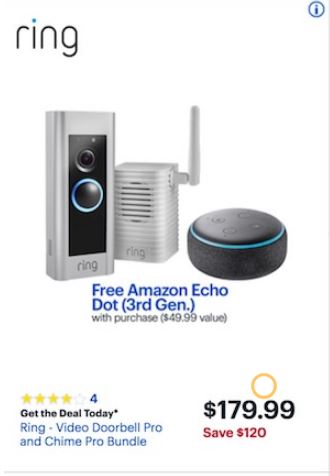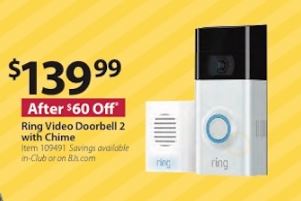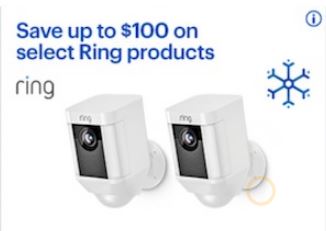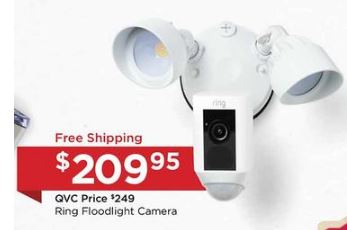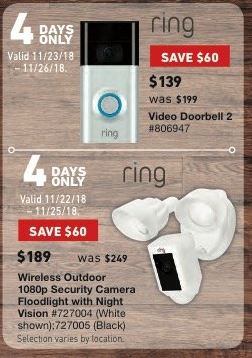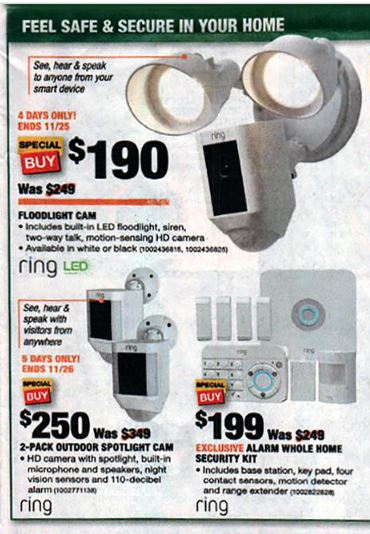 Last Major Update: