Best Dyson Vacuum Black Friday 2019 & Cyber Monday Deals
Shop the best Black Friday deals in 2019 on Dyson vacuum cleaners including the V8, V7, V6, Ball Animal and other vacuums made by Dyson. We have scoured the online and print ads to show you the biggest discounts for Black Friday and Cyber Monday 2019.  
We will bring you info about the biggest and best deals and discounts here when the savings are announced online or in an advertisement for Black Friday 2019. We are committed to helping you find the best shopping deals of the year from Amazon Prime Day to Thanksgiving Weekend. So get ready to save in 2019, 2020 and beyond!
Sales on Black Friday 2018
These are last year's deals!
Click Here to Save on Dyson on Amazon
V8 Absolute Cordless Stick – $349 (save $150)
Animal 2 – $299 (save $200)
V7 Animal – $240 (save $159.99)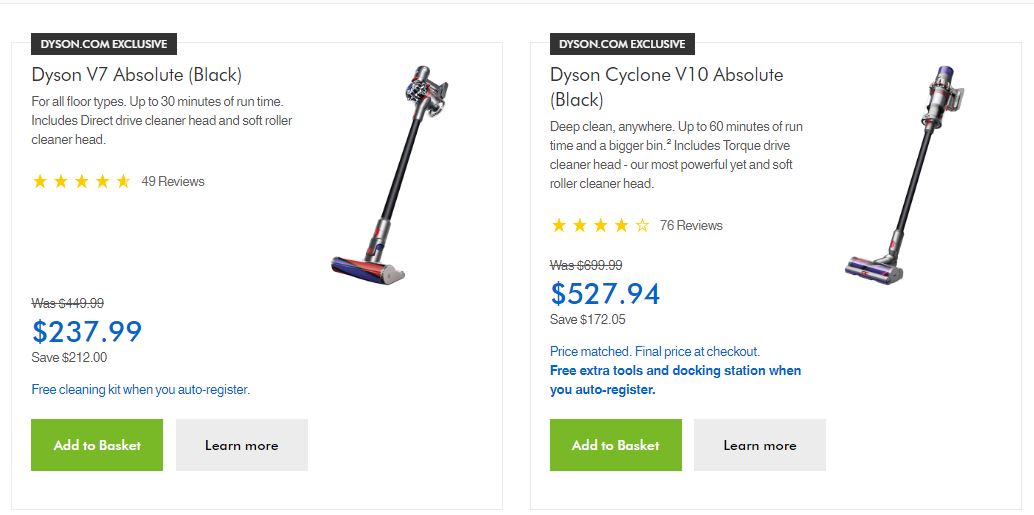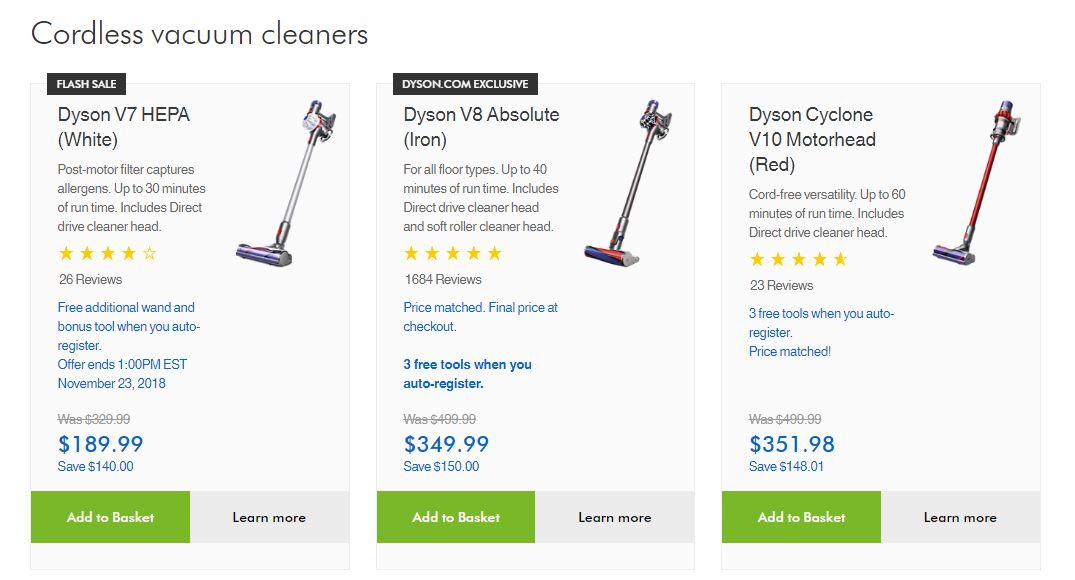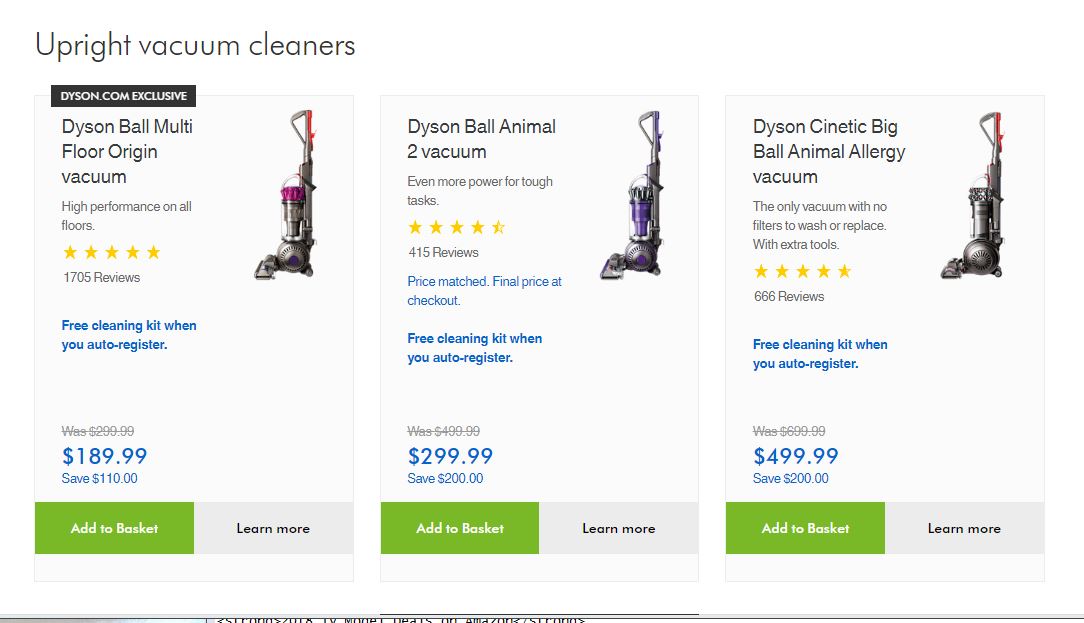 2018 Black Friday Deals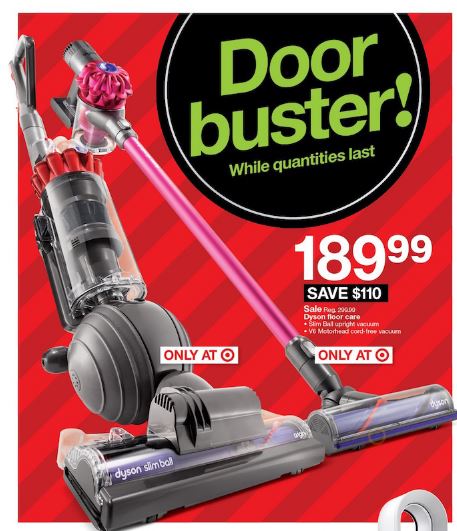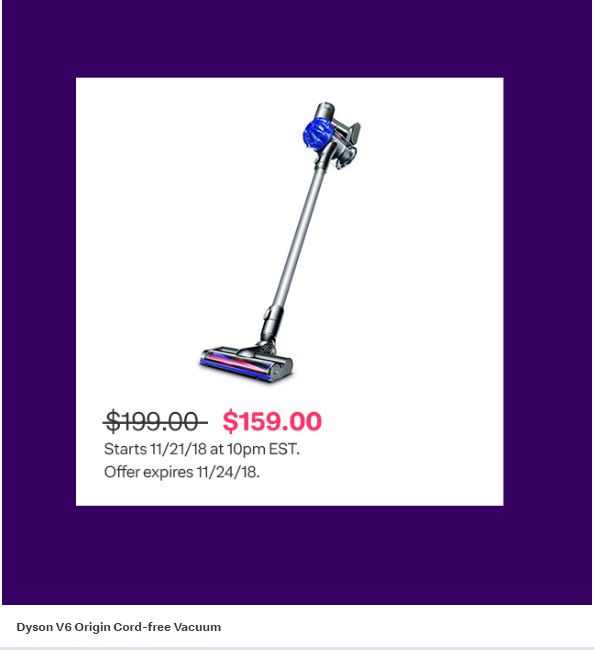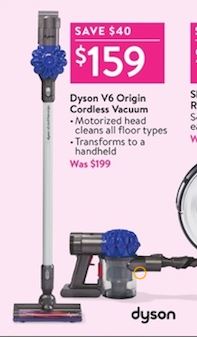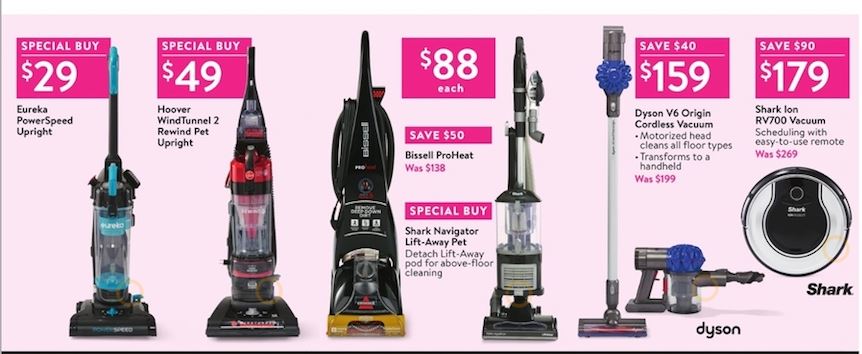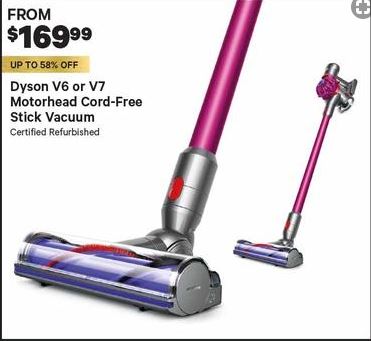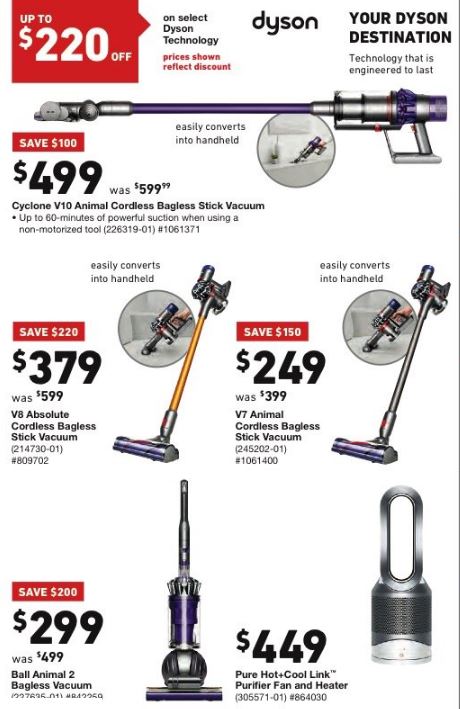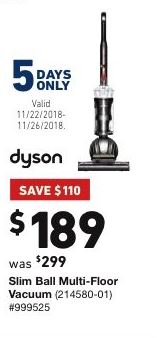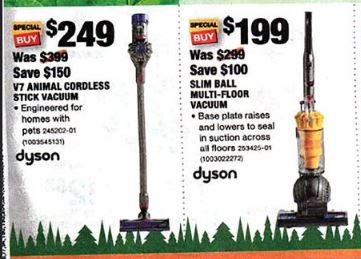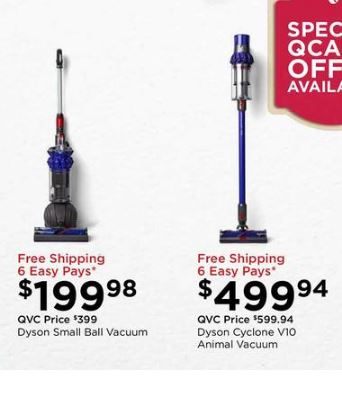 Black Friday 2017
Until then, we hope you enjoy learning about what was available over Thanksgiving weekend in 2017:
Amazon
Click Here to see current deals on Dyson vacuums on Amazon. Because Amazon runs deals from November 1st through Cyber Monday, including short running lightning deals, it would be impossible for us to keep up with them. At the time of writing, Amazon had sales on the Dyson V8 Animal, the V7, the V6 (cord free), Dyson Ball Animal 2, and other products made by this well-respected vacuum cleaner company.
Kohls
SAVE $250 + GET $75 Kohl's Cash – Dyson V6 Animal cord-free stick vacuum – $249.99
SAVE $250 + GET $135 Kohl's Cash – Dyson Cinetic Big Ball Animal + Allergy bagless vacuum – $449.99
SAVE $200 + GET $90 Kohl's Cash – Dyson Ball Animal 2 Upright Bagless – $299.99
SAVE $150 + GET $75 Kohl's Cash – Dyson Ball Multi Floor 2 – $249.99
Best Buy
SAVE $250 – Dyson V6 Animal Bagless Cordless Stick Vacuum – $249.99
SAVE $200 – Dyson Cinetic Big Ball Animal + Allergy Bagless Upright – $499.99
SAVE $200 – Dyson Ball Animal 2 Bagless Upright – $299.99
In general, they are offering up to 50% off Dyson floor care products.
Macys
SAVE $ 380 – Dyson Pro Canister Vacuum – $199.99 (doorbuster)
SAVE $470 – V6 Animal Cord Free – $249.99 (doorbuster)
SAVE $330 – Ball Multifloor 2 – $249.99 (doorbuster)
Target
SAVE $150 – Dyson Ball Origin Upright Vacuum – $199.99 (doorbuster)
SAVE $200 – Dyson V6 Animal Cordless Stick Vacuum – $299.99 (doorbuster)
Products we will add coverage of in 2018:
Dyson Cyclone V10 cordless vacuum cleaner
The new motor can spin over 2000 rotations a second and builds on the already popular cordless V8 model from a lighter weight to longer battery life. At the launch of the device, founder James Dyson said that they've stopped developing corded full-size vacuums because the new motor is as powerful as any upright or cylinder and there is no need to connect to a plug anymore. A linear airflow path also improves the Air Watts of suction by 20 percent. It doubles the battery life to 60 minutes from the V8's 30 minutes of battery power in use. The company claims that the device adjusts via sensors to deliver constant performance at different air pressures via an on-board barometer. There are three models available, the Cyclone V10 Animal, the V10 Absolute and the V10 Total Clean. The Animal is the entry level model to ge4t you started. The Absolute adds a soft roller cleanerhead. The Total Clean includes Mattress tool, Up top tool and extension hose.
Dyson 360 Heurist Robot Vacuum
This is the update from Dyson to the 360 Eye, which has been on the market for three years. The highlights will be smarter mapping and better night vision. The new 360 Heurist robot vacuum will have a quad-core 1.4GHz processor and eight LEDs around its camera for guidance in dark rooms. The reports are that it can pick up 60 percent more details, avoid bumping into furniture by 50 percent, and the processor is 20 times faster than its predecessor. Dyson also says it has the 20 percent more suction power even though it uses the same 78,000 rpm Dyson V2 motor. Runtime varies from 40 to 80 minutes depending on which one of three suction power settings are used. It was initially announced in China and there are plans to launch it there in November. No word yet on a global release, but if it is available over Thanksgiving we will be posting deals here!
Dyson Pure Cool
A purifying fan that senses pollution and traps it. It captures ultrafine pollutants and projects cleaner air around the room. Dyson calls it the "only purifying fan to clean a whole room properly". Certified ashtma and allergy friendly. Captures 99.97% of particle pollutants as small as 0.3 microns. Control and monitor your home's air quality indoors and out with the Dyson Link app for your smartphone.
About Dyson
This British technology company founded in 1987 designs and manufactures household appliances such as vacuum cleaners. Its founder, James Dyson, invented a vacuum that works without the bag. The transparent container using cyclonic technology is its most popular feature.
Ready for Black Friday?
We will be adding more deals and discounts on Dyson vacuums here as we find them. There are still a few months before Black Friday and Cyber Monday are in full swing in 2019. We're eager to help you clean up this holiday period so stop back soon to see what else we find!
Last Major Update:
Vacuum Cleaner Deals
Bissell Vacuum Cleaners
Dyson Vacuum Cleaners
Ecovacs DEEBOT Deals
Eufy RoboVac Deals
Handheld Vacuum Deals
Hoover OnePWR Deals
Hoover Power Scrub Carpet Cleaner
Hoover WindTunnel Deals
iRobot Roomba
Kenmore Vacuum Cleaners
Neato Botvac
Shark Vacuums
Shark ION Robot Vacuums