Nutribullet & Magic Bullet Blender Back Friday 2019 & Cyber Monday Deals
Find the best deals on NutriBullet and Magic Bullet blenders during Black Friday 2019. Funtober will collect all of the great online sales and discounted prices from print ads on the NutriBullet (Classic), Pro, Balance and Rx or the Magic Bullet, Baby Bullet or Veggie Bullet between Thanksgiving Day and Cyber Monday 2019.
2019 Black Friday Deals:
Magic Bullet – $29.99 @ Best Buy (save $10)
Here are the NutriBullet blenders and Magic Bullets that we will be closely following prices on over the Thanksgiving weekend:
NutriBullet – The original method to extract nutrients from food and kickstart healthy living. Capacity is up to 24 oz. Motor operates at 600 watts.
NutriBullet Pro – Works well for people with an active lifestyle. Capacity is up to 32 oz. Motor operates at 900 watts.
NutriBullet Balance – The new product that lets you get real-time nutritional information as you build recipes. Capacity is up to 32 oz. Motor operates at 1200 watts.
NutriBullet Rx – Provides best in class nutrient extraction. Capacity is up to 45 oz. Motor operates at 1700 watts.
Magic Bullet – It is known as a versatile kitchen magician due to its ability to mak a healthy, quick and delicious food by chopping, blending, grinding, mixing, mincing or whipping. It is known for its ability to do any job in 10 seconds.
Baby Bullet – Provide fresh baby food as part of a wholesome, nutritious meal with prep time of 5 minutes or less and easy cleanup.
Veggie Bullet: Allows you to perform three functions (spiralize, shred, slice) plus blend on one machine. They call it the one-button kitchen miracle. Includes cookbook with 70+ recipes. Eliminatebaby food jars and preservatives.
2018 Deals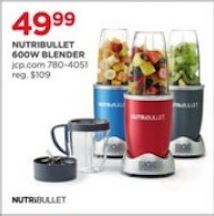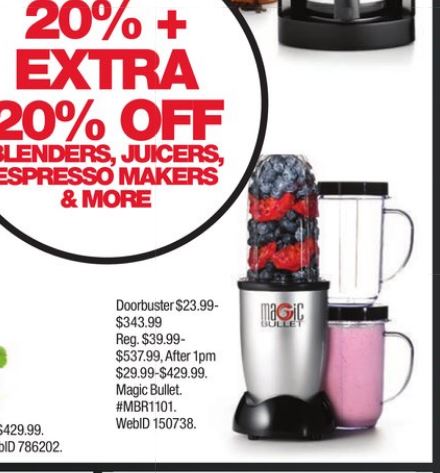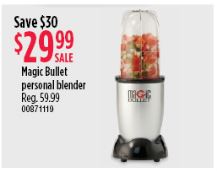 NutriBullet Black Friday Deals: We will be posting all of the available price savings on these blenders over the Thanksgiving holiday weekend – so stop back soon!
NutriBullet Cyber Monday Deals: Find the online sales on these blenders for the Monday after Thanksgiving here when they are announced on Sunday evening or Monday morning.
Last Major Update: