Kenmore Appliance Black Friday Deals 2023 Vacuum, Fridge, Washers/Dryer & Cyber Monday Deals
Find the best deals on a Kenmore vacuum cleaner or other appliance during Black Friday 2023. Funtober will track down all of the online sales and print ads on this line of Sears vacuum cleaners, refrigerators, washers, dryers and dishwashers from Thanksgiving Day to Cyber Monday 2023.
Here are the Sears Kenmore home appliances that we will be tracking during this Thanksgiving weekend:
Smart Appliances: The Smart Refrigerator lets you control and monitor operation from anywhere with just your smartphone. The smart washer and dryer makes it easier to do laundry. And the smart air conditioner lets you check your home's temperature from anywhere.
Kenmore Vacuum Cleaner: There are a number of floor care products, including upright vacuums, canister vacuums, and handheld vacs. Whether you are looking for something to clean wood floors, clean up after pets, or vacuum carpet. The stick and handhelds include the 10340, 10341 and 10440. The canister vacuum options include the pet friendly 22614, 21814, and the 81714. The upright vacuum cleaners include the Kenmore Elite 31150, the 31140, and the 10135.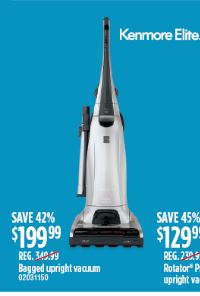 Kenmore Refrigerators: They make a side by side refrigerator, french door options, as well as both top and bottom loaders.
Kenmore Ranges: Options include the electric range, a gas range and a dual fuel stove for cooking on the top burners or baking in the oven.
Kenmore Dishwashers: Portable and built-in dishwasher options to make cleanup in the kitchen easier.
Kenmore Washers & Dryers: Efficiently wash and dry your laundry, plus reduce odors, wrinkles and static at the push of a button. Choose between top or front loaders.
Kenmore Black Friday Deals
Find the best sales on these Sears appliances over the Thanksgiving weekend. We will post all of the best prices that we find on Kenmore products here at Funtober.
Kenmore Cyber Monday Deals
We will post all of the online savings here that are available on Sears.com, Amazon or other online retailers on the Monday after Thanksgiving.
About Kenmore: Kenmore is a brand of household appliances sold by Sears. Their first sewing machine was sold in 1913, first washing machine in 1927 and the first Kenmore vacuum cleaners were introduce in 1932.
Last Major Update:
Where to Look for Black Friday Vacuum Deals:
Amazon - The nation's top retailer has some of the best discounts on vacuum cleaners and robot vacuums over the Thanksgiving weekend. They may not be able to beat some of the Kohls deals due to the Kohls cash, but you can expect them to be price competitive with everyone else.
Best Buy - As the nation's leading specialty retailer for consumer electronics, the Best Buy Black Friday ad usually has some good sales on vacuum cleaners. They even had a pair of Dyson vacuums on the front page of their advertisement in 2020.
Walmart - In 2020, Walmart split the Walmart Black Friday deals into three ads and each one included vacuum cleaners. There were vacuum sales from Dirt Devil, Hoover and Shark with eufy, iRobot and Shark robot vacuum deals
Kohls - The Kohls Cash rewards available on Kohls Black Friday deals make these some of the best over Thanksgiving weekend. In 2020, the Kohls ad offered vacuum cleaner deals on Shark and Bissell as well as robot vacuums by iRobot and Shark. if Kohls continues to offer $15 in Kohls Cash for every $50 spent over the weekend, then these will probably be some of your best Vacuum black friday deals.
Target - They an extensive selection of home and kitchen appliances in the Target Black Friday ad every year. In 2020, they had vacuum cleaners from Dyson, Hoover, Shark, and Bissell with robot vacuums from Ecovacs, iRobot and Shark. Deal launches were spread out with some listed as "Black Friday Deals NOW" and others without that designation. The ad also indicated that there were more deals at Target.com
Newegg - Newegg is an online retailer focused on consumer electronics and computer hardware with its headquarters in City of Industry, California. It carries a variety of vacuum cleaners on its ecommerce store, and in line with its focus on electronics the Newegg Black Friday ad usually has a couple different robot vacuums for sale.
Macys - This department store has an extensive selection of vacuum cleaners and robot vacuums available for sale online but there is usually a pretty small selection in the Macys Black Friday ad - in 2020 they had one Shark vacuum pictured in its early Black Friday sale and another one pictured in its Thanksgiving weekend sale. However, the ads say that there are hundreds of other discounts available online and we can't imagine that they are not putting other vacuums on sale on the Macys website as well.
Last Major Update: