KitchenAid Mixer Black Friday 2020 & Cyber Monday Deals
There will be great deals on KitchenAid Mixers during Black Friday 2020. We will bring you info about the biggest and best deals and discounts here when the savings are announced online or in an advertisement for Cyber Monday 2020. We are committed to helping you find the best shopping deals of the year from Amazon Prime Day to Thanksgiving Weekend. So get ready to save in 2020, 2021 and beyond!
I love my KitchenAid stand mixer, and it's such a useful tool to have in the kitchen. We have one from the Professional series with the crank to lift the bowl in place, but in the years since we got it, KitchenAid has released a number of Artisan stand mixers with a tilt-head, in a number of gorgeous colors that I'm deeply envious of. The stand mixer handles whatever I can throw at it, and is a reliable appliance I'd recommend to any home chef. Don't forget to check out the accessories below, you'll be impressed with the range of attachments available!
Find the current deals on KitchenAid products at top stores like Amazon, Kohls, Macys, and Walmart.
Cyber Monday 2019
We will be adding more deals here through Cyber Monday 2019, so stop back again soon to see what other savings are available on Black Friday this year!
KitchenAid 5qt Artisan Stand Mixer, $169.99 @ eBay
KitchenAid 5qt Artisan Stand Mixer with Accessories pack, $249.99 @ Macy's
KitchenAid hand mixer, $29.99 @ Kohl's
KitchenAid hand blender, $29.99 @ Kohl's

KitchenAid mini food chopper, $29.99 @ Kohl's
The early leaks of Black Friday ads in November 2019 have already revealed a number of stores with sales on stand mixers from KitchenAid over the Thanksgiving weekend. Whether you are looking to replace your existing one or buy a new one for your friend or family member for Christmas as a gift, then you can find one among these Thanksgiving sales:
2019 KitchenAid Black Friday Deals:
KitchenAid Artisan 5QT Stand Mixer – $279.99 @ JCPenney (save $220, was $499)
KitchenAid Artisan Stand Mixer Bundle – $279.99 @ Macys until 1pm, $429.99 after 1pm, regular price $537.99
KitchenAid Artisan Stand Mixers from $229 @ Bed Bath and Beyond
KitchenAid 3.5Qt Tilt Head Stand Mixer – $199.99 @ PC Richard & Son (was 299.99)
KitchenAid Artisan Stand Mixer – $279.99 @ Kohls (save $100 + $75 Kohl's Cash)
KitchenAid Artisan 5qt Stand Mixer – $279.99 @ Navy Exchange (NEX) (was $329.99)
KitchenAid Artisan Mini 3.5qt Stand Mixer – $169.99 @ Overstock
KitchenAid Classic Plus 4.5qt Stand Mixer – $199.99 @ Fred Meyer
KitchenAid Classic Stand Mixer = $199.99 (before 1pm) @ Macy's, $259.99 after 1pm, regular price $324.99
KitchenAid Classic Stand Mixer – $199.99 @ Kohls (save $60 + $60 Kohl's Cash)
KitchenAid Pro 500 Series Stand Mixer – $229.99 @ Best Buy (save $270)
KitchenAid Pro 5at Stand Mixer – $229.99 @ Target (was $449.99)
Stand Mixers Sale @ Best Buy
KitchenAid Accessories
KitchenAid Pasta Cutter and Fresh Prep Attachment Bundle – $99.99 @ Best Buy (save $150)
KitchenAid accessories at Bed Bath and Beyond – save $15 or more on dozens of accessories
Spiralizer with Attachments – $69.99 @ PC Richard & Son (regularly $99.99)
30% off accessories at JCPenney, regularly $42-69
30-50% off accessories at Best Buy
What are the differences between these KitchenAids available on Black Friday sales?
The Classic tilt-head stand mixer has a 4.5 quart capacity and offers a tilt-up top for easy access. It is usually the most affordable price for a mixer. It has a 275 watt motor.
The Artisan KitchenAid stand mixer comes with a 5 quart stainless steel bowl and is available in an assortment of rainbow colors. It also has a high performance motor that can handle as much as nine cups of flour, with a 325 watt motor. The Artisan mini has a 3.5 quart capacity, with a 250 watt motor.
The Professional series of Kitchenaid stand mixers offers professional results for the home chef that wants to enjoy more power. It has a 6 quart capacity, and a 575 watt motor.
We generally find early discounts on mixers advertised by several stores including Kohl's, Macy's, Target, Best Buy, Sears, Meijer and Bonton. We usually expect there will be another half dozen or so after the first wave by the time Thanksgiving rolls around including ads from Amazon; Williams Sonoma; and Bed, Bath and Beyond.
Some of the deals posted here require completion of a mail-in rebate.These will have a higher price upfront than advertised and may require waiting several weeks or months to get your money back.They also require the completion of the form correctly or the rebate may be void.If there are two equally priced items and one does not include a rebate, we encourage you to shop there, of course.
Be sure to also check the final ad from the store to make sure that you know all of the terms and conditions on them.Some of these savings on KitchenAid Stand Mixers are doorbuster deals that are only available for a limited or specified time only.
Cyber Monday 2020
We will be adding more deals here through Cyber Monday 2020, so stop back again soon to see what other savings are available on Black Friday this year!
2018 Deals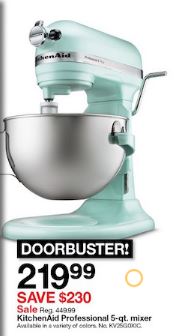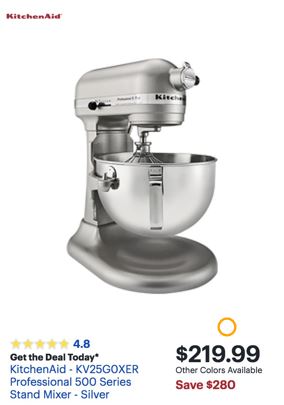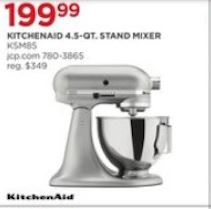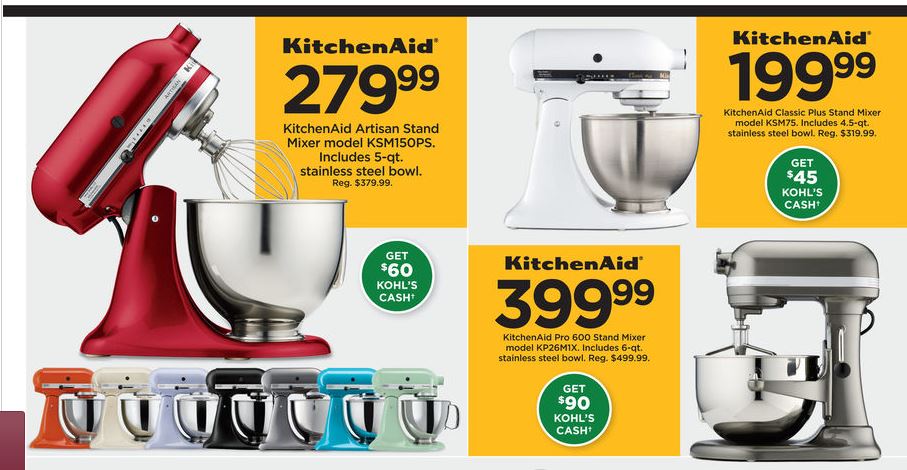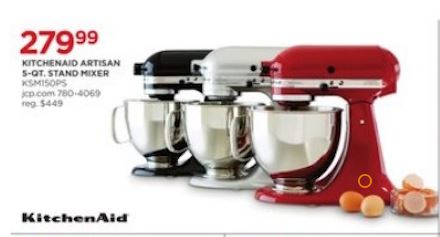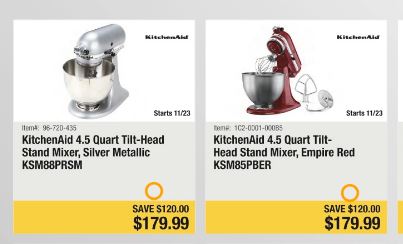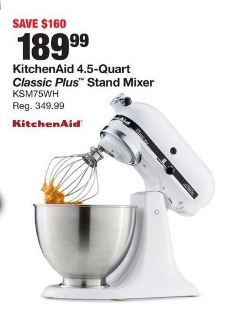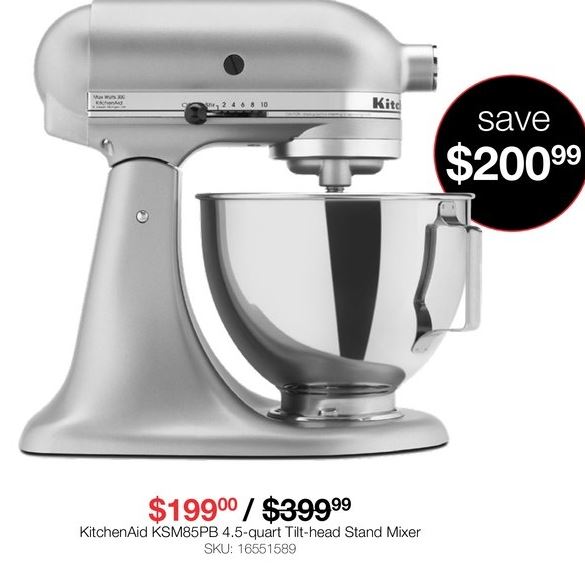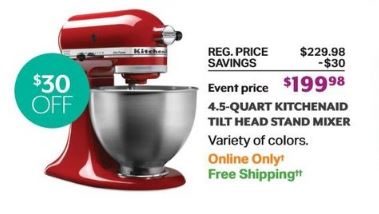 2017 Deals
Amazon:
America's top retailer posts deals on Kitchen items throughout the month.We have posted a few above, however because they are constantly changing what is on sale, we can't possibly keep up with them here.We urge you to check on the current price on the KitchenAid Stand Mixers at Amazon before buying through another store.
Kohls:
Kohl's has some of the best deals on KitchenAid Mixers for Black Friday 2017.They have three different options on sale at extremely competitive prices.Plus, they are offering between $60 to $120 of Kohl's Cash on top of their already great deals.However, in order to get the advertised price, you have to complete a mail-in rebate for between $40 and $70 back.The entry-level option here is the KitchenAid Classic Stand Mixer KSM75, the mid-tier is the KitchenAid Artisan Stand Mixer model KSM150PS (many different color options) and the professional level is the KitchenAid Pro 600 Stand Mixer model KP26MIX.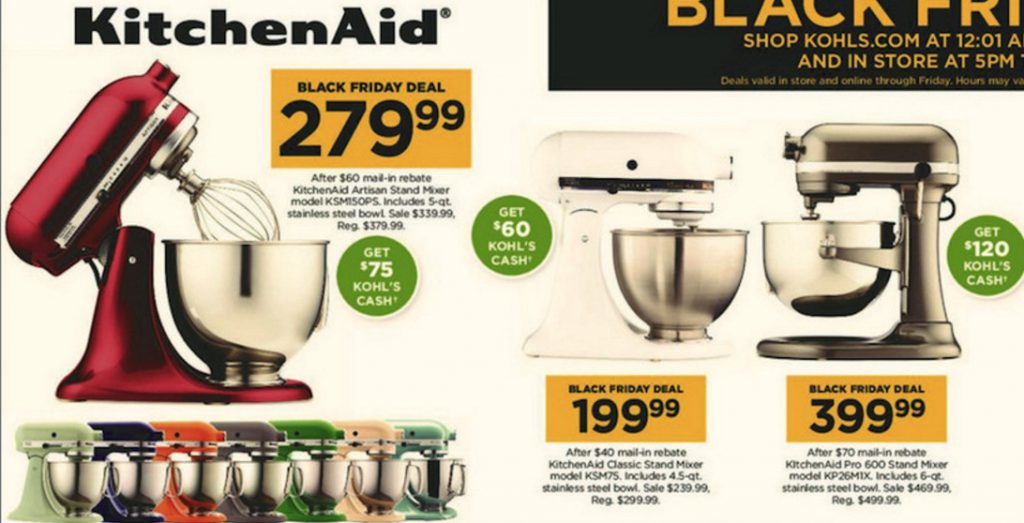 Sears:
All of the KitchenAid mixers at Sears will be on sale but the advertised option is the KitchenAid KSM500 5-qt stand mixer.There are limited quantities in store and the advertised savings off the regular price is $100, for a total of $199.99 (before tax).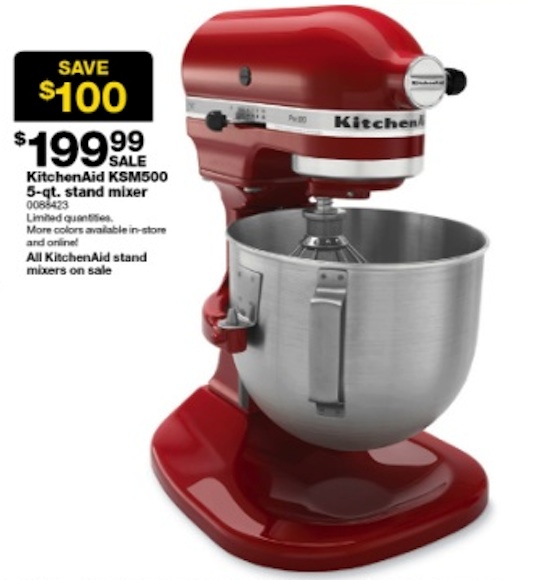 Best Buy:
Best Buy is offering a savings of $300 on the KV25G0XER Professional 500 Series Stand Mixer.The price at Best Buy will be just $199.99 for this gem.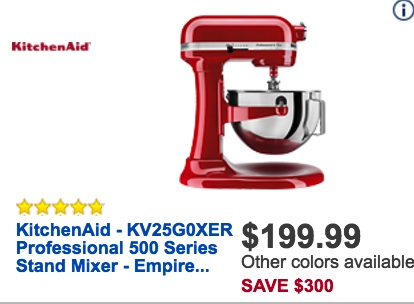 Macys:
Macy's is offering a doorbuster special before 1 PM of $179.99 on their regularly priced $349.99 KitchenAid Stand Mixer.After 1, the price increases to $249.99.The other option at this retailer is the KitchenAid Artisan.It is being offered at $279.99 before 1 PM, $339.99 after 1 PM.This is regularly priced there at $544.99.Macy's is also offering an additional 20% off attachments for the stand mixers.

Target:
If you are looking for the KitchenAid Ultra Power Plus, you can get it at Target for only $259.99 ($70 savings).This isn't the biggest percentage discount out there on a stand mixer, but Target will also be offering deals on its other mixers according to the ad.You will also get a $20 gift card to use later at Target if you buy the advertised stand mixer.

Meijer (Friday only):
Meijer also has an incredible deal here.Their 4.5 Qt. Classic Plus Stand Mixer will only be $149.99 (save $100 off the regular price of $249.99).Plus, you will get a $50 coupon for your next shopping trip!!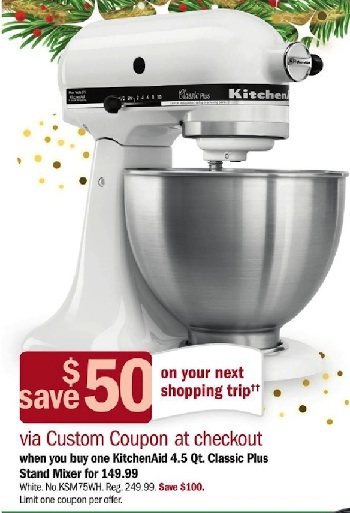 Bonton:
If you live near a Bonton, you will also have some great options during the doorbuster period.They are offering two different options for $199.97 (after mail-in rebate).Plus, you will get a $25 promotional gift card for spending more than $75.There is also a higher end version available for only #299.97. All three require a mail-in rebate, however, so be sure to complete it when you are done shopping.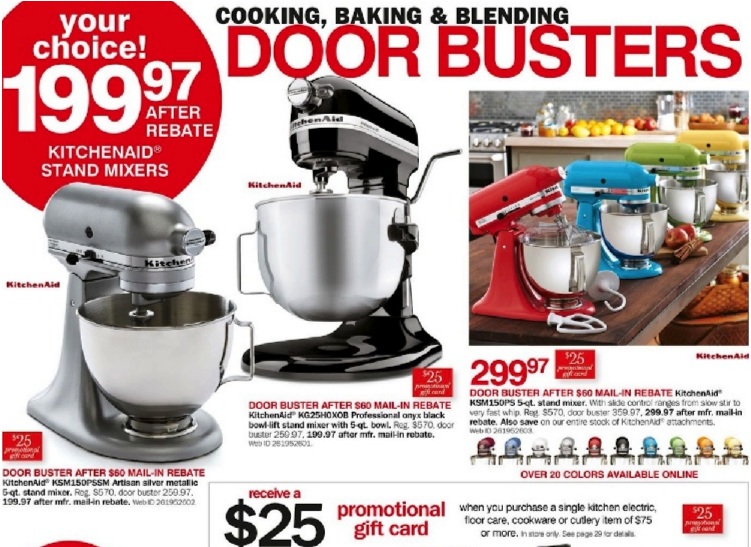 JC Penney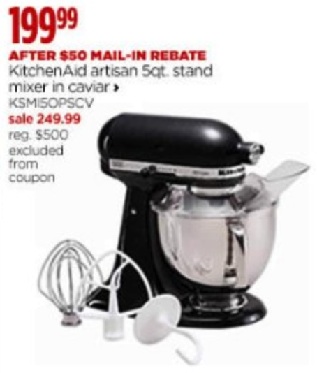 Current Sales on Amazon: