Smart Lock Cyber Monday 2022 & Black Friday Deals – August, Nest Yale Lock
Find the best smart lock black friday deals in 2021 here at Funtober. We will search for sales at hardware stores, electronics retailers, eCommerce websites and more to bring you the best deals and the biggest price savings on the smart locks of August, Nest, Kwikset, Schlage and more.
There should be big sales on smart home technology across the Thanksgiving sales, from pre-Black Friday and Thanksgiving day discounts all the way to Cyber Monday 2022.
2022 Deals:
Find more Black Friday deals right now at Amazon.com.
Here are a few of the smart locks that we will be checking print ads and online advertisements for sales on this Thanksgiving:
August Smart Lock – August is a leader in the secure, keyless access market. It permits you to control and monitor your door from your phone.
Nest X Yale Lock – A smart key-free deadbolt that locks and unlocks the door by connecting to the Nest app, permitting settings of permissions and more. If you own the Nest Secure alarm system, this is a great choice.
Kwikset Kevo – A touch-to-open Kevo smart lock powered by Bluetooth and your smartphone. WOrks with Kevo fob (sold separately) or via Amazon Alexa voice control with Kevo Plus (sold separately).
Danalock V3 – A mart and secure wireless Bluetooth smart lock. The Danapad is a wireless Bluetooth keypad for operating without a smartphone and the Danabridge provides remote access via a smartphone. (both coming soon) and the Danabridge
Schlage – There are three options from Schlage for a keyless lock, the Schlage Sense, the Schlage Connect, and the Connected Keypad. The Connect is a smart deadbolt that replaces your existing deadbolt and also has a keypad for entry. Alerts you to the slightest vibrations or movement with an audible alarm. Memory enables up to 30 users to get in without a key. Also provides for on-the-go access by connecting with Z-Wave. Amazon offered 15% off their smart deadbolts from Schlage during their Cyber Monday sale in 2019. In 2018, they paired the Schlage Connect Smart Deadbolt with an Amazon Cloud at 30% off. We expect to see more like these sales as part of Schlage Connect Black Friday deals in 2020.
Yale Assure Lock – Lock and unlock your home with ease with these touchscreen and push button deadbolts. Yale Locks & Hardware is a leader in residential security hardware and has been operating since 1840.
Friday Lock – A retrofit Bluetooth smart lock with a great design. They measure just 2.7 inches in diameter and have been called the world's smallest retrofit lock.
Lockitron Bolt – Replace your keys with your phone, unlock your door from anywhere, and share access to your home with family / friends. It will connect to your smartphone or tablet via bluetooth, and full remote access is enabled by adding the Bridge.
Sesame Street Lock – Made by Candy House, it clamps over top of your existing deadbolt hardware. It looks like an old-fashioned kitchen timer, but you can add the Wi-Fi Access Point to integrate it with smart home platforms via IFTTT.
Smart Lock Black Friday Deals in 2020:
We expect that smart home tech will be among the first deals released in late October and early November since it will be a popular discounting choice at both electronics retailers and home hardware stores. We will post all of the smart lock deals here when we find them.
Smart Lock Cyber Monday 2020 Deals:
We expect there will be good deals on the Monday after Thanksgiving as retailers take advantage of online shoppers willingness to buy early Christmas gifts without fighting the lines after Thanksgiving.
Stop back in a few weeks to see all of the great deals that we have found in the interim.
Last Years:
Click Here to Save 30% on the All-New Amazon Key Smart Lock Kit (Amazon Cloud Cam + Schlage Connect lock), only $188 on Amazon for CYBER MONDAY.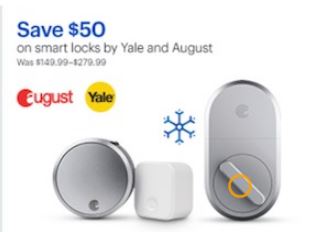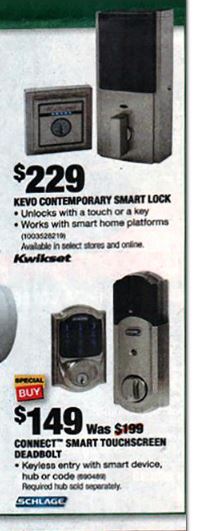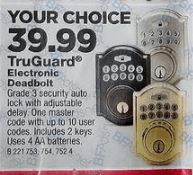 Last Major Update: