Smart Thermostat Black Friday Deals 2023 & Cyber Monday Deals – ecobee, Nest
Find the best deals on smart thermostats including the Ecobee4, Nest Learning Thermostat, Emerson Sensi, Lux Kono and Honeywell Lyric T6 for Black Friday 2023. We will search all of the released and leaked online ads and print advertisements for the biggest price discounts and sales from Thanksgiving Day to Cyber Monday 2023 on smart thermostats.
We will be posting discount prices for numerous retailers at all of the best times for low prices, including pre-Black Friday sales, Thanksgiving Day options, Black Friday doorbusters and Cyber Monday online deals.
2019 Deals
2018 Deals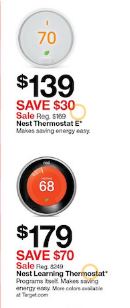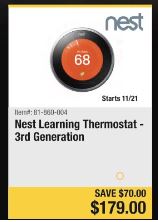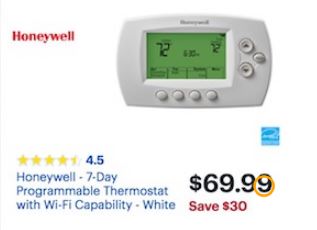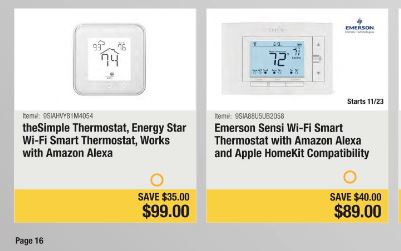 Here are a few of the products that we will be watching for this November:
Ecobee4 – A voice enabled smart thermostat that ensures comfort in the rooms that matter by detecting temperature and occupancy. Includes built-in Amazon Alexa. Cnet editors rated the device 8.8 out of 10 calling it "unmatched on the market" and the "best overall smart thermostat. During Black Friday 2017, the device was selling for a regular price of $249 and was discounted $49 to $200. On Prime Day 2018, Amazon bundled the older model (Ecobee3) with three temperature sensors and discounted them $90 (sale price of $200) for a package that normally costs $290.
Nest Thermostat – The 3rd Generation Nest Learning Thermostat adds a temperature sensor to the popular smart thermostat, along with a larger screen and a slimmer profile. It comes with a far field sensor. It works with both the Google Assistant and Alexa (not the Apple Homekit). Regular price is $249. Many popular features including auto-away to turn itself down, auto-schedule to remember the temperatures you like. 30 minute or less installation for most homeowners, and works in 95% of homes with low-voltage systems.
Emerson Sensi Touch – Whether you are at home or on the go, you can use the touchscreen display or mobile app to access, change or program your home temperatures. Alerts detect extreme temperature or humidity changes. Software is automatically updated. Backlit display offers flexible lighting options and back glow is great for night time or low lighting. Know at a glance whether the system is heating or cooling based on color coding and track humidity in your home. Use the app to program the best schedule or use the location of your smartphone to change the temperature settings when you leave or before you return.
Lux Kono Smart Thermostat – A HomeKit enabled thermostat (also works with Alexa and Google Assistant). Easy scheduling via IOS and Android Apps, along with geofencing for effortless savings. Includes energy and runtime usage reporting. The regular price is currently around $149.99
Honeywell T6 – The latest version of this popular device is the Honeywell Lyric T6. It offers geofencing control via a smartphone or tablet, remote or seven day scheduling, and allows you to set the desired temperature for a particular time for it to figure out when to start to get it there. The T6 works with both the Apple HomeKit and the Amazon Echo.
Bosch Connected Control BCC100 Thermostat – An internet connected home thermostat that turns itself on and off when you're away. Comes equipped with full color 5 inch display touchscreen. Remote controlled via BCC100 app. Compatible with 4-heat and 2-cool systems, humidifiers, dehumidifiers, and most 24Vac HVAC equipment.
Smart Thermostat Black Friday 2019 Deals:
We expect that the first deals on home thermostats will be announced in late October or early November when the ads for department stores and hardware stores begin leaking. We will be closely monitoring the advertisements and online announcements and will be posting the best deals here.
Wireless Home Thermostat Cyber Monday 2019:
We expect that ads for major electronics retailers and department stores will being leaking late Friday or early Saturday with the majority of announcements happening either late Sunday night or early Monday morning.
Stay Tuned
Stop back in a few weeks to see the first of the posted deals on these smart home products.
Last Major Update: