Samsung Galaxy S10, S10e, S10+, S9, Plus Black Friday Deals 2023 & Cyber Monday Deals
Find the best deals on the Samsung Galaxy S10, S10e, and S10+, as well as last year's Samsung Galaxy S9 and S9 Plus this Black Friday 2023. We will be watching for the greatest deals, price cuts, sales, bundles, offers, promos on these Samsung smart phones from Thanksgiving Day to Cyber Monday 2023.
2019 Black Friday Deals:
Samsung Galaxy S10, S10+, Note10, Note10+, Note 10+ 5G – Save $400-500 @ Best Buy
Samsung Galaxy S10 or Note 10 (unlocked – Save $200) @ Best Buy
Samsung Galaxy Note 10, Note10+ and Note10+ 5G – Save $400 – 500 with qualified activation @ Best Buy
Samsung S10, S10+ or Note 10+ Phones – Get $450 in Gift Cards + up to $250 Gift cards for trade-in @ Walmart
Samsung S10e or Note 9 Phones – Get $300 in Gift Cards + up to $250 Gift cards for trade-in @ Walmart
Samsung Galaxy S10e, S10 & S10+
Samsung calls it the next generation of mobile innovation with Infinity-O Display and on screen security with the Ultrasonic Fingerprint. The S10e is 5.8 inches wide. The S10 is 6.1″ wide, and the Galaxy S10+ is 6.4″.
It has a full kit of lenses built-in to allow anyone to take photos, selfies and videos. The ultra wide angle lens can capture a 123 degree field of vision. The intelligent camera automatically optimizes camera settings and suggests image compositions to result in stunning photos.
Fast Wireless Charging 2.0 gets your phone back to 100% charge faster. You can also charge the power of other devices with the Wireless PowerShare. Intelligent WiFi connects reliably and securely even to public networks. LTE data speeds can reach up to 2.0 Gbps. Plus engineering to allow you enhanced performance during gaming.
Samsung Galaxy S10 Deals
The incentives on new phones heated up in October 2019 with savings of up to $550 at Best Buy on unlocked Samsung Galaxy S10 family or Note10 family phones with qualified activation and trade-in (in-store only). It will be interesting to see whether this is a one time deal or if it is matched / topped over the Thanksgiving Day holiday weekend!
Samsung GalaxyS9
Here is what we said last year: The Galaxy S9 is almost ready for launch.The question on every smart phone buyers mind is should I buy the Galaxy S9/S9 Plus now or wait for Black Friday and Cyber Monday deals.We are keeping a close eye on the launch deals and prices and the buzz about what sales, deals and discounts Samsung will offer for Black Friday and Cyber Monday.
Here are the specs:
The big upsell and most of the launch hype with the Galaxy S9 and S9 Plus squarely rests on the camera.It has a slow motion video capture feature to catch all the fast paced action. The slow motion feature allows you to add sound and makes GIFS very easily. The Galaxy S9/S9(+ has a dual aperture camera that makes taking low light photos a snap.The aperture feature adds about 30% more light to dark photos, so no more dark night out on the town shots.The camera does just as well adjusting to bright conditions. The camera has a dual lens system.It sports a telephoto lens with Live Focus which provides 2x Optical zoom for additional clarity at a distance.The main lens is a 12 mega pixel wide angle lens.
Samsung packed in a lot of other features to the Galaxy S9/S9+ as well which include:
•upgraded facial recognition which incorporates iris scanning for better accuracy on low light conditions.
•Built in AR Emoji's. It scans your face and turns you into an animated emoji.
•Bixby vision got turbo charged in the S9 9/S9+.Bixby can now translate langue through the camera, provide calorie counts on some foods and integrate with apps better. For example, the Sephora app scans your face and allows you to apply makeup.
•AKG tuned stereo speakers with Dolby Atmos technology.That translates into a much better audio experience and will be a huge bonus when using the AR goggles.
•The $100 options DeX Pad allows you to screen share your phone onto other devices and use the phone more like a PC. Samsung is working with game developers to optimize the DeX Pad for gaming.
•Additional colors, Midnight Black, Titanium Grey, Coral Blue, Lilac Purple, Burgundy Red and the Sunrise Gold.
•Samsung finally relocated the fingerprint sensor which was gripe with previousgenerations of the Galaxy .
There used to be 3 different Galaxy models S, S Plus and the military grade tuff active phone.Samsung just announced that they are cutting the Active model from the lineup.So more ultra-tuff extra battery capacity Galaxy active.The speculation is there was too much overlap in market share between the Active and the recentlytoughened up Note 9.The Note 9 has a tough frame, skin and larger battery capacity, but it will not take the beating like the Galaxy Active models.
2018 Deals
Click Here to Get Up to $200 off and a FREE Echo bundle (Choose Amazon Echo Show OR Echo / Spot bundle at purchase) on Amazon for CYBER MONDAY.
S9 Unlocked – $519.99 (save 28%)
Note 9 Unlocked – $799.99 (save 20%)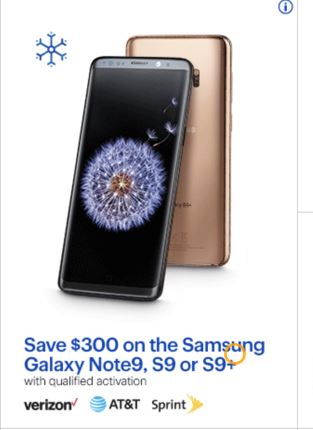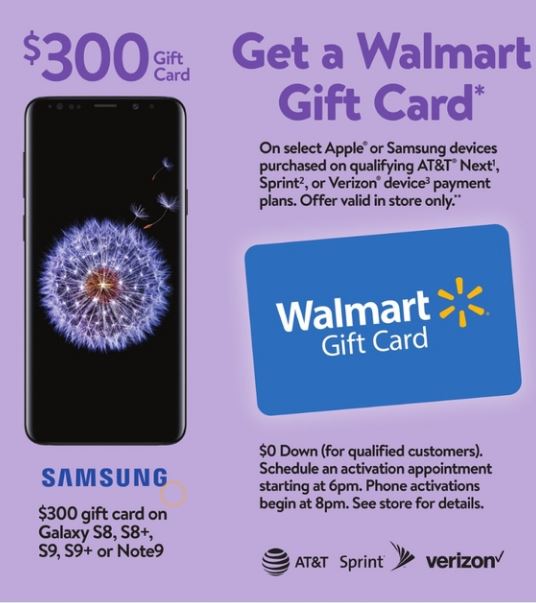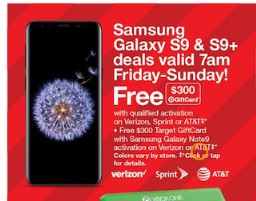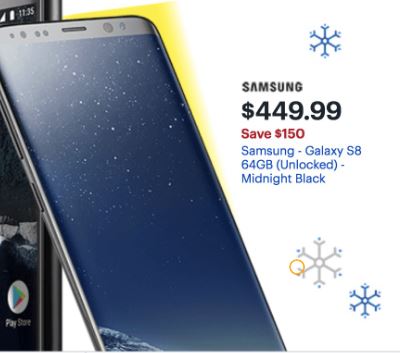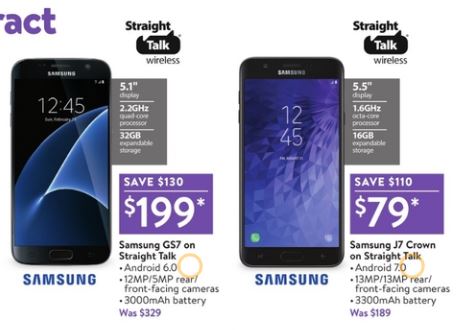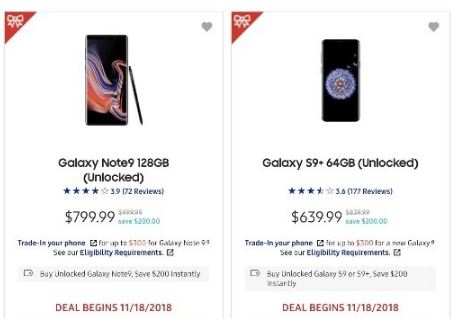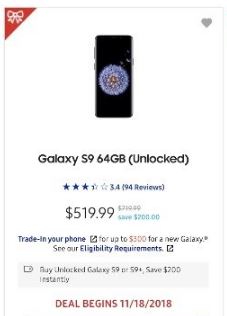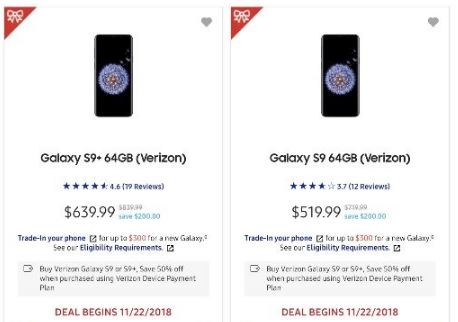 Consumers are left with the Galaxy 9S and the 9S+.Current pricing for an unlocked S9 is $619 and the 9S Plus is $691.We will have to wait and see what kinds of deals, sales, and discounts the cell phone companies at launch and for Black Friday 2020. We will be tracking both the launch pricing and the Black Friday and Cyber Monday 2019 pricing to help you find the best deal on the Galaxy S9 or the Galaxy S9 Plus.
Where to Look for Black Friday Phone Deals:
Best Buy - As the nation's leading specialty retailer for consumer electronics, the Best Buy Black Friday ad usually has some great sales on cell phones.
Walmart - In 2020, Walmart split the Walmart Black Friday deals into three ads and the biggest cell phone ads ran as a week long deal in the second Black Friday ad.
Verizon - This mobile cell phone carrier and telecommunications company became famous for its slogan: Can you hear me now? But the Verizon Black Friday deals are probably another reason that they have gained traction among cell phone users. They will have great deals on the Apple iPhone, Samsung Galaxy smart phones, and many others (such as LG, Moto, OnePlus and the Google Pixel).
T-Mobile - This top telecommunications company operating as a subsidiary of Deutsche Telekom is one of the major wireless operators in the United States. They acquired Sprint in 2020 after a two year long period following the deal announcement. The Sprint stores are becoming T-Mobile stores, and Sprint customers can go to a T-Mobile store for service as well. The T-Mobile Black Friday sale has historically offered great discounts on iOS and Android phones, including the Apple iPhone and Samsung Galaxy phones. Other sales in 2020 included LG phones, the OnePlus 8T and the 5G Google Pixel 4a.
AT&T - One of the nation's top cell phone carriers with substantial coverage around the country. In 2020 they had big deals on the Apple iPhone and offered a Samsung Galaxy S20 FE 5G for free with eligible trade-in. There were also AT&T Black Friday deals on tablets, smart watches, bluetooth speakers, headphones and other accessories.
Amazon - The nation's top retailer usually has some of the best discounts on older cell phones over the Thanksgiving weekend. It's always worth checking out the Amazon Black Friday deals before you make a purchase over Thanksgiving Weekend.
Last Major Update: