Exercise Equipment Deals for Black Friday 2022: Treadmills, Ellipticals, Bikes and Home Gyms
Work off your turkey by buying a treadmill, elliptical, bike, rowing machine or home gym equipment with the best deal for Black Friday or Cyber Monday 2022. We will be sorting through all of the online and print ads for fitness equipment over Black Friday in order to post the best of the exercise deals here.
We will bring you info about the biggest and best deals and discounts here when the savings are announced online or in an advertisement for Black Friday 2022. We are committed to helping you find the best shopping deals of the year from Amazon Prime Day to Thanksgiving Weekend. So get ready to save in 2022 and beyond! If you're like us, 2020 is not the year to be heading to the gym, but the year we all started expanding or adding on to our at-home exercise equipment (we have added a stationary bike and a weight bench to our basement gym). The Thanksgiving weekend is the perfect time to shop deals on exercise equipment, so you can start working off the calories of that dinner you made, even though your dining room wasn't filled with friends and family!
2022 Deals:
Find more Black Friday deals right now at Amazon.com.
Past Deals:
2020 Black Friday Deals on Exercise Equipment
Best Buy has Bowflex BXT116 Treadmill for $999.99 (save $1400) as a "Cyber Deal" beginning Saturday, November 28.
Best Buy has Schwinn IC4 Indoor Cycling Exercise Bike for $899 with free delivery (see website for more details), both in store and online beginning Sunday, November 22.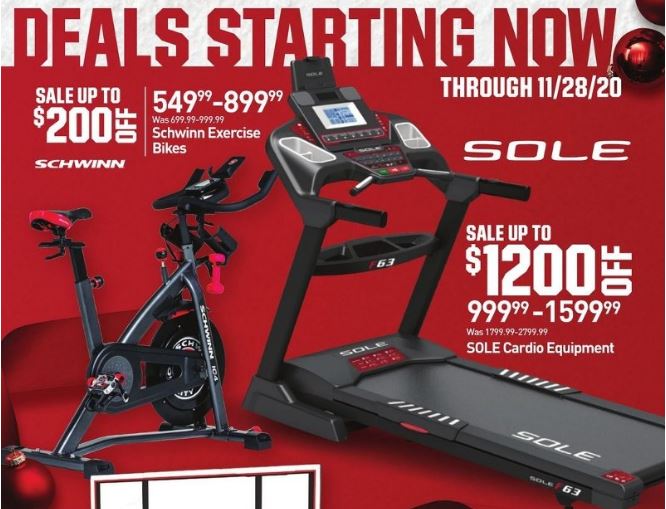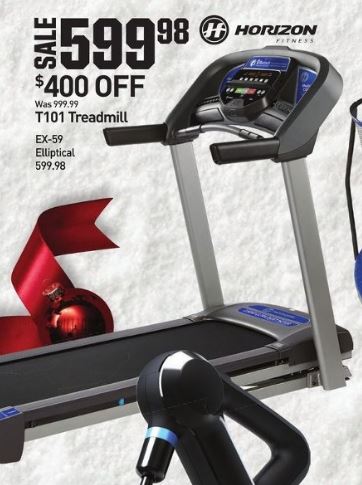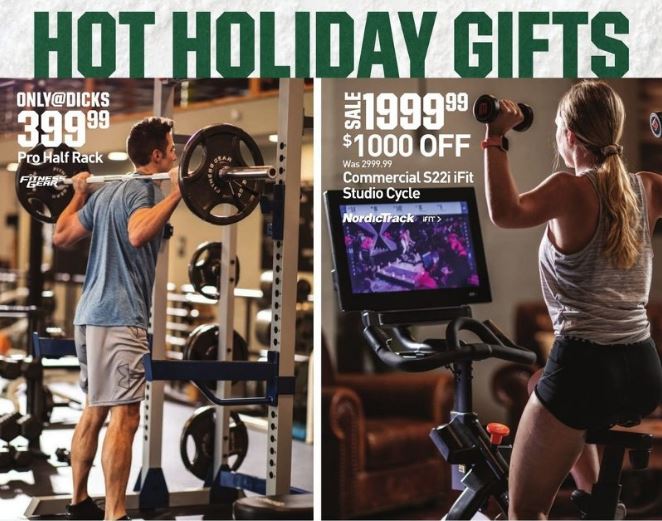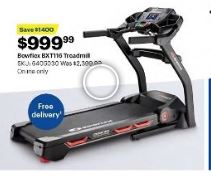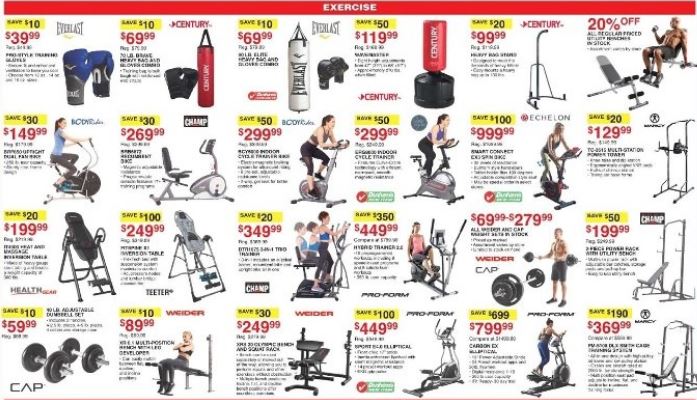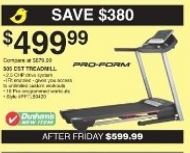 2019 Deals
Here are a few of the deals we found:
Click Here to Save up to 40% on NordicTrack fitness equipment on Amazon for CYBER MONDAY.
Amazon Deals:
Save up to 20% on select Schwinn cardio products on Amazon – click here.
Save up to 20% on select Nautilus cardio products – click here.
Save up to 20% on select Bowflex fitness products on Amazon – Click here.
Save up to 31% on CAP Barbell strength training products – click here.
Up to 20% off select Day 1 Fitness products – click here.
30% Off PrimeSport Fitness Tracker Products.
Save 25% on Bowflex Max Trainer M5.
Save up to 26% on Assault Fitness equipment
Fitness Reality 2366 X-Class 710 Bluetooth Smart Technology Elliptical – Save $200
Marcy Deluxe Foldable Utility Bench Gym Equipment – 20% off
Get $501 off the Avari programmable rowing machine.
MaxiClimber – $129.19 (save $70.80)
Reebok Pro Deck Workout Bench – $100 – Save $49.99
Step Freestyle Aerobic Platform – $82.80 (save $72.19)
LifeSpan C3-DT3 Under Desk Bike – $531.24 (save 24%)
Until then, we hope you enjoy learning about what was available over Thanksgiving weekend in 2017:
CLICK HERE TO GET 30% OFF BOWFLEX – AN AMAZON DEAL OF THE DAY ON SATURDAY, NOVEMBER 25TH 2017.
Treadmills
Find a deal on a treadmill machine during Black Friday 2017 to get a jumpstart on your goals for the New Year.The treadmill has been a core element of any home gym for some time.If you are planning to exercise at home more, especially in a geography where the weather is very cold in the winter or very hot in the summer, then you will definitely want one eventually.Why not get one at a great price over Thanksgiving weekend?Whether you plan to walk or run your way to your fitness goals on the treadmill, you will find sales on the equipment you need here at Funtober.
We'll post discounts on treadmills for Black Friday below.In the meantime, here are some discounts on Amazon:
Elliptical Machines
In college, I never understood the appeal of an elliptical. I just didn't get it and I never used it. But when I got into my 30s and I started training for long runs (10 milers and half marathons), there would be times when I needed to work on my stamina and my legs or knees were feeling it from the previous days effort. On those days, I loved that I could use an elliptical for an hour or more and my legs would be fine. Plus, since they aren't going to potentially bounce you off (like a treadmill), they are easy to watch a tv show from.
We'll post Black Friday and Cyber Monday sales on Ellipticals below.In the meantime, here are some discounts on Amazon:
Home Gyms
My father had home gym equipment in the home that we grew up in.It got a lot of use before it became outdated and he started paying for a gym. They have made a lot of advances in fitness equipment since the 1980s, however, and what we were using in the basement does not even compare to what is available at an affordable price these days. Unfortunately, I am the type that won't go to the gym enough if it isn't conveniently located near my home. So in that situation, I need to have something that I can do at home in order to say fit. It can be expensive, but that is why we recommend that you buy it when it is on sale over Black Friday or near New Years Day. We will be posting home gym sales soon. In the meantime, hear are a few current sales:
Stair Climbers
I've never been one to use a stair climbing machine. The one or two times that I tried one, I didn't like it. But I know that it can be a great leg workout and those people who use them swear by them. If you are looking to mix up your leg workout with a new machine at home, try a stair climber. There isn't a better time to buy one then over Black Friday!
Rowing Machines
Indoor rowing became a popular full body and cardiovascular workout in the past decade.Before that, it was a recognized fitness activity for strengthening an individual's back and arms, but not nearly as popular as it is today.Now, there are fitness clubs dedicated to rowing year round indoors to maintain fitness.With its rise in popularity, there are now a variety of machines that allow you to row at home:
Sears Deals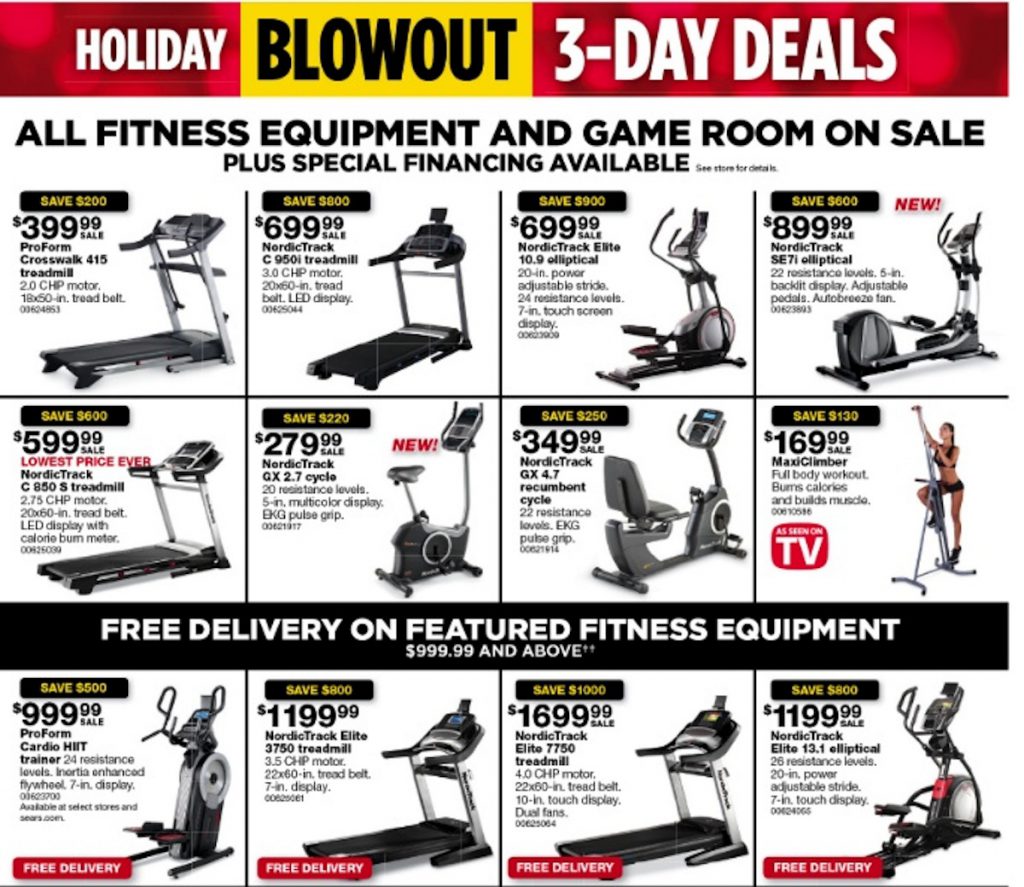 Dick's Sporting Goods Deals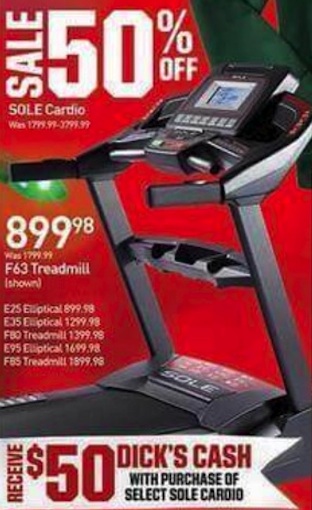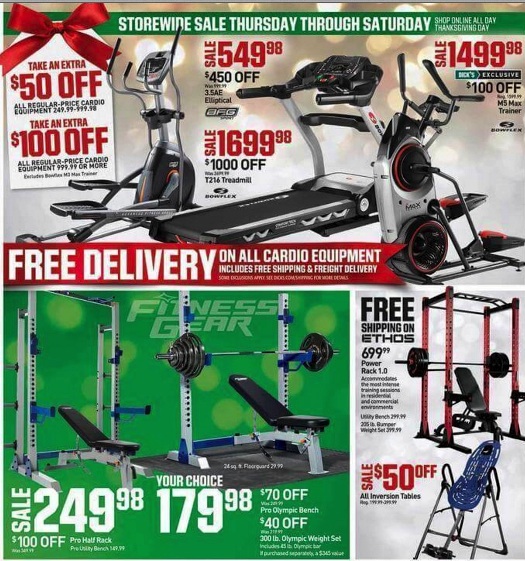 Walmart Deals: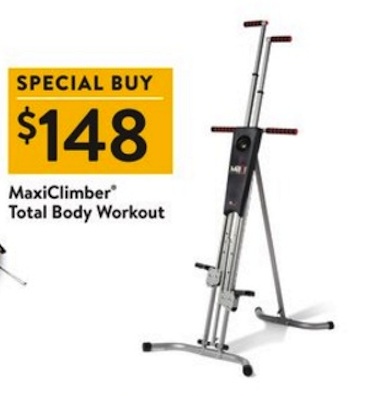 There are still a few weeks before the Black Friday ads start being released in earnest and Thanksgiving shopping arrives.Stop back later in November to see the biggest deals and discounts on fitness equipment for the year.