Coleman Black Friday Deals 2022 – Tent, Cooler, Grill, Lantern, Airbed & Cyber Monday Deals
Find the best deals on Coleman products over Black Friday 2022 including tents, coolers, grills, lanterns, air mattresses and more! Funtober tracks the biggest sales and online discounts from Thanksgiving Day to Cyber Monday 2022 to ensure that you get the biggest bang for your buck at the kickoff to the holiday shopping season. If you are in the market for deals on outdoor products, consider Coleman which has historically offered some good deals over the Thanksgiving Weekend.  
2022 Deals:
Find more Black Friday deals right now at Amazon.com.
Past Deals:
2019 Deals
2018 Deals
Click here for a few of the items from this classic American brand that we found for sale over Thanksgiving weekend in 2018:.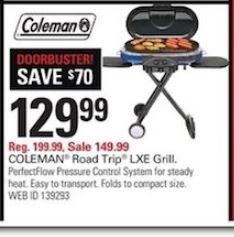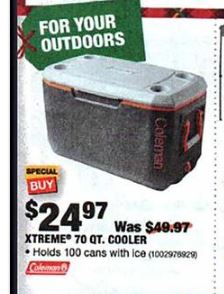 Coleman Tent: They make a broad assortment of tents including the popular Sundome (4 and 6 Person), the Evanston Screened Tent, the Tenaya Lake, The Montana and the Steel Creek Fast Pitch Dome Tent. If you are looking for a good price on a 4 person, 6 person or 8 person tent over the holiday weekend, you should be able to find one at much better than the regular price based on the historic Black Friday deals.
Coleman Cooler: Still at the top of the game, they make steel-belted portable coolers, heavy-duty super coolers and the Xtreme Wheeled Coolers. We actually own one of these in the Funtober household and love it. It kept our ice solid and food cold on an extended camping trip a few years back.
Coleman Grill: They sell portable outdoor grills and stoves for camping and tailgaiting using a variety of heating methods including propane and charcoal. Choose from the road trip for tailgaiting or the NXT for the backyard BBQ.
Coleman Lantern: A staple of outdoor activity lighting for years, they offer a variety of camp lights and lamps powered by everything from LED to propane. The company was actually started with a gasolilne version many years ago.
Coleman Air Pumps: With so many inflatable products, it should come as no surprise that they have a line of electric pumps. If you are in the market for such an item, consider the classic QuikPump.
Coleman Airbeds: They make and sell a number of different air mattresses and airbeds including the QuickBed, the EasyStay and the SupportRest. They also own the popular aerobed brand, which is billed as the most popular way to turn any space into a bedroom.
About Coleman
The company was founded by W.C. Coleman, who saw a gasoline lantern while selling typewriters and decided to make his own version, sold as the Coleman Arc Lamp. The company diversified into heating devices, and sold p roducts to the Defense Department during World War II, including the GI Pocket Stove which was shipped to troops around the world. After the war, the company continued in the outdoor market, introducing a galvanized steel cooler that would be followed by a popular plastic coolers just a few years later. Coleman now makes a wide assortment of camping equipment from backpacking gear to canoes.
Coleman Black Friday 2019
There have historically been solid sales on certain Coleman products at outdoor retailers and online websites like Amazon over Thanksgiving weekend. We will bring you the best of all the leaked ads and last minute discount announcements on these outdoor activity products here at Funtober.
Coleman Cyber Monday 2019
We are still waiting for the release of information about online sales and manufacturer deals that will be available on the Monday after Thanksgiving. We will post them here when they are available. We expect it will be late Sunday night over the holiday weekend or early Monday morning. Last year Amazon offered up to 30% off camping gear from Coleman, including the Coleman Sundome 4 person tent, Premium Powerhouse Dual Fuel Lantern and NXT Lite Table Top Propane Grill.
Last Major Update:
Outdoors & Sports Deals
Academy Sports
Backcountry
Bass Pro Shops
Big 5 Sporting Goods
Cabelas
Callaway
Campmor
Coleman
Columbia
Dicks Sporting Goods
Dunhams
Eastern Mountain Sports
Eddie Bauer
Exped
Gander
Klymit
LifeStraw
Marmot
Modells
Moosejaw
North Face
Olympia Sports
REI
Sierra
Under Armour
Last Major Update: