Black Friday 2023 Deals on Boats, Kayaks, Canoes and Inflatables
Find deals on boats, canoes, kayaks and inflatables during Black Friday 2023 and Cyber Monday. Whether you are dreaming of your first fishing boat or just want to cruise the water under the power of your own paddling, there will be deals and discounts on plenty of boats over the holiday shopping season.  
2022 Deals:
Find more Black Friday deals right now at Amazon.com.
Black Friday 2023 Boat and Kayak Deals
We are excited to be back with all of the best Black Friday deals on fishing boats, kayaks, inflatables and other gear for your on the water adventures. If you live in a warm climate, Black Friday and Cyber Monday can be the perfect time to pick up some gear for the winter and early spring at an affordable price. If you live in the frigid northern United States, it is the perfect time to stock up for warmer weather in the spring and summer.
Bass Pro Shops and Cabelas Black Friday Deals
The joint Cabelas and Bass Pro Shops Black Friday ad for Black Friday 2021 contained 48 pages of deals on outdoor gear, including many items for fishing. Included on page 31 was a Tracker boat Bass Tracker with two raised fishing seats and mercury motor.
Gander RV Black Friday Deals
The Gadner RV Black Friday ad included a member sale on the Pelican Argo 100X Kayak and also showed sales on Overton's Tropic Life Vests and towable tubes (up to $80 off Gladiator Maxima Towable Tubes and up to 30% off Gladiator Motion Towable Tube).
Dick's Black Friday Deals
Last year the Dicks Black Friday ad was a short five page advertisement that included $20 off your order of $100 or more if you signed up for exclusive offers by their text alerts program. It didn't expressly include any sales on kayaks or boats but you can be sure that they had additional deals online and in-store which probably included inflatable boats and kayaks.
Walmart Black Friday Deals
The Walmart Black Friday ad splits their deals into three sales so we will have to wait to see whether any boats or kayaks are shown in them. Walmart has a full line of inflatable one and two person kayaks, fishing kayaks, and recreational kayaks available online on its website so you can expect there will be at least some boating sales over the course of November.
Kayak Manufacturer Deals
Black Friday can be a good time to check the website of your favorite kayak manufacturer if you are looking for a sale. In the past we have seen sales online at Pelican, Oru Kayaks, Vibe Kayaks and the Brooklyn Kayak Company.
Other Websites
Amazon is of course a great place to look for sales on inflatable and foldable kayaks. Backcountry.com has also offers deals on recreational and fishing kayaks over the Thanksgiving holiday in the past.
2020 Deals: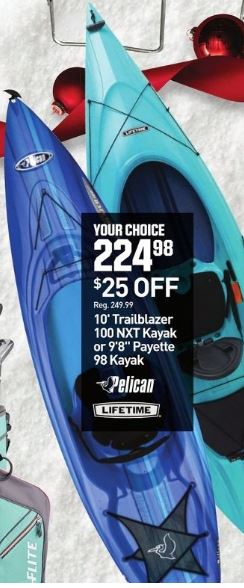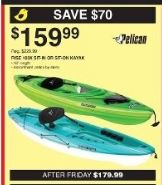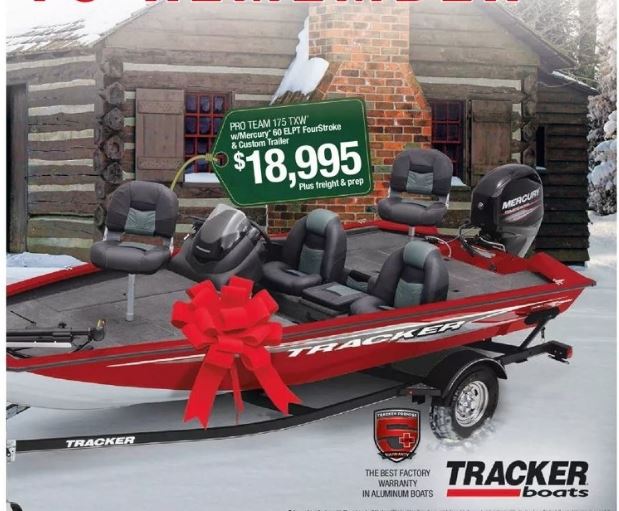 Sporting goods and outdoor recreation stores frequently have canoes, kayaks, paddle boats and other watercraft on sale over Thanksgiving weekend to kick off the Christmas shopping season. We will scour the online and print advertisements to find deals and discounts on boats in November 2019. Expect to find savings available at a variety of stores including West Marine, Bass Pro Shops, Cabela's, Dick's Sporting Goods, and Gander Mountain.
2018 Deals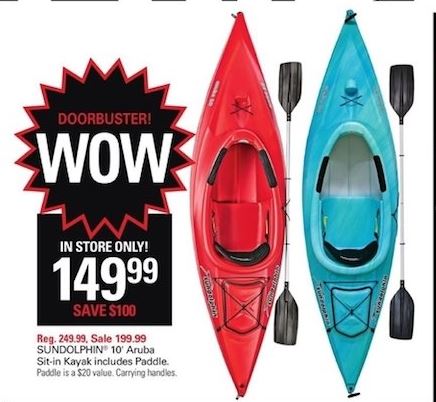 We will be searching the ads for the following watercraft:
Fishing boats – In past years, we have seen various fishing boats on sale including angler kayaks and inflatable fishing boats on sale.
Canoes – Major outdoor retailers that offer canoes for sale occasionally have discounts on them over Thanksgiving weekend. Canoes are a convenient and inexpensive way to cruise a small lake in a stable watercraft. So grab some paddles and a Black Friday canoe – it's the perfect addition to a lakefront summer home.
Kayaks – Kayaks have boomed in popularity as they overtook canoes a few years back. We think you would be surprised by how many people buy a kayak on black friday. Finding great deals on one-person and tandem kayaks will be a major part of our effort to find boats on black friday this year.
Stand-up Paddleboards – The Stand Up Paddle Board has become a popular way to cruise calm lakes the surf. We saw a number of paddle boards on sale over black friday in 2016 and will post more here when they go on sale in 2019.
Inflatable Boats – They have made tremendous advances over the years with stronger fabric and multiple compartments to ensure that you do not have a catastrophe if you spring a leak. From inflatable kayaks to more traditional inflatable row boats, we will keep our eye open for these convenient boats.
Float tubes – These specialized fly fishing inflatables will keep you cool and low to the water while you stalk that trophy trout or bass. We normally see them on sale at retailers with high end fly fishing equipment.
Pedal Boats – If you want to splash around the water with your family while getting a leg workout, a pedal boat can be a fun way to do so.
HERE ARE SOME OF THE BOATING DEALS THAT WE SAW IN BLACK FRIDAY 2017:
Dick's Sporting Goods:
Cabela's: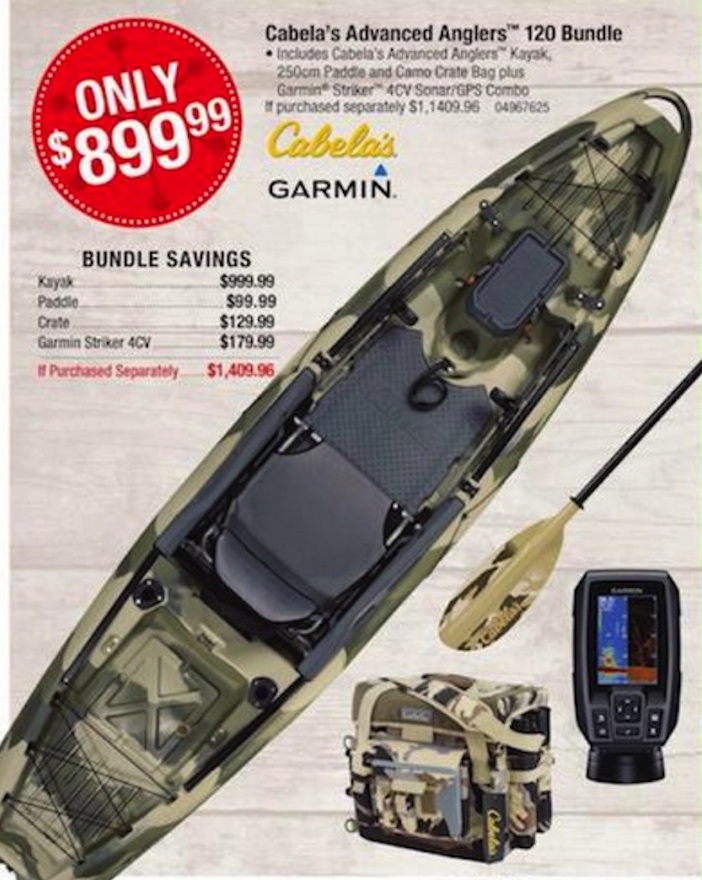 Bass Pro Shops

We're excited to track down some great deals for you this Black Friday 2019 on boats and other watercraft. There are still a few months before Black Friday and Cyber Monday. Please stop back soon to see the savings and discounts that we have found!