Cricut Black Friday Deals 2022 – Scrapbooking Cutting Machine & Cyber Monday Deals
Find the best deals on a Cricut and other cutting machines during Black Friday 2022. Find the best online sales and price discounts in print ads at arts & crafts retailers between Thanksgiving Day and Cyber Monday 2022.
We will be closely following craft retailers like Michaels and Joann as well as other online websites and major retailers during the Thanksgiving holiday weekend.
2022 Deals:
Find more Black Friday deals right now at Amazon.com.
Past Deals:
2020 Cricut Black Friday Deals: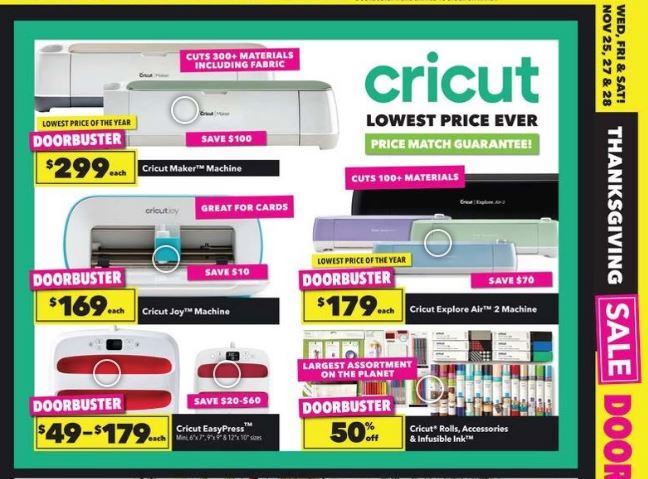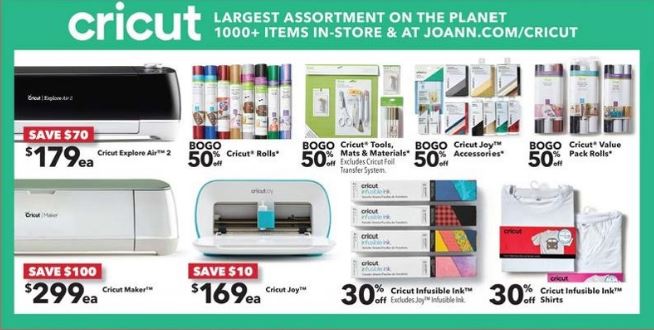 2019 Cyber Monday Deals – Cricut Deals
Buy 1 Get 1 50% off all all Cricut materials, mats, tools, and infusible ink @ Michael's
Cricut Explore Air 2 for $199 @ Michael's (save 50.99)
Cricut Maker for $349 @ Michael's (Save 50.99)
Cricut Easy Press 2, 12″ x 10″ for $179 @ Michael's (save 60.99)
Cricut Easy Press 2, 9″ x 9″ for $129 @ Michael's (save 60.99)
Cricut Easy Press Mini for $49 @ Michael's (save 20.99)
Here are a few of the products that we are following Black Friday deals on this year:
Cricut is a popular brand of die-cutting machines made by Provo Craft & Novelty, which is headquartered in Spanish Fork, Utah. The machines are able to cut paper, felt, vinyl, fabric and other products used for scrapbooking as well as arts & crafts projects. The Cricut Maker is their strongest machine, and can cut through the most materials, including leather. Some creators even use their Cricut Cake machines to cut fondant for cakes and other sweet treats (note, the Cake is no longer supported by Cricut and they no longer make the blades for this machine). Cricut has several products including the EasyPress 2 and the Explore Air 2. Their slogan is: "Whatever you plan to create, be prepared with these essentials for every craft and crafter."
Cricut Accessories
Cricut makes a number of accessories that crafters find useful to complete their projects. I recently sat down with my mom to see what accessories she has for her Cricut Maker, while we used it to make 'Baby on Board' vinyl window clings for our car. She says that while the accessories are available through Cricut's website, she's purchased many on Amazon as well (both Cricut and off-brand are available for some products), as well as purchasing the vinyl at craft stores like Michaels and Joann Crafts. She loves her Cricut Maker (an upgrade from her Cricut Cake) and even used it to cut the fabric pieces she used to make our newborn a quilt. The Maker also has the ability to draw on and score cards (in addition to cutting them) for "an all-in-one card-creating extravaganza!" she says.
My mom's Cricut came to our home from hers in a Luxja carrying bag that has a comfortable carrying strap as well as room for some of her accessories. As she set up on our dining room table, she pulled out out a cutting mat (light grip) with transfer tape on top of it, a trick she learned to increase the life of the mat. The cutting mat is what she put the vinyl on to go through the Cricut machine as we cut out our project. She showed me the contents of the basic tool kit, from which we used the weeder(hook) to pull up the cut (negative) pieces away from the pattern, the scissors for trimming transfer tape to size, and a burnisher (scrapper) to ensure a clean transfer onto the transfer tape from the cutting mat/LightPad and onto the item (in our case our car). Another useful tool is the brayer, a rubber rolling pin type useful for ensuring the vinyl was flat on the cutting mat with no bubbles to mess up the project. There are many other accessories available for various projects, including pens and pen adapters for non-Cricut pens; scoring tools, blades, and bags to hold them and much more.
Other Cutting and Crafting Machines
Silhouette America is based in Lindon, Utah, and they make electronic cutting machines that hook up to your computer. It's about the same size as a home printer and comes with software that enables you to create designs and then cut it out on paper, vinyl, fabric, or heat transfer material. In addition to their cutting machines, which include the Cameo 4, they make a small 3D printer, the Silhouette Alta, and filamint, so you can make 3D creation come to life.
Sizzix is a range of home die-cutting machines and embossing solutions manufactured by Ellison, who are based in Lake Forest, California. Ellison's die-cutters were the first hand-operated cutting machines for home crafts, in 1977. Their machines are used for cutting materials such as paper, fabric, vellum, metal and other materials that scissors can cut. Their classic products are the Big Shot, and a smaller version – users load the material between the dies or embossing folders, and crank it through the machine. It was included in past catalogs for scrapbooking companies like Stampin' Up!
Brother Scan N Cut is from Brother International Corporation, who also makes printers and other supplies for homes, home offices, and offices. Their US corporate offices are based in New Jersey with manufacturing facility in Texas and distribution from Texas and California. The Scan N Cut, which now has several versions, is loaded with hundreds of designs and can be used to make custom designs via scan, and can cut materials 2-3mm thick, such as fabric, paper, vinyl, and more. It was designed with quilters in mind.
Here are some of the deals we found in 2018:
Click Here to Save up to 35% off Cricut on Amazon
Cricut Explore Air 2 Mint – $196 (save 35%)
Cricut Maker Champagne – $348 (save 13%)
PLUS MORE! Click here to see the other Cricut deals

Cutting Machine Black Friday Deals: We have found a few different deals on Circut and other devices over Thanksgiving weekend and will have them posted here shortly.
Cutting Machin Cyber Monday Deals: Funtober will post all of the sales available online on the Monday after Thanksgiving here.
Last Major Update: