Kitchen Oven Range Black Friday Deals 2023 & Cyber Monday Stove Deals
Find the best deals on a new oven, range or stove top for your kitchen during Black Friday 2023. Funtober will be tracking all of the online sales and price discounts in print ads on home appliances at Home Depot, Sears Kenmore, Lowe's, Amazon, Best Buy and more from Thanksgiving Day to Cyber Monday 2023.
2022 Deals:
Find more Black Friday deals right now at Amazon.com.
2020 Deals: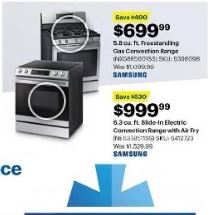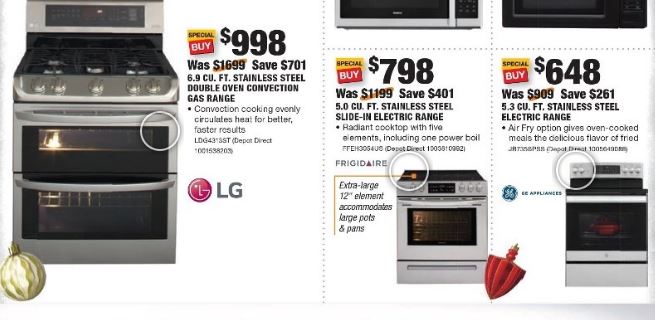 2018 Deals: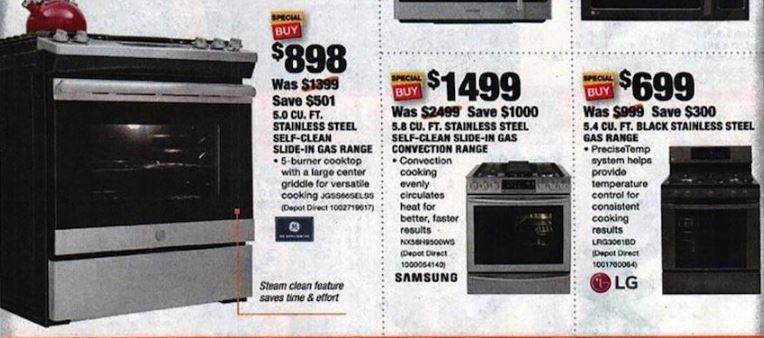 Double Oven Ranges – The oven is converted into two cavities with separate temperature controls. They are considered a time saver and perfect for parties and entertaining.
Freestanding range – Fits anywhere in your kitchen.
Drop-in Range – Requires custom designed cabinets to snugly house the stove. The cooktop and oven control panel is often found on the front of the range.
Slide-In Ranges – Slides into an open space in your cabinetry, with the controls in the front (rather than the back). Allows you to have the standard look of your kitchen back
Stainless Steel Ovens – Stainless steel is an ideal surface for kitchen appliances because it doesn't absorb stains or odors. Fingerprints and scuff marks are also difficult to see on a stainless steel surface. Its resistance to absorption
Electric Range or Gas Oven – There has been a lot of debate about whether cooking with gas or electric is better. Select your preference this fall with discounts on both.
Dual Fuel Ranges – They typically offer a gas cooktop and electric oven to combine the best of both devices for cooking by serious chefs.
Wall Ovens – Get more space in your kitchen and ease of use by putting your oven in the wall. GE offers wall ovens with WiFi connections that enable precision cooking via integrated recipes.
Smart Ovens – The Whirlpool Smart Range allows you to control your stove from your phone. There are also smaller countertop versions such as the Tovala smart steam oven and a Breville Smart Oven.
Here are some of the manufacturers of ovens and ranges that we will be following prices on over the Thanksgiving holiday:
Kenmore & Kenmore Elite – Kenmore is a brand of household appliances sold by Sears. The first Kenmore product was sold in 1913 – more than 100 years ago! Kenmore products are made by a variety of manufacturers including Whirlpool, LG and ElectroLux. Kenmore Elite is the upscale line of Kenmore appliances. They also have a professional line of appliances called Kenmore Pro.
Samsung – Samsung is a South Korean multinational company headquartered in Seoul. It was founded in 1938 and is now a leader in the worldwide electronics industry.
GE – GE is one of the largest appliance brands in the United States, with a 14% market share in te US home appliance market. The company is now GE Appliances and has its headquarters in Louisville, Kentucky. The company was owned by General Electric until 2016.
Whirlpool – An American manufacturer of home appliances with its headquarters in Benton Harbor, Michigan. The company is in the Fortune 500 with nearly 100,000 employees, nine manufacturing facilities in the United States and more than 70 manufacturing or technology research centers worldwide. The company also makes KitchenAid, Maytag and other popular brands.
Frigidaire – Frigidaire is a brand of US consumer home appliances owned by Electrolux that was founded 100 years ago. The division has its headquarters in Charlotte, North Carolina. They are known for their single and double wall ovens as well as convection ovens. They make ranges that use gas, electric, dual fuel and induction heat.
Kitchenaid – A brand of American home appliances founded nearly 100 years ago that is currently owned by Whirlpool. Perhaps best known for its stand mixer, it also makes single and double free standing, slide-in and built-in wall ovens.
LG – A multinational company based in Seoul, South Korea that manufacturers electronics and appliances.
Range Black Friday Deals: Choose between the biggest discounts of the year on ranges over the Thanksgiving holiday. We will post the biggest price drops and rebates that we find.
Range Cyber Monday Deals: Funtober will post all of the online deals available on the internet on the Monday after Thanksgiving for ovens and stoves for your kitchen.
Last Major Update:
Home & Furniture Deals
Current Sales on Amazon: