Microsoft Surface Go Cyber Monday 2018 & Black Friday Deals
Find the best deals on the Microsoft Surface Go during Black Friday and Cyber Monday 2018 here at Funtober. We search every online ad and print advertisement to bring you the biggest sales on laptop computers and other popular products over Thanksgiving weekend.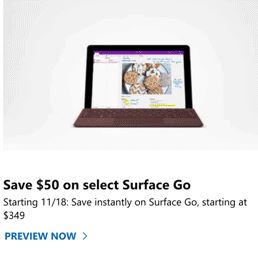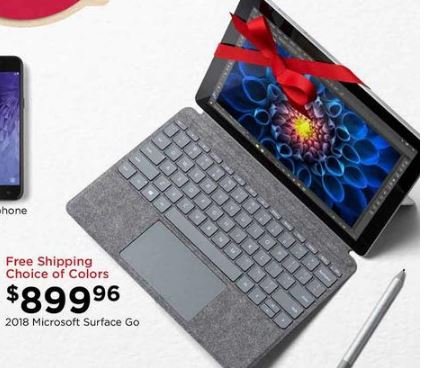 Click Here for the Amazon Surface Go Deals
Intel Pentium Gold, 4GB RAM, 128 GB – $449 (save $50)
Intel Pentium Gold, 8GB RAM, 128 GB – $499 (save $50)
We expect that Microsoft, Amazon, Best Buy and other electronics retailers will have offer big price discounts over the holiday weekend on this new Microsoft 2 in 1 laptop/tablet computer. There are still a few months before the ads start rolling out and the Surface Go hits the market (estimated for August 2018).
About the Microsoft Surface Go
The new Microsoft Surface Go brings most of the premium features of the Microsoft Surface Pro to a more affordable and ultra portable electronics device. It has a 10 inch diagonal display and weighs just 1.15 pounds. The keyboard detaches from the device to leave a bright, high resolution touchscreen display with Gorilla Glass, kickstand, facial recognition camera, front facing speakers and an 8 megapixel camera.
The baseline model will have 64GB of internal storage, 4GB of RAM, a stylus pen and Type Cover Keyboard. Additional configuration options include 256GB of storage, 8GB of RAM and LTE.
The current release date for the new product is early August 2018.
Black Friday 2018 Deals and Price
The regular price for the base model of the Surface Go will be $399. We expect there will be discounts of around $100 on this computer including the potential for a big discount during a Thanksgiving sale to kick off the weekend.
Cyber Monday Deals
The sales on the Monday after Thanksgiving are typically released starting late on Friday and getting spread out over the weekend. Many stores don't release their online discounts until late Sunday in order to maximize the number of people who are buying over the weekend (rather than waiting for an even bigger sale). So we will post the price discounts for these sales as soon as we see them posted!
Last Major Update: