MSi Black Friday Deals 2023 – Laptop and Desktop Computer Deals
Find the best deals on MSi computers during Black Friday 2023. Funtober will search for gaming laptops and computers made by MSi at top electronics retailers from Amazon and Best Buy to Newegg and post all of the sales and ads from Thanksgiving Day to Cyber Monday 2023 here.
MSi (short for Micro-Star International) is a pioneering gaming brand and multinational information technology corporation based in Taiwain. It has more than 2,000 employees and designs / develops computer hardware including laptops, desktops and other electronics for computers. It was voted the best gaming brand for two years in a row by PC Magazine readers. It was the #1 highest consumer recommended brand by NPS Score.
2022 Deals:
Find more Black Friday deals right now at Amazon.com.
Past Deals:
Here are the MSi computers that we will be watching for price drops and sales on this Thanksgiving:
MSi Laptops:
Discover the power of MSi gaming laptops with the GT, GS, GE, GP, GL, GF, GV and GX series. From the powerhouse with extreme performance to the slim, fast and charming option and everything in between including the reliable / mainstream to the performance cooling system.
MSi Desktop Computers:
Aegis Computers: The platform to power through the latest AAA title games. Intel Skylake processors. PCI-E Gen 3.0×4 bandwidth utilizing NVMe technology on single M.2 SSD. High speed 2133MHz DDR4 memory modules. Can be equipped with the NVIDIA GeForce® GTX 1080.
Nightblade Computers: Gaming PCs with high performance components built into a sleek and compact body. An easy carry-handle is situated at the front of the chassis, making it easier to bring the rig any place you want. MSI Gaming Desktops have a customized thermal design to cool all essential components. Built to upgrade in the future to
Infinite Computers: 7th Gen Intel® Core™ i7 7700 processor with DDR4 memory. Up to GeForce GTX 1080 graphics. Exclusive Silent Storm Cooling 3 cooling system enhances system cooling.
Trident Computers: The world's smallest VR ready gaming PC is the Trident 3.Think small but play big. A true gaming PC with compact size and the same desktop performance. 7th Gen Intel Core processors. Compact, lightweight and easy to transport desktop. Full performance despite compact size. Exclusive cooling system. Winner of the IF Design Award 2017.
VR One Backpack: The thinnest and lightest virtual reality backpack. Powered by Intel Quad Core i7-6820HK with overclocking. NVIDIA GeForce GTX 1070 graphics card. 90+ minutes from two hot swappable batteries on a single charge, which can be easily switched when running low. Charging dock can hold up to four batteries at a time.
2018 Deals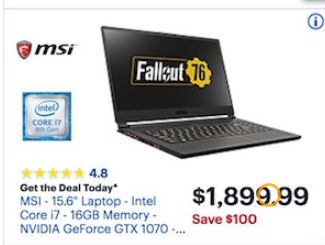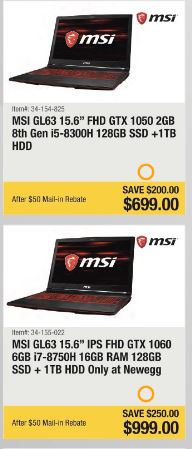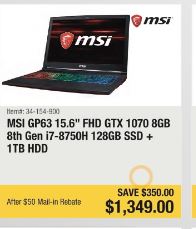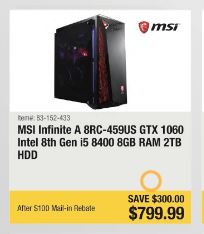 MSi Black Friday Deals
We will post all of the best laptop and desktop gaming computer deals for MSi products from Thanksgiving Day and Black Friday 2019.
MSi Cyber Monday Deals
We will post all of the online price discounts that occur on the Monday after Thanksgiving for these personal computers as part of Cyber Monday.
Last Major Update: