HP Printer Black Friday Deals 2022 – DeskJet, OfficeJet, Envy, Sprocket Deals
Find the best deals on HP printers during Black Friday 2022 including the DeskJet, OfficeJet, Tango, Envy, PageWide and Sprocket. Funtober will bring you the best print ads and online sales on printers from Thanksgiving Day to Cyber Monday 2022.
2022 Deals:
Find more Black Friday deals right now at Amazon.com.
Here are the HP printers that we will be following deals on over Thanksgiving Day weekend:
HP DeskJet – The DeskJet 3755 All-in-One Printer is the world's smallest all-in-one according to Hewlett Packard. It offers built-in WiFi and mobile printing. Up to 8 pages per minute black and 5 pages per minute color.
HP OfficeJet – A series of all in one printers ranging from the classic printer for home and family use, to business uses of printing up to 800-1500 pages per month and 17-20 pages per minute. Up to 50% less cost per page than color laser printers.
HP Envy – All in one printers for printing, copying, scanning and photo printing. Ranges from 10 ppm black and 7 ppm color in the 5055 to 15 ppm black and 10 ppm color in the 7855.
HP Tango – A smart home printer that can be controlled by your voice or smart phone. The Tango X comes with a stylish cover. Cloud-based network connection lets you print, scan and copy from any device, anywhere. Connect it to Amazon Echo, the Google Assistant or Microsoft Cortana.
HP LaserJet Pro – Secure printing, high-speed performance and JetIntelligence technology to save money. The new LaserJet printers are up to 40% smaller and faster.
HP PageWide – A new class of inkjet business printers that prints color pages at 40% lower cost. Unrivaled speed at up to 75 pages per minute. Uses less energy while printing professional color in a single pass with the printhead spanning the entire length width of the page.
HP Sprocket – A mobile printer for portable printing of 2×2 inch photos on paper. Get the Sprocket Plus for bigger prints in an instant.
About HP
HP is an American technology company developing personal computers and printers with its headquarters in Palo Alto, California. The company was part of the split from Hewlett-Packard Company and now employs more than 50,000 people.
HP Printer Black Friday Deals
We will be searching the print ads and online offerings of the office supply stores and electronics retailers (both online and in-store) for discounts on Laserjet printers, OfficeJet printers, DeskJet printers and other HP products.
HP Cyber Monday Deals
We will post the online sales for the Monday after Thanksgiving Day here as they become available. They traditionally are now posted online until late Sunday or early Monday.
2018 Deals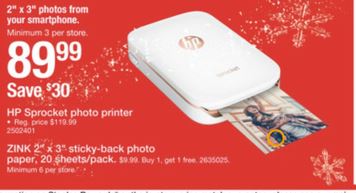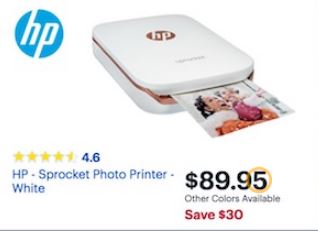 Last Major Update: