Best Ring Doorbell Black Friday 2019 & Cyber Monday Deals
Expect big discounts on the Ring Doorbell, Ring Video Doorbell 2 / Pro & Chime for Black Friday 2019 and Cyber Monday from Amazon and other electronics retailers.
Pick up a wi-fi enabled video doorbell from Ring to protect your home and enable easy entry to approved guests. We have scoured all of the online and print ads for Thanksgiving weekend including Black Friday and Cyber Monday 2019.
2019 Ring Products
Ring Video Doorbell 2 – The Ring 2 is a smart video doorbell with quick-release rechargeable battery with 1080p HD video. It is regularly priced at $199.
Ring Video Doorbell Pro – The Ring Pro is a hardwired doorbell with advanced security features. It is regularly priced at $249.
Ring Indoor Cam – Check in on your home by bringing your home smart security system inside with the Indoor Cam. It is regularly priced at $59.99.
Ring Chime – Receive ring notifications anywhere in your home by plugging this accessory to your home security system into any standard power outlet. It is regularly priced at $29.
Ring Chime Pro – This is a wireless security system extender which extends your Ring network and amplifies security alerts. It is regularly priced at $49.
Current Sales on Amazon:
2018 Deals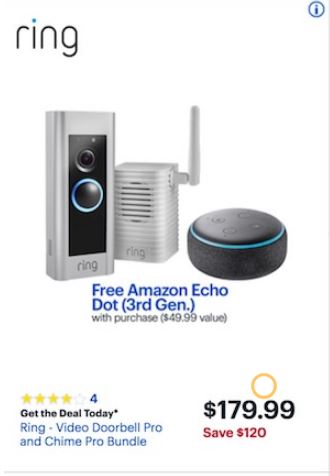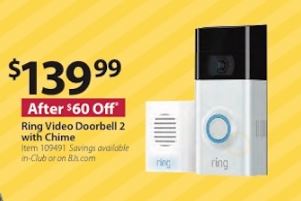 The best deals on the Ring Doorbell during last Black Friday were the offers on it for $99. We expect there will be even better deals this year as Amazon fully integrates it into its lineup of blockbuster deals from
Ring is a global home security system owned by Amazon. It makes video doorbells that allow you to answer the door via your iOS or Android smart phone.
The standard first version with a regular price of $99 is battery powered and works with every home. The next generation Video Doorbell 2 has enhanced video resolution and quick release battery. The regular price is $199.
The Pro and Elite versions include advanced security features or a professional grade with flush mounted installation.
There are still a few months before online retailers and electronics store like Amazon, Best Buy and Walmart begin announcing their discounts on the Ring doorbells. But you can rest assured that we will be posting them here as soon as they do for Thanksgiving Weekend including Black Friday and Cyber Monday 2019.
Last Major Update: