Nespresso Black Friday 2020 Inissia, Pixie, Vertuo Deals
Find the best deals on Nespresso coffee and espresso machines during Black Friday 2020. Funtober collects all of the online sales and price discounts from print ads available on the Vertuo, Essenza, Pixie, CitiZ, Lattissima, Creatista and Innissia between Thanksgiving Day and Cyber Monday 2020.
Looking to purchase a Christmas gift for a friend or family that loves coffee? Consider a Black Friday deal on a Nespresso. From coffee makers to espresso machines, Nespresso is known for its luxury devices bringing cafe level taste straight into your kitchen. We'll be bringing you information on deals that are available in 2019 on Nespresso coffee devices at stores like Amazon, Best Buy, Kohl's, Macy's and Target.
If you are trying to choose your favorite one, Wirecutter made over 100 different coffee drinks while reviewing the Nespresso machines and decided on the Nespresso Essenza Mini. They called these coffee machines overall the "fastest and most convenient way to make [espresso drinks] at home.
2019 Cyber Monday Deals on Nespresso
Rosso Coffee Nespresso Pods, $18.48 @ Amazon
Nespresso Pod Carousel, $23.99 @ Amazon
2019 Black Friday Deals:
Nespresso Bundles – $124.99 @ Macys (before 1 PM) – pick from Breville or De'Longhi Vertuo Plus with Aeroccino Milk Frother
Nespresso Machines – 20% off + extra 35% off @ Target
Nespresso Coffeemaker – Save 50% @ Best Buy
Nespresso Vertuo Plus and Aeroccino Milk Frother – $99.99 @ Kohls (save $150 + $30 Kohl's Cash)
Nespresso VertuoPlus and Aeroccino Milk Frother – $146.46 @ Best Buy (save $80.51)
Nespresso VertuoPlus $116.35-129.96 @ Best Buy (save $62.99-69.99 based on color)
Nespresso VertuoPlus for $77.50 @ Navy Exchange (NEX) (regularly $154.99)
Nespresso CitiZ by DeLonghi for $161.85 @ Best Buy (save $88)
Nespresso Latissima Pro for $389.97 @ Best Buy (save $210.02)
Nespresso Essenza Mini for $128.99 @ Best Buy (save $21)
Nespresso Creatista Uno for $259.97 @ Best Buy (save $140.03)
Nespresso Breville Vertuo Plus Deluxe Bundle from $125.99 @ Bed Bath and Beyond
Nespresso De'Longhi Latissima Touch from $324.99 @ Bed Bath and Beyond (save 35%)
Nespresso Creatista Uno from $259.99 @ Bed Bath and Beyond
Nespresso De'Longhi VertuoPlus Limited edition bundle for $93.74 with coupon @ Bed Bath and Beyond (save $156)
Don't forget the pods for your Nespresso!
Peet's Coffee @ Amazon
Starbuck's Coffee @ Amazon
Nespresso Original @ Amazon
multipack @ Amazon
Here are the Nespresso machines that we will be tracking prices on over the Thanksgiving holiday weekend:
Vertuo and VertuoPlus. Offers five cup sizes at the touch of a button in this versatile brewing machine that makes espresso or coffee. The Deluxe version includes a larger water tank. The Bundle usually includes the Aeroccino3 milk frother, which stirs and heats milk for a delicious froth you'll love. There are slightly different versions made by Breville and De'Longhi.
Essenza Mini – A compact coffee machine (Nepresso's smallest) offering 2 programmable cup sizes. There are slightly different versions made by Breville and De'Longhi.
Pixie – A compact and fast single cup coffee maker with a range of advanced, innovative features.
CitiZ – An espresso machine with a compact design that serves high quality coffee.
Lattissima Pro – The Touch provides six different recipes for coffee/espresso selections at the touch of a button, including a creamy latte, a cappuccino and a latte macchiato. A pro-level "all-in-one machine."
Creatista – Enjoy cafe quality coffee/espresso and textured milk with the fully automatic steam wand to bring it to your preferred temperature.
Inissia – A coffee and espresso machine with a compact design, ergonomic handle and lightweight. It is bundled with the Aeroccino milk frother to make delicious beverages with fresh frothy milk.
Nespresso Pods – Black Friday and Cyber Monday can be a good time to pick up a deal on your favorite coffee and espresso capsules for use in your Nespresso. The company offers fast and free delivery of your favorite flavors, but you usually have to dig a little farther to find them on sale at a great price. Your coffee machine doesn't do much good without coffee grounds, so stock up on them now if you see a discount and enjoy them throughout the cold winter months.
Nespresso Black Friday Deals: We will be posting all of the available price savings on these advanced coffee makers over the Thanksgiving holiday weekend – so stop back soon!
Nespresso Cyber Monday Deals: Find the online sales on these coffee machines and espresso makers for the Monday after Thanksgiving here when they are announced on Sunday evening or Monday morning.
Last Year's Deal:
Click Here to Save 51% on Nespresso Inissia Espresso Machine on Amazon for CYBER MONDAY.
Click Here to Save up to 55% off on Breville Kitchen Appliances on Amazon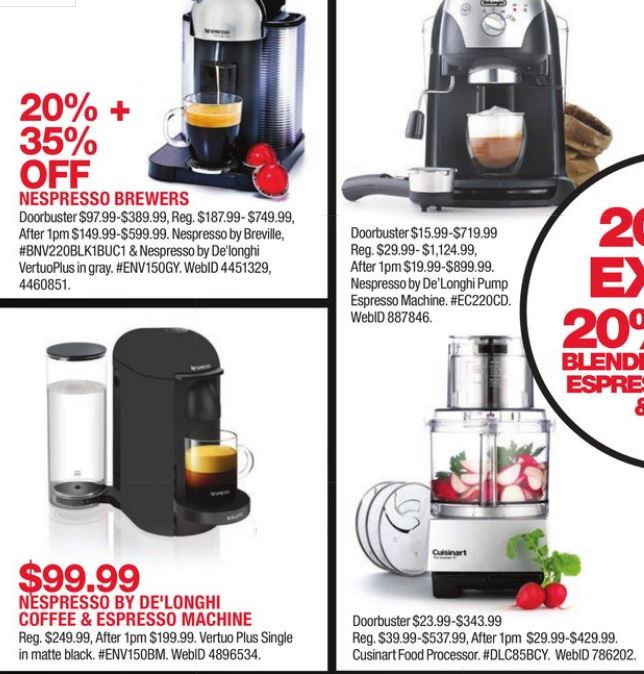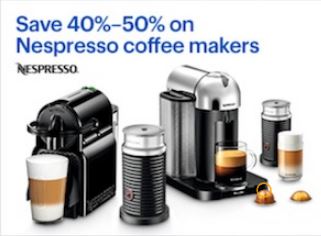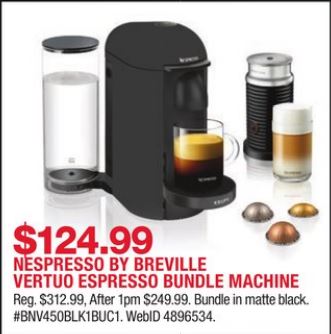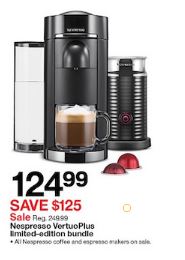 Last Major Update: