Microsoft Surface Pro X, 7 & 6 Black Friday 2023 & Cyber Monday Deals
Find the best deals on the Microsoft Surface Pro X and Pro 7 as well as the older Surface Pro 6 for Black Friday 2020. We have visited dozens of online and print ads to collect the best sales and discounts on the latest Microsoft Surface tablets and laptop computers between Thanksgiving Day and Cyber Monday 2023.
We will bring you info about the biggest and best deals and discounts here when the savings are announced online or in an advertisement.We are committed to helping you find the best shopping deals of the year from Amazon Prime Day to Thanksgiving Weekend.So get ready to save in 2023, 2024 and beyond!
2022 Deals:
Find more Black Friday deals right now at Amazon.com.
Past Deals:

Microsoft Surface Pro X
The Surface Pro X is an ARM-based 2-in-1 with a processor created by Microsoft and Qualcomm that is supposedly three times more powerful per watt than the Surface Pro 6. The X is 3 mm smaller than the Pro 7 and has a slightly larger display. An access cover allows users to swap out the solid state drive. There is also a new Type Cover with a slot for wireless charging of it. The regular price is expected to be a minimum of $999 with higher end configurations and additional accesssories adding to it.
Microsoft Surface Pro 7
The Surface Pro 7 uses a 10th generation Intel Ice Lake CPU with options for processors from the Core i3, i5, and i7 lineups. It can come with up to 16GB of RAM and a 1 terabyte SSD. The regular price of the Surface Pro 7 will start at $749 with high end configurations possibly exceeding over $2000.
2019 Sales
Amazon discounted the Microsoft laptop (Surface Pro 6) by $174 prior to Prime Day, making it available for just $725. It also offered $300 off an upgraded model, bringing the price of the more powerful device down to just $1000. Walmart offered a different deal – a bundle with four programs and a one year warranty for $769 – which is $130 off the regular price of the tablet/laptop combination alone.
At the start of Augut 2019, Microsoft offered a sale on Surface Pro 6 bundles on its website, which included $260 off the i5 with 128GB SSD, 8 GB RAM and Type Cover. The Core i7 version bundle with Type Cover and pen was offered at a discount of $383.
Microsoft Surface Pro 7
The Surface Pro 6 launched less than a year ago, but electronics experts are already speculating as to what will be included in the next version of the device. We think it is a bit too early to start the rumor mill, but if it is released before Black Friday 2019, we will also include discounts on the Surface Pro 7 here.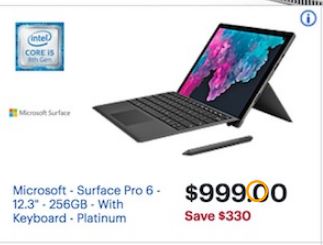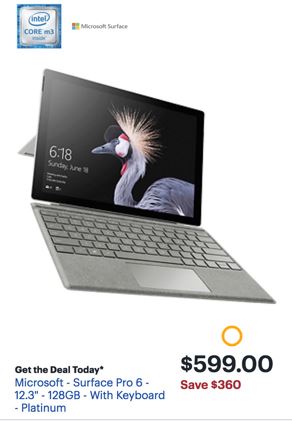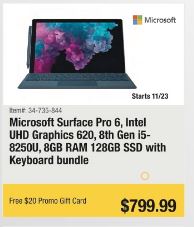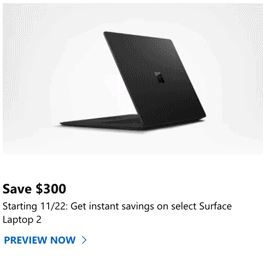 We expect we will see at least one good deal on the Microsoft Surface Pro 6. It is an ultralight and versatile detachable PC with the latest 8th Generation Intel Core processor. Starting weight at just 1.7 lbs. Run it in laptop mode, studio mode or tablet mode thanks to the built-in kickstand and type cover. Write and draw with the Surface Pen and touch. Syncs with your iPhone or Android device. All day battery life offers up to 13.5 hours of video playback. Regular price starts at $899. Additional configuration options available.
Until then, we hope you enjoy learning about what was available over Thanksgiving weekend in 2017:
Amazon
Click here to find the latest deals on Amazon.
Amazon runs lightning deals and other discounts throughout the month of November leading up to Black Friday and Cyber Monday, including on popular electronics.Currently on Amazon, you can find the latest version of the Microsoft Surface Pro
Best Buy
SAVE $370 – Surface Pro Core M – $629
The nation's top bricks and mortar electronics retailer has many great deals on laptops and tablet computers this Thanksgiving
Microsoft
Save $329 – Surface Pro Bundle – Starting 11/23
As the official store, they carry a full line of the new Surface Pro and Surface Book 2.
Office Depot and Office Max
SAVE $229.99 – Microsoft Surface Pro Tablet Bundle with Intel Core i5 – $899
About the Microsoft Surface Series
The Microsoft Surface was the first personal computer designed in-house by Microsoft.The first-generation was announced and released in 2012.The first Surface was a hybrid tablet computer.Its successor, the Surface 2, was released in 2013; Microsoft stopped manufacturing it in early 2015.he Surface Pro 3 with a more powerful Intel Core processor was released in 2014 and competes with high-end ultraportable laptops like the Apple MacBook Air.The Microsoft Surface 3 is a 2-in-1 detachable utilizing the x86 Intel Atom system-on-chip architecture released in 2015.It is less expensive than the Surface Pro 3 in exchange for less power/performance.
The Surface Pro 4 was originally released in October 20115 in the United States.It is the fourth generation 2-in-1 detachable from Microsoft.The Surface Pro comes with Windows 10 Pro and is backward compatible.The latest version of the device is marketed as the Surface Pro or the Surface Pro 2017.It includes the 7th-generation Intel Kaby Lake Core processors m3, i5 or i7.
We will also be keeping our eye out on any deals on the Microsoft Surface Book 2, a 2-in-1 personal computer unveiled on October 17th and released on November 16, 2017.This is the sequel to Microsoft's first laptop.Since it was just released, there's no guarantees that there are any discounts at this point.The regular price of the Surface Book 2 is $1,499.
More Black Friday and Cyber Monday Deals
We have full coverage of Thanksgiving weekend deals on desktop computers, laptops, tablets and other electronics this year.If you haven't found the right deal yet, stop back soon as we are adding more daily here at Funtober.