Huawei MateBook X Pro Black Friday 2019 & Cyber Monday Deals
Find the best deals on the Huawei MateBook X Pro for Black Friday and Cyber Monday 2019. We will be searching the online and print ads for Thanksgiving weekend to bring you the best prices on popular laptops like the MateBook.
Thanksgiving has historically been a great time to buy a laptop for yourself or as a Christmas gift. There is a lot of price competition on this category of personal computers and you should be able to snag a huge price discount on a Black Friday laptop.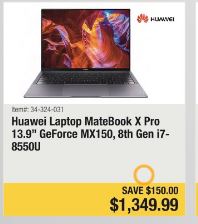 The Huawei MateBook X Pro is the second generation laptop from the popular line by Huawei that The Verge called the "best laptop available right now" and has been compared to the Apple macbook.
Why do people love it? The FullView design has a 91% screen-to-body ratio, the 3K LTPS display has 3000 x 2000 resolution for high definition pictures or 4K videos, the touchscreen is made from ultra-thin Corning Gorilla glass with anti-fingerprint coating for accurate and smooth navigation. Weighing in at just 1.33 kilograms, this ultra slim and light laptop is perfect for work or fun anywhere. It is powered by an 8th generation Intel Core i7 processor and comes with a NVIDIA GeForce MX150 graphics card.
Last year, the Huawei Matebook X got a massive price cut to $800 in Amazon's pre-Black Friday deals (for the entry-level model), and $974 for the Signature edition. It was around a $300 price discount on the ultra-portable laptop.
Huawei has been working in the information and communications technology for the past 20 years and has deployed products and services to over 170 countries. We will also be following other Huawei products like the Mate 10 Pro and the Huawei Watch 2
Huawei Black Friday and Cyber Monday 2019 Deals:
Deals on electronics like the Huawei MateBook X Pro typically begin getting posted in early November and will ramp up as Thanksgiving 2019 approaches. We will be closely following the leaked and released advertisements and post those sales here when they become available. Please stop back in a few weeks to see what we have found for Huawei MateBook X Pro Black Friday deals.
2018 Deals:
Save $150 on MateBook X Pro on Microsoft – click here, only $1349.99
Last Major Update: