Dell XPS 13 & 15 Black Friday Deals 2023 & Cyber Monday Laptop Deals
Find the best deals on the Dell XPS 13 and XPS 15 on Black Friday 2023 here at Funtober. We will scour the online ads and print advertisements to bring you the best Dell laptop deals on the XPS 13 and XPS 15 between Thanksgiving Day and Cyber Monday 2023.
Thanksgiving 2023 should bring some huge discounts on laptops as Dell and the other computer manufacturers look to kick off the Christmas shopping season with a real blast off. Stay tuned as we are tracking the discounted prices from the sales of Dell, Best Buy, Amazon and other electronics retailers online and offline.
2022 Deals:
Find more Black Friday deals right now at Amazon.com.
Past Deals:
2018 Deals: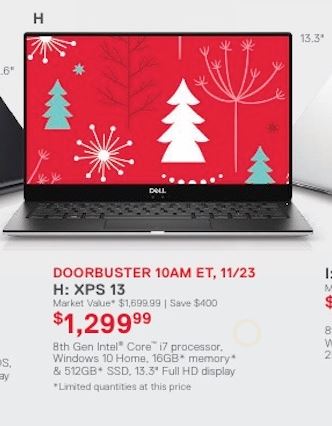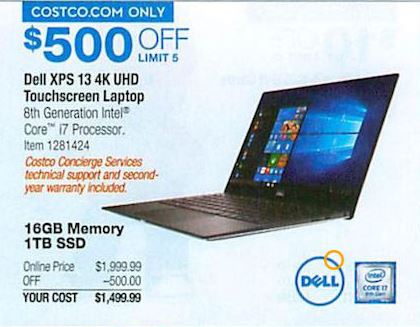 Dell XPS 13 Doorbuster Online – Friday at 10 AM (Eastern)
The XPS 13 will be $1299.99 (save $400 off market value of $1699.99) on dell.com. Includes 8th generation Intel Core i7 processor, Windows 10 Home, 16GB memory, 512GB SSD, and 13.3″ Full HD Display.
Dell XPS 15 Doorbuster Online – Thanksgiving at Noon (Eastern)
This XPS laptop will be offered as a Thanksgiving Day doorbuster with $300 in savings from Dell.com starting at noon. Sale price is $1399.99. includes 8th generation Intel Core i7 processor, Windows 10 Home, 16GB memory & 512GB SSD, 15.6″ Full HD display.
About the Dell XPS 13 Laptop
This is the smallest 13.3 inch laptop on the planet according to Dell. It comes with 7th or 8th Generation Intel Core Processor, 4-8 GB of RAM and 128GB-256GB solid state hard drive. More screen thanks to the virtually borderless InfinityEdge display. Thin and light with a startign weight of only 2.7 pounds. Scratch resistant Corning Gorilla Glass touchscreen. Password-free sign-ins with optional fingerprint reader. Optional upgrades for touch screen and state of the art display.
Starting price is $799.99 with additional price points at $999.99 and $1,099.99. For its Black Friday in July sale in 2018, they offered $100 off the top model with the 8th Generation Intel Core i5 Processor
Black Friday Deals
We will post the savings for the Dell XPS 13 laptops here for what has become one of the biggest shopping days of the season. Check back in October or November to see what we have found for the Lenova XPS series of computers this year!
Cyber Monday Deals
We will start posting the savings here when they are announced, which will most likely after on the afternoon of the Friday after Thanksgiving and continuing slowly over the weekend until Cyber Monday 2019 is here and they are released online.
See You Back Soon!
There are still a few months before things kick off in earnest for announcements of savings on the Dell XPS series. We check regularly for deals as Thanksgiving approaches and expect we will be posting the first sales here in either late October or early November. We hope to see you back again in November for Black Friday 2018.
Last Major Update: