Acer Swift, Spin, Aspire Black Friday Deals 2023
Find the best deals on Acer laptops including the Swift, Spin and Aspire for Black Friday 2023. We will post all of the sales and leaked ads between Thanksgiving Day and Cyber Monday 2023 for Acer laptop computers to help you find a 1 (entry level), 3, 5 or 7 (top of the line).
Amazon Deals
Acer Spin 5 – $759.99 (save $140)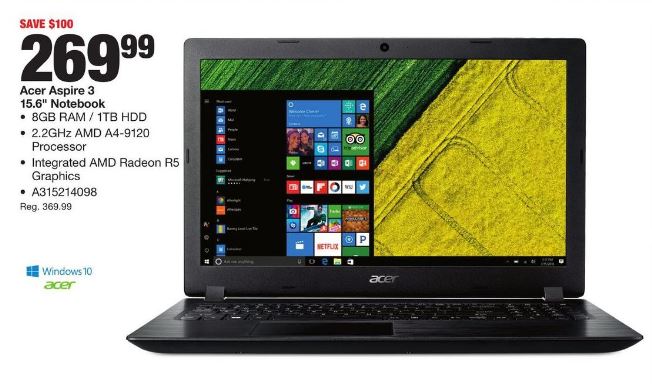 You can expect some great Acer Black Friday deals here. Here are a few of the computers that we will be following deals on over Thanksgiving 2018:
Acer Swift Laptops:
Acer has updated its line of Swift laptops including the Swift 3, 5 and 7. They are expected to be released first in Europe and a later release in the United States.
Swift 3 – A thinner and lighter gigabit WiFi laptop. It will be available with both 13.3 and 14 inch screens, as well as an option for 4G LTE connectivity. The batter life (when not using 4G) is estimated to be 13 hours by Acer.
Swift 5 – This is expected to be the world's lightest 15 inch notebook when the new version is released.
Swift 7 – Acer called it the thinnest laptop in the world at IFA. The new 2018 model is an ultraportable that measures 10mm thick and weighs just 1kg. It will also have an 8th generation Intel Core i7 processor.
Older Versions: The Swift 1 is a thin and lightweight laptop from 2017 with a 13.3″ display that is a great value for web browsing. Cnet says it is has enough higher end features to make it an attractive deal. PCMag called it a strong answer to the question of how much laptop you could get for $329.
Acer Spin Laptops:
This is Acer's line of convertible 2-in-1 laptops with a touchscreen.
Spin 1: This is a 11.6 inch convertible laptop with 4GB of mmory and a 32GB hard drive. Laptop Mag last year called it a fantastic budget convertible with a premium metal design and colorful screen.
Spin 3: An affordable 2-in-1 with a great 1080p 15.6″ full HD touchscreen display that starts at around $500.
Spin 5: A competitively priced 2-in-1 with a regular price in the $700s that is a solid performing midrange known for its battery life.
Spin 7: The flagship line of general purpose thin and light convertible laptops by Acer. Cnet called it a "well-designed laptop with a nice touchscreen and sturdy 360-degree hinge" plus "functional design and operation". It comes with a 14 inch touchscreen and a 7th generation Core i7 processor and 8GB memory.
Acer Aspire Laptops:
The Aspire is a series of personal computers aimed at the casual household user including both desktop and laptop computers.
Aspire 1: The entry level model of this affordable laptop series for households. It includes Intel Celeron Quad-Core processor, 14″ full HD display and 4GB onboard memory.
Aspire 3: A 15.6″ laptop with AMD A9 processor, 6GB of RAM and 1TB hard drive for everyday computing tasks.
Aspire 5: 15.6″ screen, full HD, and 8th Gen i5 processor. PC World calls it a "budget laptop that manages to squeeze quad-core power into a reasonably slim-adn-light design …."
Aspire 7: A budget friendly laptop with enough performance for casual gaming.
Acer Aspire E 15 (E5-576G): A great value laptop regularly priced at approximately $600 with a 15 inch full HD display. Digital Trends called it "the best Windows laptop you can get for $600." The entry level configuration (known as the E5) has 4GB of RAM, no GPU and a HDD for around $350.
Black Friday Deals:
We will post all the online price discounts and leaked or released ads here when they have been made public.
Cyber Monday Deals:
We will post all of the Acer Cyber Monday laptop deals here when they are announced on the Sunday afternoon or Monday morning after Thanksgiving.
Stay tuned!
There are still a few more weeks until the deals on Acer computers begin getting announced. But rest assured that we will post them here as soon as they are available. We hope you return in a few weeks to see the great price discounts electronics retailers and websites are offering on these laptops.