Best Samsung QLED, 4K TV Black Friday 2019 & Cyber Monday Deals
Find the best deals on a Samsung QLED or 4K TV during Black Friday 2019 here at Funtober. We will search for the biggest price discounts announced in sales and ads on 4K and 8K TVs from Thanksgiving Day to Cyber Monday 2019 and post them here to help you save money.
The first Samsung 8K TV will be released this year following its announcement this summer. There is still much to learn about what the ultimate price will be and if there will be a Black Friday deal. Available sizes will include options at 65, 75, 82 and 85 inches. We will be closely following 8K TV black friday deals for 2019.
We also expect that the Samsung QLED TVs options will be popular ones over Thanskgiving weekend. You can enjoy the latest features and innovations with a QLED TV, which uses quantum dot technology to bring enhanced picture quality and color brightness.
Samsung is a South Korean multinational corporation headquartered in Seoul. It was founded in 1938 and has approximately 500,000 employees around the world.
2018 Deals
Click Here to Save 15% or More on Samsung 2018 4K Ultra HD TVs at Amazon during Black Friday 2018
Samsung UN82NU8000 Flat 82″ TV – $2497.99 (save $500)
Samsung UN75NU8000 Flat 75″ TV – $1597.99 (save $600)
Samsung UN65NU8500 Curved 65″ TV – $1097.99 (save $700)
Samsung 65NU8000 Flat 65" TV – $997.99 (save $300)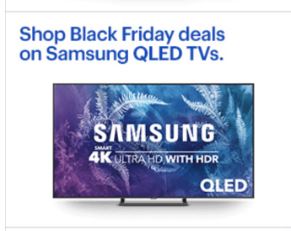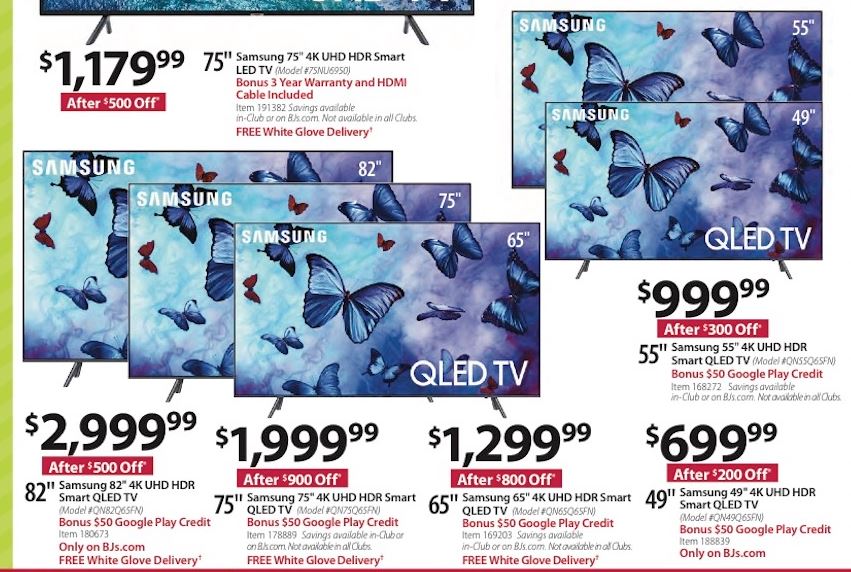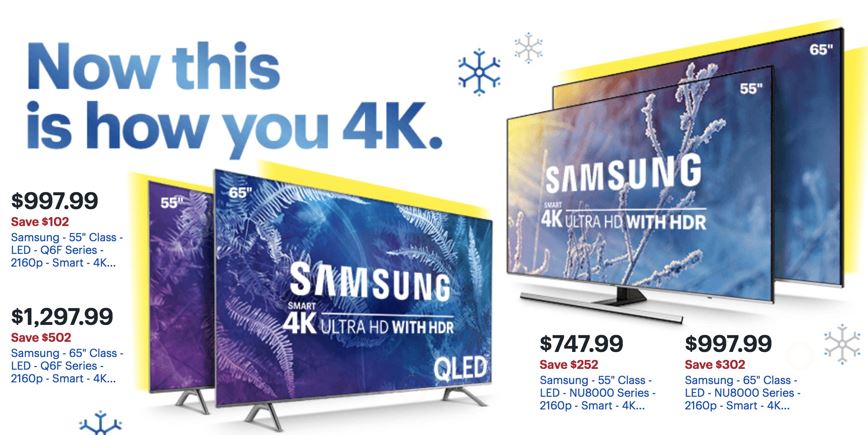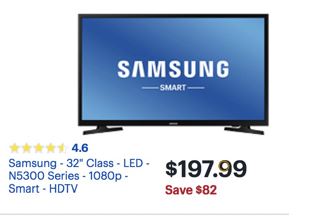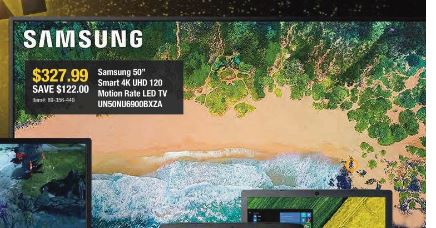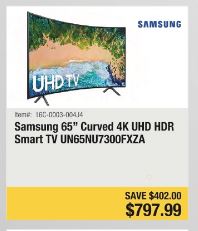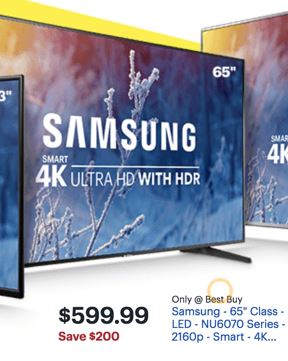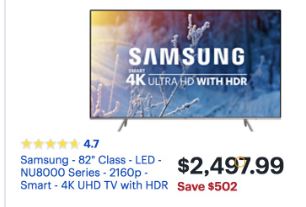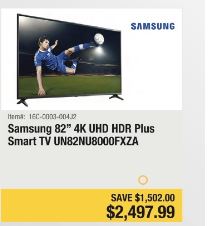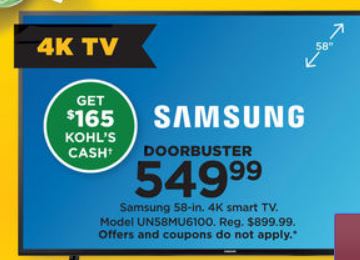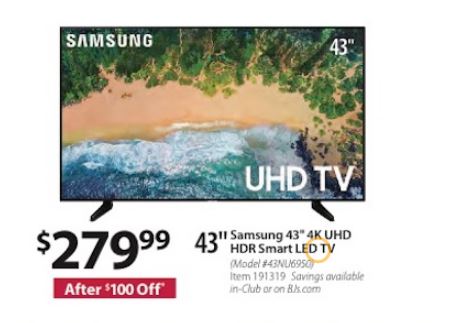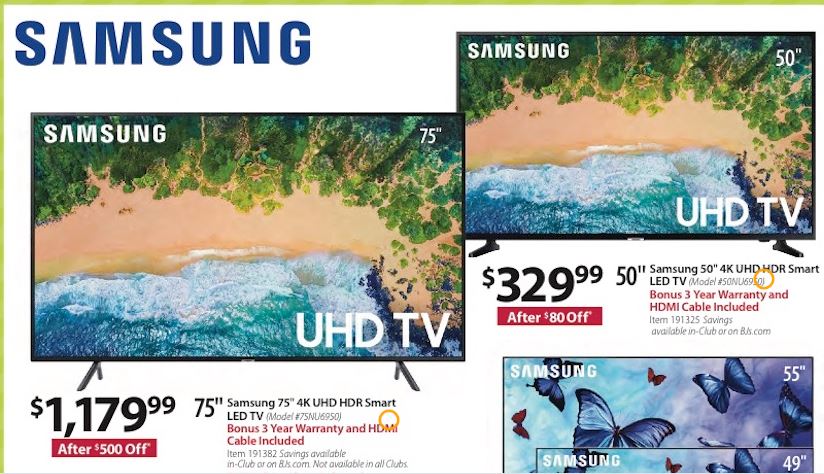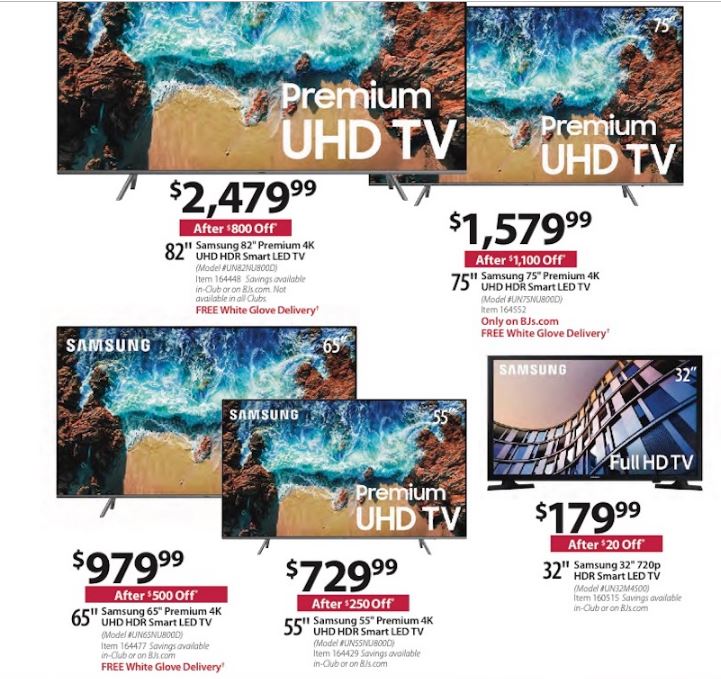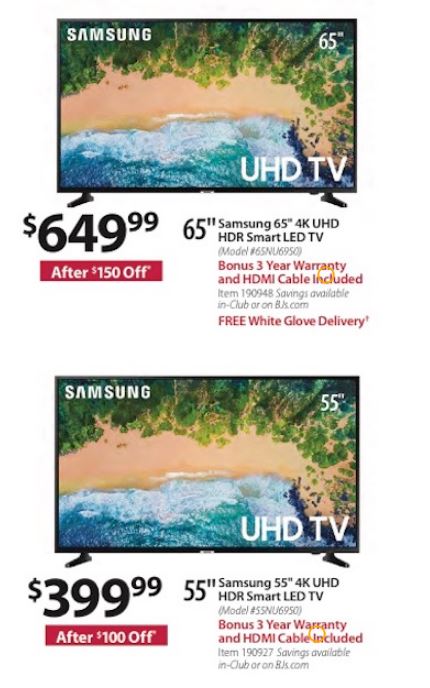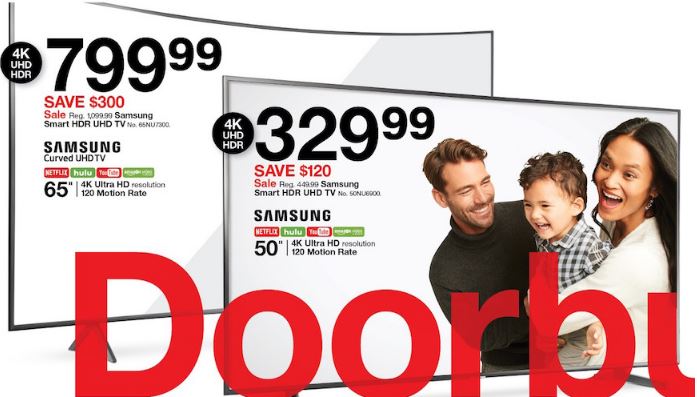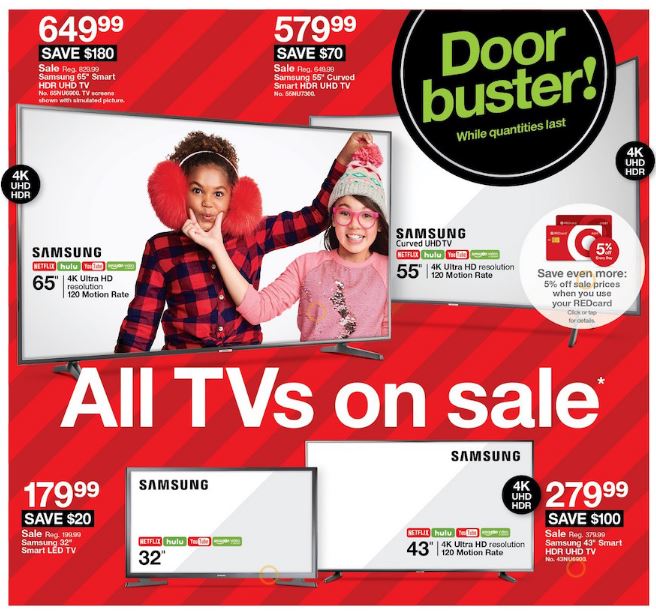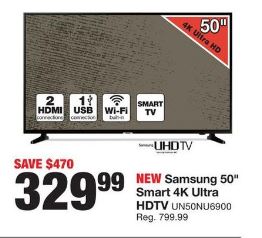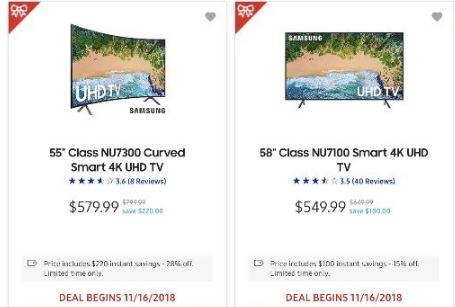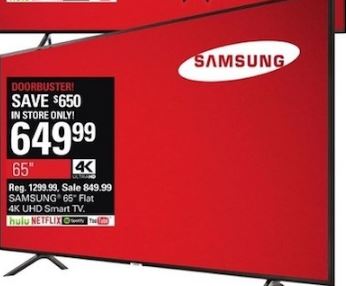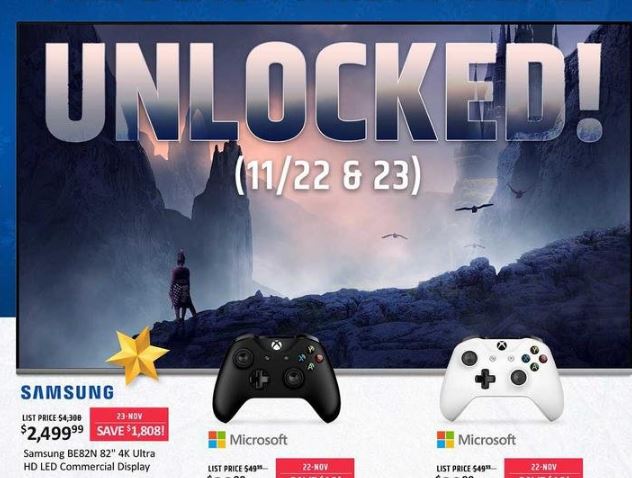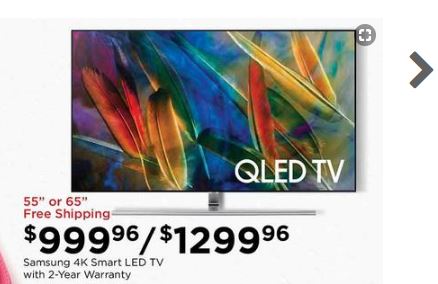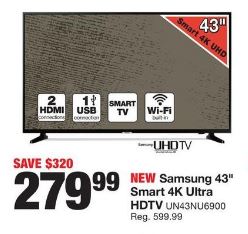 2017 Deals
Here are some of the retail stores and online websites that offered deals on Samsung televisions for Black Friday and Cyber Monday in 2017:
Walmart
Samsung 65″ Curved 4K Smart TV – $998 (save $300)
Samsung 58″ TV – $598
Samsung 32″ TV – $158
Samsung 40″ 4K Smart TV – $328
Best Buy
Samsung 65″ 4K TV – $749.99 (save $350)
Samsung 65″ LED 4K – $1297.99 (save $302)
Samsung 55″ TV – $897.99 (save $302)
Samsung 50″ 4K Ultra HD TV – $399.99 (save $300)
Samsung 32″ 1080p Smart TV – $227.99 (save $52)
Newegg
Samsung 50 inch 4K Ultra HD Smart TV – $424.99 (save $325)
Sams Club
Samsung 75″ UHD TV – $550 off!
BJs
Samsung Curved 65″ 4K UHD Smart LED TV – $1479.99 ($700 off)
Samsung Premium Curved 55″ 4K UHD Smart LED TV – $599.99 ($300 off)
Samsung 65″ 4K UHD Smart TV – $849.99 ($250 off plus $50 gift card)
Samsung 58″ 4K UHD Smart TV – 649.99 ($200 off plus $20 gift card)
Samsung 55″ 4K Smart TV – $499.99 (save 300 plus $20 gift card)
4K and QLED Black Friday 2019 Deals:
We will start seeing deals announced or leaked on Samsung TVs in early November. We will post them here when they are available. At the moment, there have not been any notworthy announcements.
QLED TV Cyber Monday Deals:
We would love to be able to bring you the online price discounts on Samsung televisions early but most websites wait until Sunday evening or Monday morning in order to start posting them online. We will gather them here as soon as they are available.
Stop Back Soon!
We will bring you Samsung TV Black Friday deals as soon as they are released or leaked in November 2019. We hope you will stop back in a few weeks and see the first of those postings, and then again during Thanksgiving weekend to see all of the available price discounts.
Last Major Update: