Bose SoundSport Black Friday Deals 2022 & Cyber Monday Deals
Find the best deals on Bose Soundsport headphones during Black Friday 2022. Funtober searches for the best sales, discounts and offers on the Bose SoundSport wireless headphones from Thanksgiving Day to Cyber Monday 2022. Bose has been on the cutting edge of the premium audio industry for decades and the SoundSport is another excellent offering. Offering hours of wireless sound no matter what the activity the SoundSport is a great choice for quality sound.

Here is what we are tracking:
The SoundSport is currently priced at $99 for the Android or Apple edition. Yes, because of great connector battle there are two different versions, so be careful to make sure you order the correct one. The SoundSport just like there name sake are designed tough to be your exercise headphones. The rugged construction was designed to be comfortable and several ear tip sizes so you can get the secure and comfortable fit. The SoundSport has built in NFC for easy pairing with any Bluetooth enable device. They are sweat and weather resistant. The built into controls allow you to take calls and manage your music selection. The Bose Connect App allows you to control all of the features of the SoundSport, such as customized settings, device pairing and much more. The app also allows for one swipe transfer between your Bluetooth enabled devices, so you can jump from phone, to tablet to laptop with ease. The batteries provide 6 hours of music playback and have a 2 hour charge time. The headphones come with a carrying case and a micro usb charging cable.
The new SoundSport Pulse feature all the regular SoundSport offers with the addition of a very accurate heart rate monitor. If you want to track your heart rate and push your workouts even further than music alone will do. The heart rate monitor is controlled through the Bose Connect App. The SoundSport Pulse are currently priced at $199.
Both SoundSport models come with a carrying case, the charging case will cost you an extra $50. The Bose SoundSport charging case provides an additional 18 hours of music playback. The SoundSport charging case has a quick charge function that provides an hour of playback for 15 minutes of charging. There is an LED display that shows the battery levels in both the case and the headphones.
If plan on using the SoundSport with and Apple device be sure to check for compatibility with your specific Apple device. The microphone and audio controls work with most but not all Apple devices.
2018 Deals: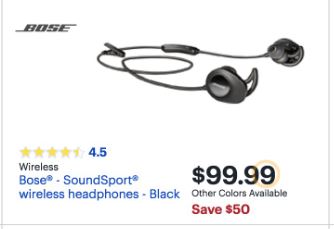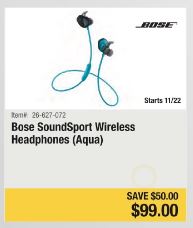 Bose is synonymous with fantastic sound quality so no matter Android or Apple you will get premium sound. We expect there to be really great offers and deals on all Bose headphones for Black Friday 2019. The headphone batter is heating up, particularly in the sport category, so Bose will not be able to rest on its laurels alone. Beats continues to gain market share, Jaybird is make one heck of a quality product and so many others, so Bose is going to have to offers some deals. We are tracking the in store and online sales, deals and bundles on Bose Sound Sport headphone for Black Friday 2019 and the entire holiday season. Keep your eye out for a SoundSport headphones and charging case bundle announced on Black Friday. Check back for the most up to date info on sales, prices, deals and offers for Black Friday 2019.
Last Major Update: