Verizon Wireless Black Friday Ad 2022 & Cyber Monday Deals
Find the best deals from Verizon Wireless and major electronics retailers during Black Friday 2022. Funtober will gather all of the online price discounts and retail sales ads from Thanksgiving Day to Cyber Monday 2022.
CLICK HERE FOR THE VERIZON WIRELESS DEALS
2020 Deals: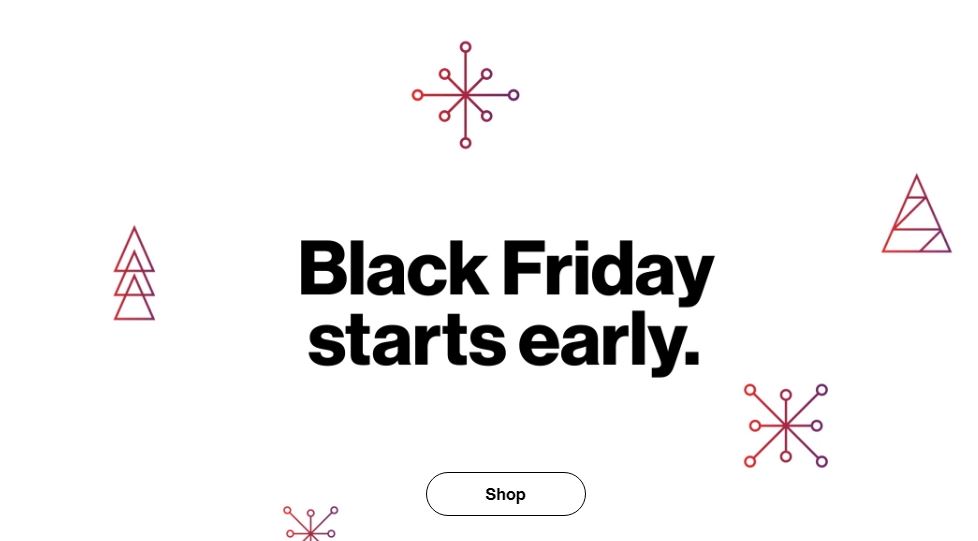 Verizon Black Friday 2019 Deals:
Verizon deals
Buy the latest iPhone, get iPhone 11 64GB on us. With Unlimited.
Buy One, Get One – Eligible on select phones within the same brand
Pixel 3a XL – Get $200 off
Get up to $400 off Google Pixel 3 or Pixel 3 XL. No trade-in required.

Bring Your Own Phone – Save $250
Pick any mix of 3 cases, screen protectors and chargers for $99.99.
Verizon has been offering a number of deals on new phones in October 2019 which will likely get better as Thanksgiving approaches. As the price of a new phone has gone up over the past few years, so have the discounts that it has taken to upgrade and/or switch carriers. The Verizon Black Friday 2019 deals will have to be better than ever. They are already offering up to $750 off some new phones with select trade-in and signup for the Unlimited plan.
Here are some of the phones that Verizon is offering to its customers in Fall 2019:
Google Pixel 4, Google Pixel 4 XL, Google Pixel 3
Apple iPhone 11 Pro, Apple iPhone 11 Pro Max, Apple iPhone 11
Apple iPhone XR, Apple iPhone XS Max, Apple iPhone XS
Samsung Galaxy Note 10, Samsung Galaxy Note 10+ 5G, Samsung Galaxy Note 10+
Samsung Galaxy S10, Samsung Galaxy S10+, Samsung Galaxy S10e
LG G8 ThinQ
Motorola Moto Z4
LG V50 ThinQ 5G
We expect that the reason you are here before Black Friday is to look for one of the following:
Verizon Pixel 4 Deals: We are still digesting all of the features announced about this new Google phone. But generally, they started shipping on October 24th and come in three colors: white, black, and a limited-edition orange option. The Pixel 4 and Pixel 4 XL will be sold for every major US carrier with prices starting at $799, and the Pixel 4 XL starting at $100 more. Both phones come with Qualcomm's Snapdragon 855 processor, 6 GB RAM, and either 64 or 128GB storage. The Pixel 4 XL has a 6.3-inch Quad HD display, while the 5.7-inch Pixel 4's screen is 1080p. Both feature a 90Hz max refresh rate.
Verizon iPhone 11 Deals: The new iPhone is always a hit at Black Friday iPhone 11 Pro – This is a compact, powerful phone with the best cameras. It has a 5.8 inch display as well as triple cmaeras. The drawbacks are that it has a shorter battery life than the other iPhone 11 options, it is a bit heavier and thicker than the iPhone XS, and has just 64GB at the starting price. iPhone 11 – It is regularly priced at $699, which makes it $50 cheaper than its predecessor. It's cameras have a new night mode for better low-light performance as well as a new ultra-wide lens. In terms of size, it sits between the Pro and the Pro Max. iPhone 11 Pro Max – The iPhone 11 Pro Max has a 6.5 inch display instead of the 5.8 inch display on the 11 Pro. It has the longest battery life of any iPhone and a brighter OLED display.
Verizon Samsung Galaxy Deals: We will also be looking for deals on the Note and S10. The Samsung Galaxy S10e, S10 & S10+ – Samsung calls it the next generation of mobile innovation with Infinity-O Display and on screen security with the Ultrasonic Fingerprint. The S10e is 5.8 inches wide. The S10 is 6.1″ wide, and the Galaxy S10+ is 6.4″. It has a full kit of lenses built-in to allow anyone to take photos, selfies and videos. The ultra wide angle lens can capture a 123 degree field of vision. The intelligent camera automatically optimizes camera settings and suggests image compositions to result in stunning photos. The Note 10 Plus is basically the same size as last year's Note 9 and continues its powerful, large screen tradition. The original price starts at $1099 and includes 12GB RAM / 256 GB storage. The Note 10 compresses the power and stylus famous from the Note into the size of nearly the Galaxy S10. The original price is $949 and includes 8GB RAM / 256GB storage.
2018 Deals
Starting online Thursday and in-stores Black Friday, get $400 off the best Android phones on the market – Google Pixel 3, Pixel 3 XL, Samsung Galaxy S9, Galaxy S9+, Galaxy Note 9 and LG V40 – without having to trade in your current phone. This deal ends midnight on Friday, but you can still take $200 off the same great phones with no trade-in required through Saturday and Sunday.
There is an offer for Apple lovers, too. You can pick up an iPhone X for $400 off – no trade in required – through Black Friday. You can also get $300 off the latest iPhone when you add a new line on a device payment, or get $100 when you upgrade and trade in an eligible phone all weekend long. Don't forget to pair your new iPhone with a new iPad and pay only $99 for the iPad when you purchase it on a two-year contract.
Early Black Friday Deals:
Verizon has already released a lot of details on their Black Friday and Cyber Monday deals, sales, BOGO and discounts. Here is what has been released so far:
Buy any new iPhone Xs or an XR and get a free iPhone XR. Or, you can get $750 off an iPhone XS or XS Max with the activation of a new line.The savings will be credited to your account via 24 monthly bill credits. This offer is currently available.
Verizon is also offering by one get one free on some its bets models, including the Pixel,and the Galaxy S9.If you opt for the 2nd phone to be a Pixel 3 XL, Note 9 or S9+ they will chop $800 off the price.
If you are looking to save big and don't need the cutting edge models there are some really excellent deals. Verizon has a large list of older models phones for $15 a month or less, including, Galaxy J3 V 3rd Gen, Moto Z3 and the iPhone 6s.
No matter which new model phone you are looking to purchase this Black Friday or Cyber Monday Verizon has some great offers already on the table.Black Friday is right around the corner and we expect there to be some fantastic last minute deals, door-busters, internet only and one day only sales. Check back for the latest and most up to date deals that Verizon has to offer.
Verizon has 152M subscribers as of the middle of 2018, which makes it the largest cell phone carrier in the US.More importantly for consumers it makes them well positioned to make some great offers, deals and sales on the latest tech this Black Friday 2018.Verizon has a wide range of cell phones, speakers, smart watches and headphone. Verizon's 4 G LTE wireless service is the fastest on the market, up to 10 times faster than 3G.
IN 2017 Verizon offer some great discounts, bundles, sales and offers and we expect more of the same for Black Friday 2018.Based on last year's deals and the information we are already tracking here is our predictions on Verizon Black Friday 2018 offers.
• 50% off new Android devices starting in mid-November.We are very confident that this discount will apply to the Samsung's Galaxy Note 9 and other new offerings because they have offered the same deal for the last several years.In 2017 the deal kicked off Thanks Giving Day. We expect them to try to beat the competition to the market and start the deal earlier.
• Verizon has a late deal on Motorola phones for $8 a month, which totaled out to $216.
• FIOS – For the first time in 2017 Verizon offered a Black Friday deal on FIOS service. Customers who order FiOS Gigabit Connection, Custom TV and Phone online paid only$79.99 a month with a two-year agreement. In addition they could also choose a new Google Home, Nest Thermostat E, or $100 Target Gift Card. Given the tough competition in the cable market we expect this to be another deal year on FIOS.
• We expect speakers, watches and headphones to have some great discounts like they did last year too.
• An important note, Verizon offered is Black Friday deals earlier on the web in 2017 They held back the Black Friday deals in store until Black Friday itself.We expect them to do something similar for Black Friday 2018.
We are tracking the best ad, sales, deals and offers on all of Verizon phones, watches and other products. Verizon is leading the way into faster and better 5G connectivity, set to launch in a few cities later this year. Verizon is going to fight hard, by offering great deals now, to bring as many customers to 5G as they can. We will keep you posted on the best deals and help you spend less and get more of what you want.Verizon will definitely have some great offers, check back for the latest sales, deals and offers.
Last Major Update:
Where to Look for Black Friday Phone Deals:
Best Buy - As the nation's leading specialty retailer for consumer electronics, the Best Buy Black Friday ad usually has some great sales on cell phones.
Walmart - In 2020, Walmart split the Walmart Black Friday deals into three ads and the biggest cell phone ads ran as a week long deal in the second Black Friday ad.
Verizon - This mobile cell phone carrier and telecommunications company became famous for its slogan: Can you hear me now? But the Verizon Black Friday deals are probably another reason that they have gained traction among cell phone users. They will have great deals on the Apple iPhone, Samsung Galaxy smart phones, and many others (such as LG, Moto, OnePlus and the Google Pixel).
T-Mobile - This top telecommunications company operating as a subsidiary of Deutsche Telekom is one of the major wireless operators in the United States. They acquired Sprint in 2020 after a two year long period following the deal announcement. The Sprint stores are becoming T-Mobile stores, and Sprint customers can go to a T-Mobile store for service as well. The T-Mobile Black Friday sale has historically offered great discounts on iOS and Android phones, including the Apple iPhone and Samsung Galaxy phones. Other sales in 2020 included LG phones, the OnePlus 8T and the 5G Google Pixel 4a.
AT&T - One of the nation's top cell phone carriers with substantial coverage around the country. In 2020 they had big deals on the Apple iPhone and offered a Samsung Galaxy S20 FE 5G for free with eligible trade-in. There were also AT&T Black Friday deals on tablets, smart watches, bluetooth speakers, headphones and other accessories.
Amazon - The nation's top retailer usually has some of the best discounts on older cell phones over the Thanksgiving weekend. It's always worth checking out the Amazon Black Friday deals before you make a purchase over Thanksgiving Weekend.
Last Major Update:
Visit the Verizon Wireless Website:
Current Verizon Deals
Verizon Black Friday Deals
Verizon Cyber Monday Deals