Home Mesh Wifi Network Black Friday Deals 2023 & Cyber Monday Deals
Find the best Black Friday 2023 and Cyber Monday deals on home mesh networks including the Netgear Orbi, Google WiFi, Linsys Velop and the Eero. We will search all of the online ads and print advertisements to bring you the biggest discounts and sales on these home mesh networking systems. If you need high quality home WiFi at a great price, shop these deals over Thanksgiving weekend 2021.
2022 Deals:
Find more Black Friday deals right now at Amazon.com.
Past Deals:
2019 Black Friday Deals:
Linksys Velop Tri-Band (2-Pack) Mesh WiFi – $199.99 @ Best Buy (save $100)
Linksys Velop Tri-Band (3-Pack) Mesh WiFi – $279.99 @ Best Buy (save $200)
Google Nest WiFi Dual Band Mesh – $289 @ Best Buy (save $60)
eero mesh WiFi – Save 30% @ Best Buy
2018 Deals
Click Here to Save up to 45% on NETGEAR networking essentials on Amazon for CYBER MONDAY.
Traditional WiFi is on its way out and Thanksgiving weekend presents a great time to upgrade your home WiFi system with a mesh network for high quality, fast internet for all of your home devices. There are usually some of the best sales of the year during the sales on Thanksgiving Day, Black Friday and Cyber Monday.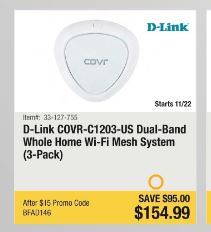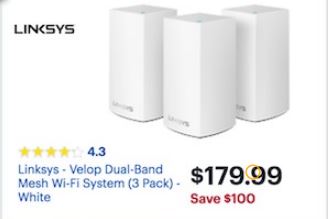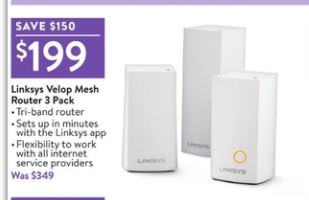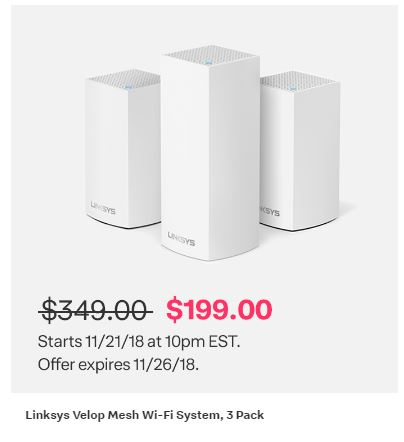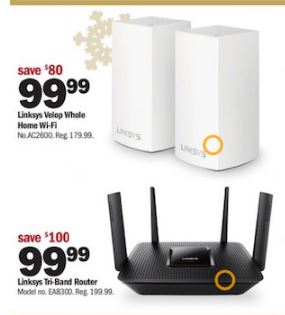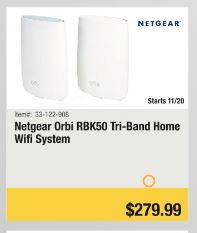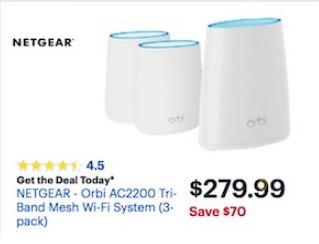 Here are some of the home networking products that we will be following prices on over the Thanksgiving 2018 weekend:
Netgear Orbi: The whole home WiFi system for the strongest and fastest WiFi in your home, brought to you by one of the leaders in computer networking hardware. They claim it is up to 100% faster than Google WiFI and Eero. Includes Wired Ethernet ports in addition to the wireless experience. Sleek design for Wall plug convenience. We will post the
Google Wifi: Cnet called it the best Wi-Fi system on the market, replacing your router and working with your modem and ISP. It aims to be reliable, flexible and secure. This product was first released in October 2016 from one of the leading technology companies in the United States.
Linksys Velop: Fast, nonstop WiFi everywhere with Velop's modular easy-to-use WiFi Mesh system from a leader in home networking systems. They sell both dual band models (less expensive and slower) and tri-band models (older).
Eero: A pioneer in the space that replaces your traditional routers and extenders to use multiple access points and TrueMesh technology to cover every area of your home with WiFi. Use the eero as the hub of your connection with multiple Ethernet ports, tri-band mesh, and connectivity. Plug Beacons into any outlet to expand the network coverage. The company was founded in 2014 by Nick Weaver.
Black Friday Sales
We expect announcements to start in October with the biggest online and store retailers for electronics to make announcements in early to mid November before Thanksgiving strikes. We will post the sales on these products when we find them!
Cyber Monday Deals
Announcements of the deals for the Monday after Thanksgiving usually start late on the Friday after Thanksgiving and trickle in over the weekend. There is then a flood late Sunday and early Monday morning. We will closely be watching this period and will post deals on these products when we see them.
We look forward to seeing you back here in November 2019 for some of the biggest and best deals on home mesh networks over Black Friday and Cyber Monday to help strengthen your in-home WiFi.
Last Major Update:
Current Sales on Amazon: