Canon Rebel T7i, T6 Black Friday Deals 2023 & Cyber Monday Deals
Find the best Canon EOS Rebel T7i camera deals on Black Friday 2023 or Cyber Monday. Funtober will search Amazon, Canon, B&H, Adorama and more for the big sales on Canon's new amateur camera for digital photography. We will also have online and in-store price discounts on the Canon Rebel T6 camera from Thanksgiving Day to Cyber Monday 2023.
2022 Deals:
Find more Black Friday deals right now at Amazon.com.
Past Deals:
Canon upgraded its most popular series of consumer DSLRs from the T6 to the Rebel T7 and the T7i in February 2018 with what has become known as a beginner and budget friendly DSLR.
2019 Black Friday Deals:
Canon EOS Rebel T7i Two Lens Kit – $699.99 @ Best Buy (save $500)
Canon EOS Rebel T6 Two Lens Kit – $399.99 @ Best Buy (save $100 + free tripod)
Canon EOS Rebel T6 DSLR Camera + 2 Lens Bundle – $399.99 @ Kohls (save $350 + over $100 in Kohl's Cash)
Shop the Canon sale and discounts for refurbished cameras.
What is the difference between the Rebel T7i and the Rebel T7?
The T7i has a tilt-swivel screen for maximum flexibility, a touchscreen view just like your smartphone, built-in bluetooth for wireless connectivity, longer battery life for an extra 100 photo shots, an external mic jack, better autofocus performance.
What is the difference between the T7i and the T6i?
We have collected a few of the differences between Canon's top two digital consumer cameras. The T7i has the newer DIGIC 7 processing engine that first surfaced inside the PowerShot G7 X Mark II. It has a slightly higher pixel count of 25.8 compared to the 24.7 of the T6i. The top end ISO increases from 12,800 to 25,600, and the entire range can now be accessed via the Auto ISO compared to the more limited range available in the T6i. Canon added the smallest non-retractable DSLR kit lens in the 18-55mm range with a four stop image stabilizer. It also has what Canon is calling "the world's fastest live view autofocus" with a speed as low as .03 seconds (under certain conditions and with particular equipment).
T7 and T7i Prices
The Rebel T7i is typically priced at between $749 and $799 for the initial entry level package with the advanced two lens bundle priced at an additional $200 – between $949 and $999 regular price. For Black Friday and Cyber Monday prices, expect that the doorbuster sale will discount this price by between $150 and $200 to make the cost for adding this digital camera to your bag for between $599 and $799 or so. These estimated prices are based on the average deal that we saw during Black Friday 2017 on the T6i, so it is possible that the actual discount when it is announced in November will be slightly higher or lower.
2018 Deals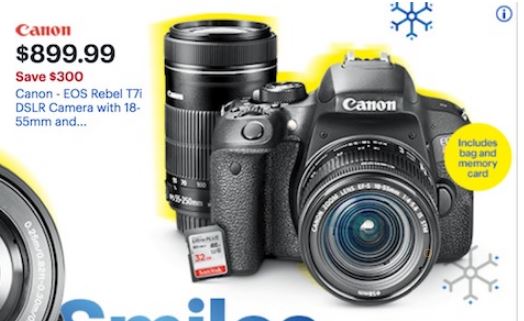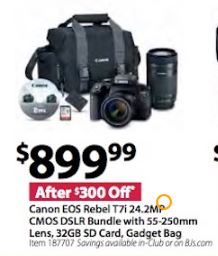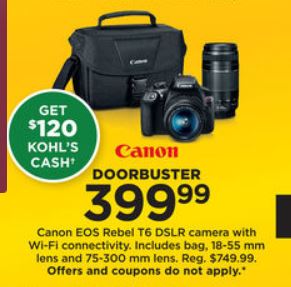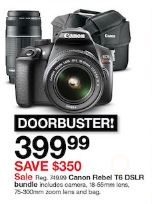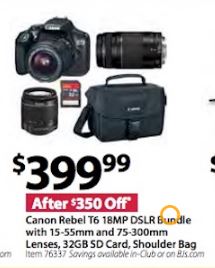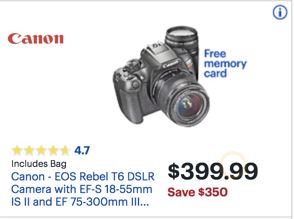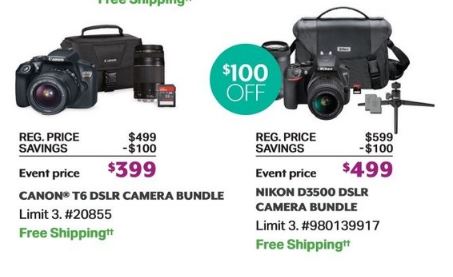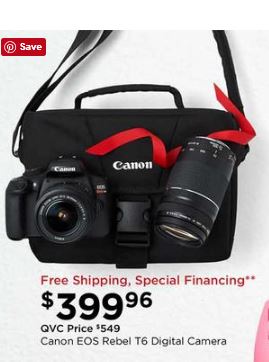 BOTH TARGET AND KOHLS HAVE THE CANON T6 BUNDLE PRICED AT $399 (save $350) IN THEIR BLACK FRIDAY ADS. AND WITH KOHLS YOU GET AN EXTRA $120 IN KOHLS CASH (EQUIVALENT OF THE CRAZY LOW $279)
Black Friday 2019 Deals
The camera deals from manufacturers like Canon are usually announced in the middle of November but you will probably get a preview of what the best deals of the year will be when they start to get released by Kohls, Best Buy and others.
Cyber Monday Deals 2019
We will definitely see a few Canon cameras like the EOS Rebel T7 or T7i available online during a big sale on the Monday after Thanksgiving. The Thanksgiving and Black Friday sales are typically a little better from the manufacturer than the Cyber Monday deals but you may be able to get a cheap price on the latest Canon Rebel camera if you look on a photography eCommerce retailer like B&H or Adorama.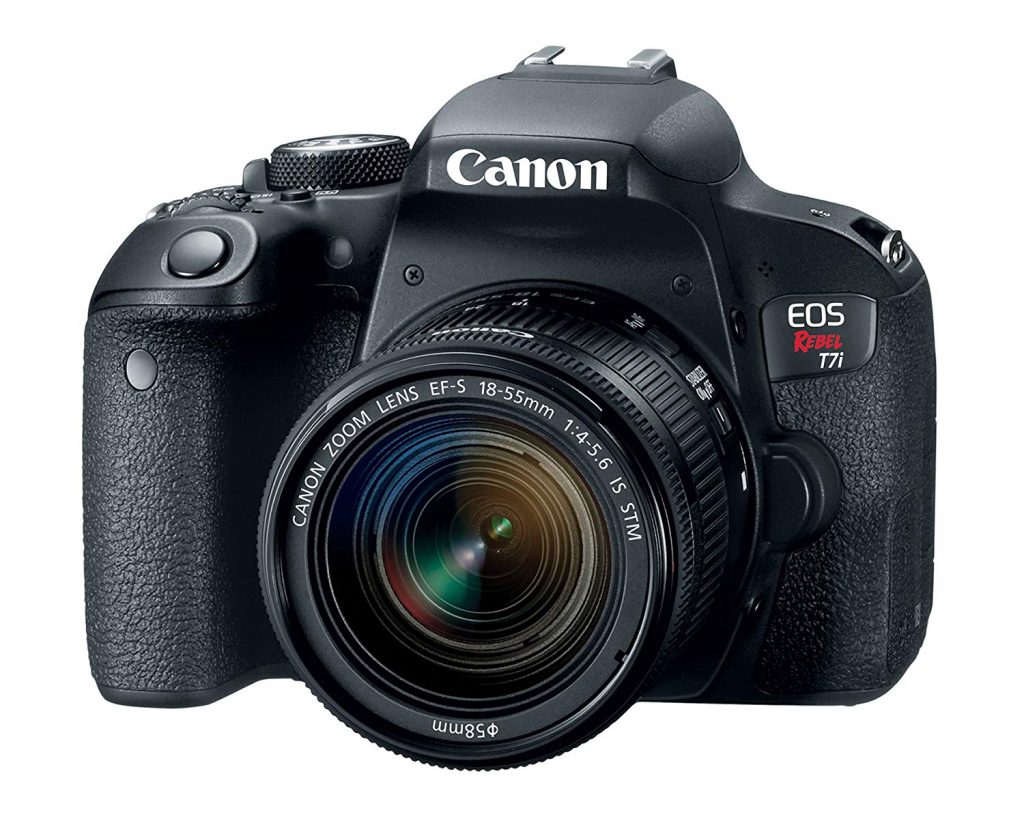 Last Major Update:
Canon Black Friday 2020 Camera Deals
Where to Look for Black Friday Camera Deals:
Best Buy - As the nation's leading specialty retailer for consumer electronics, the Best Buy Black Friday ad and online deals usually match some of the best camera sales around. They cater to both the pro and amateur photographer with deals on cameras at both levels. They usually has some of the best amateur camera and lens bundle combinations around during Black Friday.
Amazon - The nation's top retailer usually has some of the best discounts on older cell phones over the Thanksgiving weekend. It's always worth checking out the Amazon Black Friday deals before you make a purchase over Thanksgiving Weekend.
Walmart - Walmart is known for its great Black Friday deals on consumer electronics and that usually includes amateur cameras. In 2020, Walmart split the Walmart Black Friday ad into three ads across November and in addition to a security camera they also had a sale on the GoPro Hero 7 action camera. We typically see Walmart camera deals featuring a low priced, older model amateur all-in-one DSLR camera.
Adorama - Adorama is a New York City camera and film equipment store that sells to amateur and professional photographers. It is one of the nation's largest mail order and retail photo suppliers. The Adorama Black Friday ad typically offers sales prices throughout November as it kicks off its holiday deals early. As a leading camera retailer, it offers sales and price discounts on many products of the top camera manufacturers including Canon, Nikon and Sony.
B&H Photo - B&H Photo Video is one of the largest non-chain photo and video equipment stores in the United States. It was founded in 1973 and has a store in Manhattan. B&H caters primarily to equipment used by professional photographers and videographers, as well as amateurs. You can expect that the B&H Photo Black Friday sale and Holiday sales will include discounts on some of the top cameras brands, video and audio equipment around.
Canon - This Japanese imaging company has produced some of the top DSLR, mirrorless and professional lenses for photographers. Every year in November they launch the Canon Black Friday deals on their website for their cameras and lenses. These discounts are usually replicated at other top camera retailers like Best Buy and Adorama.
Nikon - This multinational imaging company with its headquarters in Japan offers big Nikon Black Friday deals every November, followed by a holiday sale to kick off the Christmas shopping season. If you are looking for a new Nikon camera or lens for yourself or a family member that loves photography, this is the time to pony up to save big!
Sony - Sony has become one of the leading providers of mirrorless cameras including the Sony A9 and the A7R IV cameras, making the Sony electronics website a must have stop for those looking for pro and prosumer cameras during the Sony Black Friday sale.
Last Major Update: